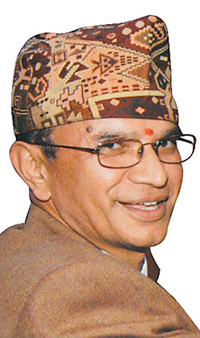 Nepal's Foreign Secretary
Madan Kumar Bhattarai
Though the Nepal's inclusive political and administrative system has been recognizing the rights of citizenship to the third gender and decided to carry out a census of the minority group this year (2011), officials here denied issuing passport to a proclaimed third gender applicant.
The Ministry of Foreign Affairs (MoFA) on Sunday denied issuing Machine Readable Passport (MRP) to a third gender applicant hailing from Mygadi district of central- southern , citing that the system could not read the third gender. The current MRP system only reads either male or female under the "sex" category.Dilu Bhujuda, 45, of Myagdi district applied for the MRP some 35 days back at MoFA along with a citizenship cirticificate that recognised her as "third gender". She needed the passport to go aboard for a job.Bhujuda was the first proclaimed third gender to apply for the MRP since it came into effect in Nepal from December last year. When Bhujuda reached MoFA on Sunday afternoon to find out the exact status of her MRP application, she was told the officials that there were so such provision to issue the passport because MRP system can not read the third gender. "In existing facility, our system only recognize either male or female. We need to change the MRP's software to issue the passport to the third gender," said Acting Chief of Central Passport Office, Tapas Adhikari. Then, Bhujuda immediately called on Sunil Babu Panta, a proclaimed third gender campaigner and lawmaker, and Bhakti Shah, a lady who was shacked by the Nepal Army owing to her sexual orientation to talk with senior MoFA officials. The trio went to meet Foreign Secretary Madan Kumar Bhattarai and asked him why she was barred to secure a passport upon the basis of gender. "I advised the fellow friends that we will consult with the Home Ministry in this respect as many legal and administrative hiccups needed to be sorted out," said Bhattarai.It will take some time to change the status of MRP's installation that needs to recognize the third gender, said Bhattarai. Panta and Bhujuda filed a public litigation in the Supreme Court on Monday, asking why Bhujuda was barred to get a passport. " We could not satisfy with their reply as there was no reason why she was put aside to enjoy the rights," said Panta. The MoFA officials also offered Bhujuda to take back her Rs. 5,000 that cost for a passport.
Since the Bhujuda applied for a passport at MoFA some 35 days back, the ministry had collected information about the international practices through its missions. "We are informed by our missions that even in many European countries have not such provision of issuing passport to the third gender. Same practices are prevailing in Israel, China and South Korea too," another official said. The ministry asked Bhujuda to come on Monday again if there were other ways to assist her. The ministry also held consultation with the Home Ministry in this respect.The Home also advised MoFA that it was inappropriate to issue the passport to the third gender without changing legal and administrative revamp. And the Home also advised the MoFA that 2007's Supreme Court's verdict on citizenship rights to the third gender also fails to implement completely due to several administrative and legal complications. In 2007, a landmark ruling made by Supreme Court that directed the state to end discrimination based on sexual orientation and gender identity and decriminalizes "unnatural sex." and asked to issue the citizenship to the third gender. Since then, just four third genders across the country have secured the citizenship.Later, a meeting of senior Nepali government officials on Monday concluded that it is impossible to issue Machine Readable Passport (MRP) to the third gender due to the current legal and administrative regime.The meeting comes at a heel following the denial of MRP to a third gender applicant by the Ministry of Foreign Affairs (MoFA) on Sunday citing that the system did not support it. The current MRP regime recognises only male or female under the 'sex' category.Foreign Secretary Madan Kumar Bhattrai on Monday convened a meeting of Home Secretary Lila Mani Poudel and Law and Justice Secretary Madhav Poudel to consult on how the pave a way forward if there were any possibilities to issue a passport to the third gender."We concluded that existing legal and administrative system do not support issuing passport to the third gender. We have also held consultations with Home Ministry in this respect which categorically objected issuing passport to the third gender," Foreign Secretary Bhattrai said.A 2007 ruling of the apex court had instructed the government to prepare a legal frame work to issue citizenship and passport to the third gender. However, in an absence of such legal frame work, the Home has advised the MoFA to halt issuing the passport to the third gender as now. "First we need to come on clean on legal and administrative fronts so that we can change the MRP system which is not a big deal," Bhattrai added , " Then we need to amend in new passport guidelines that came into effect since December last year."We could not find a solid legal base to award a passport to the third gender, he said , " One Home comes with new legal frame work we have no any problem to issue the passport."