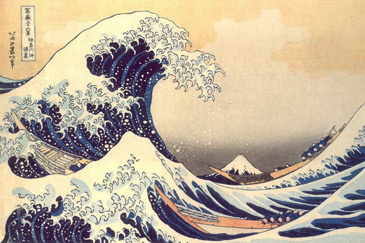 "The Great Wave at Kanagawa (ãêÒ¯ô¹õøÕÈ×ê)" by Katsushika Hokusai (ÊçãŞİÁ斎: 1760-1849) Simply called "The Wave" is a woodblock print paintedY between 1829 and 1832. Its dimensions are 25.7 cm ¡¿ 37.8 cm (10.1 in ¡¿ 14.9 in).
Katsushika Hokusai was a sublime Japanese artist, ukiyo-e painter and printmaker and his art had many faces and styles. However, when you think about the stunning nature of Hakone then the refined art of Hokusai springs to mind.
Alternatively, if you close your eyes and think about Hokusai¡¯s shunga then you can enter seedy areas of Tokyo and images of Kabukicho come to mind. Obviously both images may be an illusion but Hokusai¡¯s art does have many sides and similar ukiyo-e artists went down the same path.
Hokusai clearly loved the view of Mount Fuji and visiting stunning places of natural beauty and both factors certainly apply to Hakone. After all, Hakone rests within the Fuji Hakone Izu National Park and in certain parts of Hakone you can witness sublime views of Mount Fuji. Therefore, the entire region would inspire any exquisite artist to create picturesque scenes and clearly Hokusai fits the bill perfectly because he loved to express his passion for stunning views of nature.
The Thirty-six Views of Mount Fuji and The Great Wave off Kanagawa are pure masterpieces in different ways. Therefore, it is clear that Kanagawa is a potent region for spectacular scenery and a magnet for any artist who loves majestic views. Also, the size of the area means that views change quickly but remain to be a wonder to behold because of the natural beauty of the Fuji Hakone Izu National Park.
International tourists and Japanese tourists head to Hakone because of the richness of the area which provides unbelievable backdrops amidst the mountain range and abundance of nature. Not only this, Hakone is blessed with a plethora of places to visit and you can appreciate the richness of Japanese culture by visiting one of the many museums which are dotted around the main tourist areas.
It is easy to imagine Hokusai, Ando Hiroshige and a host of other famous ukiyo-e artists wandering around the Hakone region during their brief time on this earth. However, despite the briefness of life Hokusai, Hiroshige, and other artists, have clearly left a strong and powerful legacy.
In this sense, these famous artists have fused aspects of their life within the beautiful mountain ranges and landscapes of Kanagawa. Therefore, the immortality of Mount Fuji is enjoined by the ¡°immortality of art¡± by artists like Hokusai and Hiroshige who have inspired so many people and provided glimpses into the real Japan.
On a windless night you can imagine artists in the sweltering heat of summer and in the stillness of winter you can feel the changing temperature and how their feelings will have infringed on their art.
The spirit world exists to some people but for others you have nothing but the ending of all life and only memories of others and the legacy of a rare few last more than one single lifetime. Either way, you can feel that Hokusai and Hiroshige, and other sublime ukiyo-e artists, are still alive because of the powerful images they left behind and while the first love often fades into dust the beauty of art remains.
Hakone is not just a tourist destination it is about ¡°your Hakone¡± and this applies to escaping the mundaneness of life or stresses of life which often eats away at people. Obviously, for some tourists they may prefer to follow the usual routes taken by many and this applies to the main tourist attractions and plethora of places to visit.
However, for others a walk or hiking is their preference and for others they will want to find solitude. Alternatively, the hot springs attract many individuals and some people desire to refresh themselves by enjoying the soothing reality of hot springs and if lucky enough you can find a special hot spring surrounded by stunning nature.
Hokusai had desired more time on this earth in order to express the stunning reality of nature and his art was like the most delicious wine because he continued to mature throughout his entire life.
The Great Wave off Kanagawa shows the potent power of nature and just like the frailty of life the chaotic reality of life infringed on Hokusai. This applies to the devastating fire which destroyed Hokusai¡¯s studio and much of his lifelong work was destroyed in a single moment of chaos.
Luckily for humanity not all was destroyed and obviously many art pieces will have been bought before this tragic fire but much was lost. Therefore, the frailty and chaotic nature of life which had taken away people who were dear to Hokusai now ravaged is ¡°very being¡± and this must have impacted on his thinking.
At the ripe old age of 87 Hokusai had completed the Ducks in a Stream and he yearned for more time on this earth. Yet only God is mortal or the imagination which believes in God or gods creates this mortality irrespective if it is a reality or an illusion.
However, the symbolism of Mount Fuji and its impact on Japan means that a special spirit or energy exists within this mountain. In a sense, Mount Fuji is immortal and Hokusai, Hiroshige, and others, entered the immortality of the mind of others by their stunning art work.
Therefore, while each generation will turn to dust certain factors will remain because all cultures hand something down and preserve the best of humanity. This certainly applies to Hokusai who not only left a rich legacy for the Japanese people but he left a rich legacy for the best of international humanity.
Hokusai showed glimpses of the beauty of this world through aspects of his work while shunga focused on the lustiness of humanity or the reality of sexuality, depending on your thinking.
On his deathbed Hokusai uttered ¡°If only Heaven will give me just another ten years¡¦Just another five more years, then I could become a real painter.¡±
In reality it would matter not, another five years or ten years because Hokusai had already left a rich legacy and the chaotic nature of life could not guarantee a fruitful extra five or ten years. Therefore, the last moments of Hokusai¡¯s life was tinged with the hope of more time but sooner or later God is going to knock on your door and what was, is no longer.
In 1849 Hokusai died but Nichiren Buddhism, Mount Fuji and the stunning and mystical mountains of Japan had served him well. All these factors, and others, made him what he became and after death his candle did not burn out because the brightness he left still flickers strongly and will continue to do so.
This life is not mortal but images like The Great Wave off Kanagawa and other work by Hokusai means that his art is immortal.
Language restricts humanity because of the plethora of languages but art at its best can defeat this because images can be viewed irrespective of the constraints of language.
Therefore, a visit to Hakone is a real treat for people who reside in Tokyo or for tourists visiting Tokyo. After all, Hakone only takes 90 minutes from Shinjuku by the Odakyu Limited Express ¡°Romancecar.¡±
In a different article about Hakone I state that ¡°The ¡°Romancecar¡± is a great way to travel because you can relax in comfort and you have a drinks and food service which caters for your needs. Also, the Hakone Free-pass is a must because it provides great value and you can use it for 7 types of different transport.¡±
¡°This applies to the Hakone Ropeway, Hakone Tozan Line, and other forms of transport. Therefore, you can hop on and off different forms of transport and the scenic views from the Hakone Ropeway and Hakone Tozan Line is stunning; the different forms-of-transport also adds to your holiday because the quaint train journey is pleasurable by itself.¡±
¡°Hakone is home to famous spas and is located in a large historical zone and when you include this to the stunning nature of the Fuji Hakone Izu National Park and cultural attractions on offer; then it is clear to see why Hakone is so popular.¡±
The art legacy of people like Hokusai is another major attraction and while Hokusai¡¯s time on this earth was between 1760 and 1849; you can feel close to him in places like Hakone because of the connection of his artwork with the stunning reality of Hakone.
If you want to fuse a sublime holiday based on art, history, and stunning scenery then Hakone is the place to visit. The main museums apply to the Narukawa Art Museum for modern Japanese paintings; the Hakone Open Air Museum; the Pola Museum of Art; Venetian Glass Museum; Suzuhiro Corp. Kamaboko Museum; Local History Museum; Museum of Saint Exupery and the Little Pince in Hakone; Hakone Old Takaido Road Museum; Hakone Mononofu-no-Sato Art Museum; Hakone Art Museum; Honma Yosegi Museum; and Kanagawa Prefectural Museum of Natural History.
Other places to visit include the volcanically active Owakudani geysers, Hakone Botanical Garden of Wetlands, Hakone-jinja shrine and Treasure Museum, Odawara Castle Donjon, and many stunning parks and gardens can be found throughout Hakone.
The Fuji Hakone Izu National Park and surrounding area is a tourist paradise and given the comfort provided by the Odakyu train company which offers a fantastic service via the special Hakone pass; then you can enjoy quality time and make the most of what Hakone provides and at the same time you can travel easily because of services provided by the Odakyu train company.
Overall, Hakone is a magical place and Hokusai, Hiroshige, and other famous ukiyo-e artists, may have turned to dust a long time ago but their energy and passion is alive by the legacy of their respective artwork.
In Hakone and the surrounding region you can get close to their world because of the connection with the images that they left behind.
http://www.hokusai-kan.com/treasure01.htm
http://www.odakyu.jp/english/freepass/hakone_01.html
http://www.hakone.or.jp/english/index.html
http://www.odakyu.jp/english/rc/index.html
http://moderntokyotimes.com
Tha above story is from the Modern Tokyo Times.