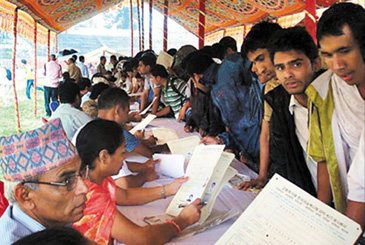 Nepali people wait in line to apply for Korean Language Test (KLT) in Katmandu, Nepal in June 2010.
As many as 57, 457 Nepali youths are all set to attend the Korean Language Test (KLT) in Nepal scheduled to kick off in Nepal' Capital, Kathmandu on July 21 (Thursday), 2011.
The Employment Permit System (EPS) office of Nepal is set to conduct Korean Language Test (KLT) from July 22-23.According to the EPS Korea section director Mahesh Acharya said EPS office has managed to arrange 20 centers for 57,457 examinees in Kathmandu and Lalitpur. Some 7,000 Nepali workers will be hired under the EPS this year to work in various jobs in South Korea.According to Acharya, Private and Boarding School's Organization Nepal (PABSON) and Higher Secondary School Association Nepal (HISSAN) have been given responsibility to conduct KLT exams fairly.More than one thousand examiners will ensure that the exams are conducted in a smooth and fair manner. A team of Korean EPS is already in town to monitor the language test. Exams are scheduled to be held in two-shifts - morning and day - for two days and more than 14 thousand students will sit for the examination in one shift.As per EPS rules, the first step for employment in South Korea is the Korean Language Test. 57,457 students had submitted application to appear in the KLT exam form Kathmandu and Butwal in mid June.This is the third time the KLT exams are being conducted in Nepal. According to EPS, more than 8 thousand Nepali workers are already working in Korea after passing the KLT under EPS.Korea started to hire Nepali workers through EPS from the year 2008. Last year, some 4,180 Nepali job aspirants passed the KLT and 3,100 have reached Korea till date.The majority of Nepalis are assigned to the manufacturing and agriculture sectors while a few are employed in hotel sector.According to the contract between the two countries, after receiving HRD-Korea's final letter with the names of job aspirants, the department begins sending them to Korea. The name-list that HRD-Korea sent will be according to the CCVI list.South Korea is a lucrative destination for Nepali workers with a monthly income of $ 1,000, which is five times more than other popular destinations like the Gulf and Malaysia.