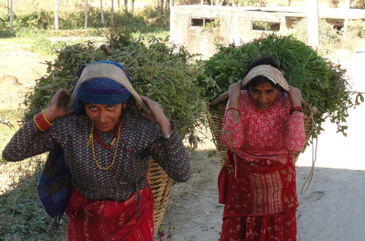 Nepali women carry grass for their livestock.
UN Women, an UN body, — the United Nations' young entity that focuses on the empowerment of women and girls — has highly praised Nepal for its "notable legal reforms" in the field of gender equality and "hence setting an example not only to the region but also to developed nations." It also commended Nepal for formulating laws to address domestic violence and overall empowerment of women among her South Asian neighbors.
The report, which incorporates a case study on Nepal regarding women related legal frameworks, said that the reforms over the past two decades in the country have ensured greater economic security for women, protecting them from violence, safeguarding their sexual and reproductive rights and amplifying their voices in decision-making. Nepal is one of the few countries that has surpassed 30 percent reservation for women in parliament and the reservation has helped maintain a consistently high profile for gender equality issues, the report entitled, 'Progress of the World's Women 2011-12: In Pursuit of Justice' says. The report, commending the commitment of the Nepali political parties on ensuring 33% representation of women in every sector of society, says having more women in parliament speeds up reforms on women's rights."Women in India account for only 10 percent of ministerial positions and 11 percent of seats in the national parliament," the report compares. "Women parliamentarians have played a key role in passing new laws on domestic violence and improving poor women's access to reproductive health care," the report said. Women are also under-represented in the justice system, the report said. In South Asia, women make up just nine percent of judges and four percent prosecution staff. Also, women are just three percent of police in South Asia and nine percent in East Asia and the Pacific, the report said. It has also mentioned that tax exemption granted to the families that share property with their wives, daughters and sisters has resulted in threefold increase of women´s land ownership between 2001 and 2009.Nepal has also made a considerable leap on the sexual and reproductive health rights of women, it said. Nepal and Bhutan are the only two countries in the South Asian region that explicitly criminalize marital rape, according to a UN Women press statement.
Meanwhile, a senior UN Human Rights official dubbed that Nepal is the only South Asian country to recognize equal rights of lesbian, gay, bisexual, transgender and intersexes (LGBTIs).
Nepal Representative of Office of the High Commissioner for Human Rights, Jyoti Sanghera hailed the Nepal's initiatives to recognize the minority's rights first in S. Asia terming it as ground breaking decision on gender identity and sexual orientation.
Fir the first time, Nepal's Supreme Court in December 2007 had recognized the equal rights of sexual minorities including equal recognition before the law, an exemplary verdict for rest of other countries of Asia. She said that lesbian women in Nepal have been subjected to 'corrective rapes' and denigrated in other horrific ways.
Besides Nepal's apex court's ruling to ensure citizenship to the LGBTIs, the sexual minorities continue to face problems to acquire citizenship certificates.