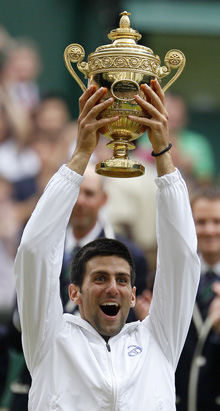 Novak Djokovic rejoices as he claims 2011 Wimbledon Title.
Novak Djokovic is the new champion of Wimbledon after he defeated Rafael Nadal in a four set final. Djokovic from Serbia showed why he is the number one player at the moment in tennis because recently he keeps on beating Nadal and clearly Roger Federer is in decline.
In the last eight meetings between Djokovic and Nadal before the final today the record read seven victories to Djokovic and only one single victory for Nadal. This in itself meant that while "the writing was not on the wall" it was clear that Djokovic had nothing to fear because of recent results.
Nadal from Spain broke the dominance of Federer from Switzerland but now it is another European who is starting to dominate and this applies to
Djokovic. It is clear that Nadal is not a spent force because he is still a fantastic player but in recent times it is obvious that Djokovic knows how to beat him. Therefore, he needs to break this chain otherwise the psychological burden will increase.
Djokovic and Nadal battled it out in the first set and both players were very even but Djokovic took his chance and clinched the first set. Boris Becker stated immediately after Djokovic took the first set that "That's the reason Djokovic has been winning these last four meetings with Nadal – he can go head-to-head with him from the baseline. But we all know it takes a lot more than winning that first set against Nadal to win the match."
The second set was one-sided and Djokovic destroyed Nadal 6-1 and took a two set lead and in this set Nadal was clearly second best. Djokovic was everywhere and he controlled the set easily.
John Lloyd stated that "Nadal is not being allowed to breathe. He's trying different things but every time he hits the ball it's coming right back at him and twice as fast. None of his plans are working. He'll need to move on to plan C, D or even E."
However, Nadal is a battler when the going gets tough and while some players would have wilted this can't be said about Nadal. Therefore, he stormed the third set and took it 6-1 and Djokovic made many errors during the entire set because of the power of Nadal.
Tim Henman stated "Djokovic has played 18 five-set matches and only on one occasion has he lost from when he was up two sets to love – in the 2010 French Open quarter-finals against Jurgen Melzer so he certainly knows that he has got to knuckle down after losing that third set very quickly."
The fourth set saw Djokovic take a two game lead at 2-0 but Nadal game back quickly to equal at 2-2 and clearly nerves were coming into play during the early part of the fourth set.
Annabel Croft commented when it was 3-2 in the favor of Djokovic in the fourth set that "I don't think Djokovic is struggling with fitness. He's just got the tension back in his body. He's not that far away from winning the trophy but it seems a long long away for him at the moment."
However, Djokovic then took a 5-3 lead in the fourth set after Nadal was rather careless and he made a double-fault. Djokovic took his chance and closed out the fourth set 6-3 and therefore he took the Wimbledon title three sets to one.
Djokovic never looked like losing and he calmly took the Wimbledon crown while playing well within himself and the future looks great for the new champion from Serbia.
It must be stated that Federer is in the twilight of his career and while he may re-ignite past glory from time to time in the future; it does appear that for the next few years it will all be about Djokovic and Nadal.
In the past you had so many great American players and the clash with European players was a pleasure to watch. However, in recent times the male game is firmly in the grip of Europe.
Andy Murray from the United Kingdom is ranked number four and he can beat anyone on his day but he needs to find something extra in order to win major tournaments. Also, one can only hope that the standard improves in America because the male game does not look international at the moment because it is just about European players.
Djokovic deservedly became the new champion of Wimbledon and Serbia must be rejoicing because it means a lot to tennis fans in this nation. For now he rightly can be deemed to be the number one player and the future looks fantastic for Djokovic.
Nadal needs to find something extra because in the last nine games against Djokovic the score is 8-1 in the favor of Djokovic. If Nadal can't change this around in the next few meetings then clearly it is going to be very difficult for him.
However, Nadal is a very tenacious player and both he and Djokovic are setting the game alight. Also, if Federer can rekindle his form and Murray can get over the line; then the next 18 months is going to be a rollercoaster.
Yet for now, it seems that Djokovic is holding the aces!
The above story is from Modern Tokyo Times.