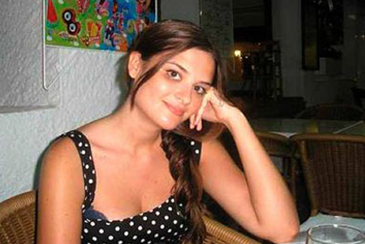 Lindsay Ann Hawker
Tatsuya Ichihashi admitted in court that he raped Lindsay Ann Hawker and that her death was caused by him. However, he claims that he suffocated her because of the noise she was making and he is claiming that he panicked and killed her.
Lindsay Ann Hawker was a young British teacher who was working in Japan but she fatally met Tatsuya Ichihashi in Chiba prefecture.
The court may want to know why Lindsay Ann Hawker visited the home of Tatsuya Ichihashi after getting a taxi with him after her lesson. After all, she had only met him recently.
Therefore, did some kind of attraction take place or was Lindsay Ann Hawker too trusting and a little naïve? Yes, of course she could not have known about the real nature of Tatsuya Ichihashi. However, to take him to her home, teach a stranger and then visit his home in such a short period of time is also rather strange (even if innocent).
Of course, the attraction may have solely taken place inside the mind of Tatsuya Ichihashi but if he claims that he felt something and then sticks to his claim that he did not intend to kill her. Then the court will be faced with a major dilemma because in Japan most cases are solved by the confession of the criminal.
The length of time between first meeting Tatsuya Ichihashi and the fatal day of her death was four days. Apparently, she told her boyfriend by email that a strange man approached her and claimed that she had been teaching him but this was false.
It then follows that he ran after her while she was cycling home and it is alleged that she felt sorry for him and somehow by inviting him inside that this was deemed to be a precaution. This applies to sharing her home with two other people. More bizarrely he drew a picture of her quickly and clearly he either had a good image of her before hand or she posed for this stranger because the image does show detail.During the period of the first meeting and the fatal last day Lindsay Ann Hawker agreed to teach Tatsuya Ichihashi. After the lesson in the café she then took a taxi back to his home and apparently she did ask the taxi driver to wait but after waiting 7 minutes the taxi driver drove on.
Again, you have a situation where a strange man lied in order to talk to Lindsay Ann Hawker and then she allowed him to enter her home. The need for him to drink water sounds rather tame given the fact that you have so many vending machines all over the place.
Also, if she had been scared and knew that the two other individuals would be at home then why did she agree to teach him and then share a taxi after a lesson and enter his flat within such a short period of time?
This does not imply anything negative towards Lindsay Ann Hawker and nor does it excuse anything that happened. However, given the fact that he even drew a picture of her then clearly she must have known that some type of attraction had taken place in his mind.
Therefore, if it is found out that no pressure was put on Lindsay Ann Hawker to visit his home and that she entered freely; then, if premeditation took place he took a huge gamble.
Maybe he was a charmer and a calculated murderer all rolled into the same person? If so, then why kill her at his home and in the way he did?
Irrespective of why she visited the home of Tatsuya Ichihashi the events that took place are truly horrendous. This applies to being brutally raped, physically abused and then strangled by Tatsuya Ichihashi.
The Hawker family has made a personal plea for justice in the Japanese court but if Tatsuya Ichihashi sticks to his comments so far; then the trial will turn deeply stressful for the Hawker family. Therefore, the Hawker family should not expect too much from the courts in Japan which often sway on the side of leniency.
The international dimensions are not important because the court is only interested in the facts of the case and if Tatsuya Ichihashi truly meant to kill Lindsay Ann Hawker.
Also, if the court decides that the killing was premeditated then the next development will apply to the remorse of Tatsuya Ichihashi because the death penalty is still used in Japan.
It is clear that many twists will take place but the death penalty would be surprising given the alleged remorsefulness of Tatsuya Ichihashi.
The case is ongoing and more information will be known in the following weeks but his claim that he tried to keep her quiet and panicked seems very weak.
A young lady at such a tender age lost her life in such a violent and brutal way and now her family and friends face a harrowing time because the justice system in Japan can be very lenient. This especially applies if remorse is seen and he sticks to his claim that he did not intend to kill her.
The trial continues.
http://www.lindsayannhawker.com/lindsayannhawker-background.html
http://moderntokyotimes.com