Asia-Pacific
Clinton Honors Nepali Anti-Trafficking Survivor
By Anil Giri
Kathmandu Correspondent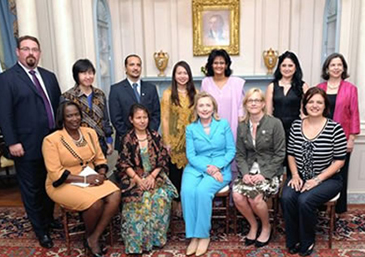 US State Secretary Hillary Rodham Clinton poses with the 10 TIP heroes. Photo Courtesy of US State Department
US Secretary of State Hillary Rodham Clinton honored Nepali anti- trafficking hero Charimaya Tamang on Monday by the 2011 Hero Acting to End Modern-Day Slavery Award.Tamang was honored while releasing of the 2011 Trafficking in Persons (TIP) Report, at the State Department in Washington.Born into a poor family made poorer by the passing of her father, Charimaya Tamang was 16 when she was trafficked to India.She spent 22 months enslaved in a brothel before the Indian government rescued her and more than 200 other Nepali women in 1996. Upon her return to Nepal, Ms. Tamang faced social stigma and was outcast from her own community.But she courageously filed a case against her traffickers, becoming the first person to file personally a trafficking case with the district police. In 1997, the District Court – in a landmark decision – convicted and sentenced eight offenders involved in her case.Later in 2000, Tamang and 15 other survivors established Shakti Sumaha, an anti-trafficking NGO.In that role, Tamang raised the importance of including survivors in each district-level working group. There are now five trafficking survivors serving as members of district-level committees around the country. Releasing the report on Monday in Washington, DC, Secretary of State Hillary Clinton recognized ten TIP Heroes from around the world for their efforts in combating human trafficking.Meanwhile, 11th Annual Trafficking in Persons (TIP) Report, released in Washington Monday stated that Nepal has continued to improve efforts to combat human trafficking despite limited resources, pointing out that the government is yet to fully comply with the minimum standards for the elimination of trafficking.According to a statement released here by the US Embassy, Kathmandu, the Government of Nepal has continued to improve efforts to combat human trafficking despite limited resources, although it does not yet fully comply with the minimum standards for the elimination of trafficking."While the Government of Nepal established the Central Crime Investigative Bureau's special unit to investigate trafficking and increased its direct financial support for protection services in Nepal and abroad, the lack of proactive victim identification was cited in the report as a persistent serious problem," said the statement. Recommendations contained in the TIP Report aimed at improving Nepal's anti-trafficking efforts include increased law enforcement efforts against all types of trafficking, including labor trafficking, and against government officials who are found to be complicit in trafficking; the establishment of a formal procedure to identify victims of trafficking and refer them to protection services; and the promotion of legal awareness programs to potential trafficking victims and government officials.The U.S. government has been supporting various initiatives to combat human trafficking in Nepal, including a five-year project funded by USAID that will strengthen protection services for TIP survivors; build capacity of the judiciary and law enforcement agencies to effectively enforce legal measures and increase prosecution of TIP-related cases, and prevent trafficking by building awareness among groups that are vulnerable to sex and labor trafficking, and welcomes its continued partnership with the Government of Nepal and other concerned organizations in this important endeavor.

Related Articles
S. Korea Give US$5 Mil. for Improving Maternal ...
S. Korean Women Cricket Team in Nepal for ...
5 Climbers including 2 S. Koreans Feared Dead ...
S. Korean Doctor Urges Nepali to Differentiate ...
Political Parties, Police Most Corrupt ...
S. Korean Film Festival Begins in Kathmandu
Bhutan King Ties Knot with Commoner
19 Persons Died in Nepal Plane Crash
Himalaya Quake Kills 65 in Nepal, India, China
Maoists Leader Bhattarai Elected as Nepal PM
15,298 Nepalis Pass Korean Language Exam
Nepal's Prime Minister Steps Down
Prestigious Manhae Awards Goes to Anuradha
S. Korea to Provide 5 Million US$ for Customs ...
Nepal Denies Passport to Third Gender
57,457 Vying for Korean Language Test in Nepal
Nepal Makes Significant Progress on Women's ...
Nepal Endorses Key UN Accords on Terrorism
Nepal Declares Landmine-Free Country
8-Ton Waste Brought Down from Mt. Everest
WHO Report: Cell Phone Could Cause Cancer
Frequent Strikes Cripples Life across Nepal
"Super Sherpa" Breaks World Record, Climbs Mt. ...
Over 50,000 Korea Job Aspirants Apply for KLT
Minister Stabbed in Nepal, Scores Detained
7 KOICA Volunteers Arrive in Kathmandu
More Jobs for Nepali in S. Korea
Nepali Brothers Set Longest Continuous ...
US Alerts to Travel Nepal
Survey Begins at Birth Place of Buddha in ...
4 South Koreans Successfully Climb Mt. Ama ...
Nepal's Peace Process Largely Deadlock
N. Korean Spy Granted Asylum in S. Korea
2 S. Korans to Be Ousted from Katmandu for ...
Korean Alphinists to Set Up Health Care Center ...
HIV Hit Can Have a Job in Korea
Nepal Launched Calling Card in S. Korea
36,000 Nepali Attended for Korean language Test
Plane Crashes in Nepal, 14 Aboard Killed
Nepal Seeks More Job Seats with S. Korea
S. Korean Firm in Algeria Offers Job to Nepalis
Korean Rotary Helps Cancer Hospital in Nepal
Nepal to Host Gay Parade on Aug. 25
KOICA to Donate Food Aid to Nepal
S. Korea Interested in Hydro Project in Nepal
Korean Company Likey to Bag Multi Million ...
Nepali-Korea Education Cooperations on Rise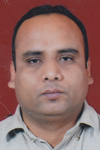 Anil Giri serves as Kathmandu Correspondent for The Seoul Times.As a journalist he has worked for such news media as Annapurna Post, BBC, and Himalayan Times for years. He finished his both undergrad Economics degree and his MA degree in English Literature at Tribhuvan Univ., Kathmandu. He also holds a diploma in Development Journalism from prestigious Indian Institute of Mass Communication-IIMC, New Delhi, India.