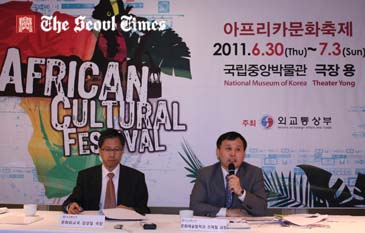 Director Cho Jai-Chel (right) of Ministry of Foreign Affairs & Trade (MOFAT)'s Culture and Arts Division speaks to the South Korean press in a meeting held in Seoul on June 9, 2011. At left is Director General Kim Sang-Il of MOFAT's Cultural Affairs Bureau.
A large-scale African Cultural Festival will present African music and dance performances, photos and artifacts, and various films at the National Museum of Korea's Theater Yong in Seoul from June 30 through July 3, 2011, as the Ministry of Foreign Affairs & Trade (MOFAT) recently announced. In a press conference held on June 16, 2011, Director Choi Jai-Chel of MOFAT's Culture and Arts Division claimed that a dozen of Sub-Saharan African countries will display a variety of African arts and music to illuminate the African culture to the locals.The participating countries are: Ghana, Nigeria, Republic of South Africa, Burkina Faso, Senegal, Uganda, Ethiopia, Zimbabwe, Togo, Cameroon, Cote d'Ivoire, and Democratic Republic of Congo.While Korea has had less cultural exchanges with regions such as Southeast Asia, the Middle East, and Central and South America, The Ministry of Foreign Affairs aims to stimulate Korean people's interest in various cultures by promoting this event.By holding this festival, they also expect to establish a network for promoting mutual cultural exchanges between the two cultures while illuminating the dynamic vitality of Africa to the people in Korea.The festival will begin with a collaborative opening performance of dancers and musicians from various African countries along with Korea's best African percussion team. These musicians and dancers will present a feast of beautiful sounds and dance from various regions in Africa.Following the musical performances, there will be photo exhibitions of artifacts presenting the history of and life in Africa. The theme of the exhibition is "A Great Birth, Africa". In the gallery, there will be various sculptures and pictures displaying today's Africa seen through the camera lens and the sentiment of Korean photographers: Park Tae-Hee, Sung Nam-Hun, and Shin Mi-Sik.The audience also gets to have a hands-on experience of the African culture by making traditional African necklaces, key chains, batiks and playing djembe, a traditional African skin-covered drum that translates to "everyone gather together in peace."Following the event, there will be a cultural presentation on July 2, 2011 at 2 p.m. at Education Center of the National Museum of Korea Lecture Room No. 1. This presentation will be given by Choi Dong-Hwan, a former Korean ambassador to Senegal. While most of the cultural experience programs have been set up, there will be further notice for more upcoming events.Last but not least, the festival will also screen African films from various regions in the continent. Uganda will screen Caroline Kamya's Imani, which received five awards filmed along with Davey Frankel's The Athlete, which received six film awards.In addition to these two movies, there will be many other outstanding movies that will invigorate the audience with the quintessential African culture and more. The whole procedure of the festival will be organized by SiDance (Seoul International Dance Festival).For more information regarding the festival, visit www.africanculturalfestival.co.kr. Below is the schedule for the African Cultural Festival.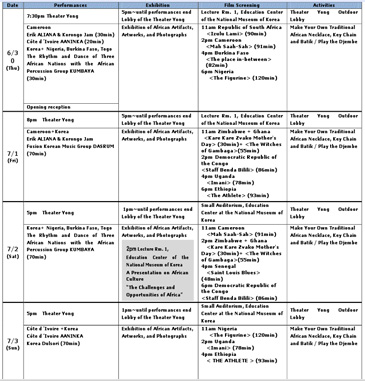 Please Click the photo for enlargement.