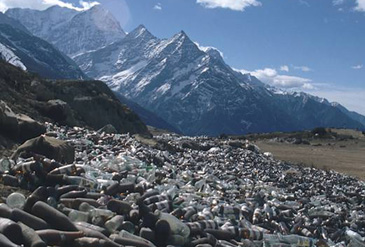 8-Ton waste brought down from Mt. Everest.
In a bid to clean up and save the world's tallest peak, Mt. Everest, a UNESCO World Heritage Site, more than 8,000 kilos garbage, debris and waste left in Mt Everest has been successfully brought down.
It had kicked off on April 15 and concluded on Sunday at Namche, a base camp of Everest. According to Wongchu Sherpa, president of Everest Summiteers Association, 3210 kg of wastes will be disposed at Namche itself and the remaining litters will be brought to Kathmandu for recycling and reuse purposes.The ambitious plan was named as "Save Everest Campaign" where a team of national and international campaigners actively had participated. The year-long project will cost $780,000 and includes Mt. Everest clean-up, waste management and recycling. The plan also makes institutional changes, offering local training as well as project management and administration. The plan is supported by the Nepalese government, which will launch tough, new environmental regulations.The Everest Summiteers Association (ESA), the Nepal Tourism Board and other international agencies have joined hands for the drive.The trail from Lukla, the nearest airport, to Everest Base Camp and beyond is currently littered with oxygen cylinders, gas cartridges, tins, old tents, food, medicine, plastic, human waste and even the bodies of those who perished along the path. Every year, thousands of climbers, trekkers, and their supporters visit Everest and abandon tons of garbage during their trip.In 1992, Nepal began issuing a garbage tax to summiteers which gradually helped save the beauty and environment of Everest. In 2010, the Eco Everest Expedition, an initiative to save the mountain, brought down 5 tons of old garbage.The same expedition has been bringing down garbage since 2008. Carrying about 150kg of materials each person, about 35,000 foreign visitors accompanying some 80,000 porters and helpers visit the Everest region every year, according to the Ministry of Tourism and Civil Aviation (MoTCA).The campaign also aims to set up at least 15 waste management plants installed across the Mt. Everest for recycling facilities."Biodegradable waste products will be destroyed at Namche," he said."Other non-biodegradable products such as bottles, plastics, nylon ropes, and gas cylinders, among others, will be transported to the Capital."Sherpa said the drive was the biggest one ever organised in Everest. The collected wastes mostly include oxygen cylinders, pipes, ropes, plastics and can bottles.Pasang Lama, one of the 29 Sherpas involved in the campaign, said there might be some 20 tons of litters still left at Everest."However we can't be sure of it as litters are buried beneath snow most of the times," he said. "But with the arrival of summer, snow starts melting and the rubbish hidden beneath the layers of snow and ice start unleashing themselves."According to Chairman Wongchu, similar Everest clean-up drive will be launched next year as well.