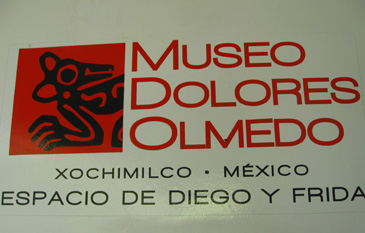 Dolores Olmedo Museum in Mexico
"Who the hell would want to see a movie about a one legged Mexican lesbian in a wheelchair?" demanded a Mirimax director. Mexican actress, Salma Hayek received the legendary rebuff following an approach to the Hollywood production house to make a film about artist, Frida Kahlo.Mirimax finally did make the movie (perhaps reluctantly), and plenty of cinemagoers certainly did flock to see it. On its release in 2002, 'Frida', won two Academy Awards, so Hayek, who played Kahlo, not only felt vindicated, but helped raise the reputation of the colourful Kahlo to something akin to that of cult status.The Casa Azul (Blue House), on the corner of Londres and Allende Streets in Coyoacan, one of Mexico City's leafier districts, is now the Frida Kahlo Museum (www.museofridakahlo.org.mx) and provides an insight into her mesmerizing art and bohemian lifestyle.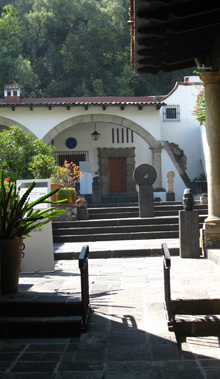 Mexico City's Blue House

Born in 1907, and arguably the most important female painter of the 20th century, Kahlo's life was a litany of pain. When she was six she contracted polio which left her with a permanent limp resulting in a penchant to wear long, traditional Mexican dresses to mask her damaged leg.Twelve years later, in 1925, she was involved in a trolley car accident leaving her with multiple spinal injuries requiring 30 operations including one for spinal fusion. In 1953 her right leg was amputated.
The physical pain she suffered during her lifetime is manifest in many of her paintings and other artwork. "My painting carries with it the message of pain", she declared shortly before her death in 1954.With deep blue painted outer walls to ward off evil spirits, the enchanting Casa Azul, where Kahlo lived for most of her life, is an expressive reflection of her torment, but remains a testament to her flamboyance, passion and love of her native Mexico. In August 1929, Kahlo married the nation's most renowned muralist Diego Rivera who joined her at the Casa Azul. So began a tempestuous relationship during which each took other lovers including Kahlo's lesbian trysts with Mexican film stars Dolores del Rio and Maria Felix, and her affair with Leon Trotsky who, following his flight from Russia, lived two blocks away in a drab, bunker-like fortress at Avenue Rio Churubusco 410.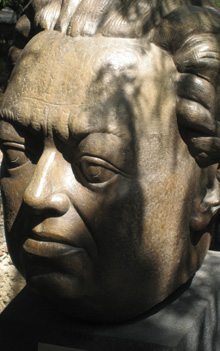 Bust of Diego Rivera

Rivera's philandering encompassed numerous women including a liaison with Kahlo's sister. "I suffered two accidents in my life", Kahlo admitted. "One was the streetcar which knocked me down….the other is Diego. Diego was by far the worst."It was at the Casa Azul that Kahlo and Rivera entertained an eclectic array of artists, writers and political figures and where in the large, bright, yellow floored dining room Kahlo's pet spider monkey, Fulang Chang, and her parrot, Bonito, performed tricks for house guests. Some of Kahlo's paintings still hang on the walls and from the ceiling are suspended her giant, papier-mache Judas figures.Down the luminous hallway is the high-ceilinged kitchen – pure Mexicana with its oversized earthenware cooking pots, yellow topped benches, straw baskets and woven palm frond seats. Upstairs, overlooking the garden is Kahlo's airy studio, complete with paints and canvasses. Poignantly positioned facing an unfinished sketch of Stalin (Kahlo, like Diego, was a dedicated communist) is her simple metal wheelchair giving the impression that she might have momentarily just descended into the garden below. It is her tiny simple bedroom, also on the first floor, which is most reflective of her misfortunes. This is an intimate universe with her personal objects – combs, brushes, small mementoes, photographs (including those of Lenin, Marx, Mao and Trotsky) on display.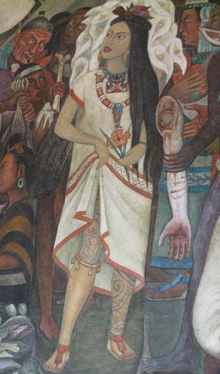 Frida Kahlo as depicted in Diego Rivera's mural at the National Palace (Mexico City)

Near the head of her small bed is one of her paintings featuring a dead child (Kahlo had many miscarriages) and beside it stands the self-decorated plaster corset Kahlo was forced to wear to support her deteriorating spine.On the bed lies a lace trimmed pillow embroidered with the plea, no doubt directed to Rivera, 'No me olvides amor mio' ('Don't forget me my love'). Affixed to the ceiling above the bed is a mirror which enabled the bedridden Kahlo to paint many of her final gut-wrenching self-portraits. "I paint self-portraits because I am so often alone, because I am the person I know best", she stated during her final days. Despite its dark narrative, the Casa Azul, which is itself a work of art, radiates exuberance and joie de vivre associated with her most colourful and luxuriant paintings. However, the largest collection of Kahlo's work is not at Casa Azul but in the Dolores Olmedo Museum (www.museodoloresalmedo.org.mx) at Avenida Mexico 5843. A hidden gem of the city's many museums, this is a glorious, gracious, 17th century hacienda set in well tended, spacious gardens filled with bougainvillea and tangerine trees, replete with strutting peacocks and a family of unique pre-Hispanic hairless indigenous dogs. Until 1994 it was the private residence of Dolores Olmedo Patino who rose from humble roots to become one of the nation's wealthiest women, a friend to Kahlo and Rivera, and a renowned patron of the arts. Here, in addition to 127 of Rivera's artworks, are displayed 25 Kahlo paintings including perhaps her most revealing works 'The Broken Column' and 'Henry Ford Hospital'. "Never before had a woman put such agonizing poetry on canvas as Frida did", declared Rivera. Who can doubt with him?
Just the Facts
The museums: English speaking guides are available at the museums and interpretative information is in English. Adult entry fee to each museum 55 pesos (5104KRW). More information: www.visitmexico.com
The author was a guest of Mexico City Tourism.