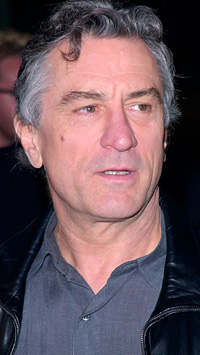 The legendary American actor, Robert De Niro, will preside over the jury for the 64th Cannes Film Festival slated for May 11-22, 2011.
The 64th Cannes Film Festival, to run from May 11 to 22, 2011, will screen 49 features from 33 countries. Forty-four of them will be world premieres, and 19 will compete for the top Palm d'Or, the Festival's most coveted prize.
India is conspicuous by its absence after a showing last year with Vikramaditya Motwane's "Udaan" in Hindi. This movie came after an uncomfortably long dry patch of several years when the world's largest producer of films was not to be seen at Cannes at all.
The Festival's official lineup was announced in Paris recently by the General Delegate, Thierry Fremaux. "Great filmmakers make great films and the Festival de Cannes welcomes them with open arms," he told a press conference in Paris before announcing the selections.
The legendary American actor, Robert De Niro, will preside over the jury, whose other members are Martina Gusman (actress/producer, Argentina),Nansun Shi (producer, China),Uma Thurman (actress, writer, producer, US),Linn Ullmann (author, Norway),Olivier Assayas (director, France), Jude Law (actor, UK), Mahamet Saleh Haroun (director, Chad) and Johnnie To (director, producer, China/Hong Kong)
Woody Allen's "Midnight in Paris", starring the French First Lady, Carla Brunei, Owen Wilson, Rachel McAdams,, Marion Cotillard, Kathy Bates and Adrien Brody will kick start the Festival on the French Riviera on May 11.
The complete list of movies in the various official sections follows:
OPENING FILM:
"Midnight in Paris," Woody Allen
COMPETITION:
"Drive," Nicolas Winding Refn
"Footnote," Josef Cedar
"Hanezu no Tsuki," Naomi Kawase
"Hara-kiri: Death of a Samurai," Takashi Miike
"The Kid With a Bike," Jean-Pierre and Luc Dardenne
"L'apollonide (Souvenirs de la maison close)," Bertrand Bonello
"Le Havre," Aki Kaurismaki
"Once Upon a Time in Anatolia," Nuri Bilge Ceylan
"Melancholia," Lars von Trier
"Michael," Markus Schleinzer
"Pater," Alain Cavalier
"Polisse," Maiwenn
"The Skin That I Inhabit," Pedro Almodovar
"Sleeping Beauty," Julia Leigh
"La Source des femmes," Radu Mihaileanu
"This Must Be the Place," Paolo Sorrentino
"The Tree of Life," Terrence Malick
"We Have a Pope," Nanni Moretti
"We Need to Talk About Kevin," Lynne Ramsay
UN CERTAIN REGARD:
"Arirang," Kim Ki-duk
"Bonsai," Cristian Jimenez
"The Day He Arrives," Hong Sang-soo
"Et maintenant on va ou?," Nadine Labaki
"Halt auf freier Strecke," Andreas Dresen
"Hors Satan," Bruno Dumont
"The Hunter," Bakur Bakuradze
"Les Neiges du Kilimandjaro," Robert Guediguian
"L'exercisce de l'etat," Pierre Schoeller
"Loverboy," Catalin Mitulescu
"Martha Marcy May Marlene," Sean Durkin
"Miss Bala," Gerardo Naranjo
"Restless," U.S., Gus Van Sant
"Oslo, August 31st," Joachim Trier
"Skoonheid," Oliver Hermanus
"Tatsumi," Eric Khoo
"Trabalhar cansa," Juliana Rojas, Marco Dutra
"Toomelah," Ivan Sen
"The Yellow Sea," Na Hong-jin
OUT OF COMPETITION:
"The Beaver," Jodie Foster
"The Artist," Michel Hazanavicius
"The Conquest," Xavier Durringer
"Pirates of the Caribbean: On Stranger Tides," Rob Marshall
MIDNIGHT SCREENINGS:
"Wu Xia," Peter Chan Ho-sun
"Dias de gracia," Everardo Gout
SPECIAL SCREENINGS:
"Labrador," Frederikke Aspock
"Le maitre des forges de l'enfer," Rithy Panh
"Michel Petrucciani," Michael Radford
"Tous au Larzac," Christian Rouaud
Gautaman Bhaskaran will be covering the Cannes Film Festival for the 21st year this May.