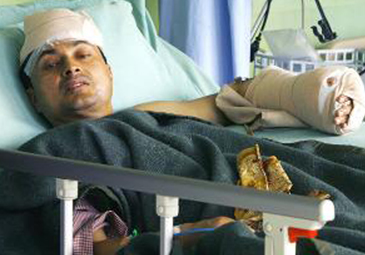 Nepalese Energy Minister Gokarna Bista in hospital after being stabbed by two assailants on April 11 (Monday), 2011.
Hours after his appointment as an energy minister in Nepal's three month's old Cabinet, Gokarna Bista from ruling CPN- UML party of Nepal, was stabbed by an unidentified assailants at his residence in Kathmandu in the the evening of April 11 (Monday), 2011.Nepal's Prime Minister Jhala Nath Khanal had announced the expansion of his Cabinet on Monday afternoon but due to the public holiday the newly appointed ministers are supposed to take oath on Wednesday.The incident further terrorized the residents of the Kathmandu as another Indian businessman was gunned down in Capital on Sunday evening. Nepal police was struggling to book the culprits. Nepal police has claimed that a massive round up has been in place and more than five dozens were taken into the custody and clamied that it is inching closer to the assailants.Prime Minister Khanal expressed his commitment to bring the culprits under the law whoever was involved in the incident after meeting with his Cabinet colleague.
Bista was attacked from the rear by motorcycle-borne assailants who were armed with a khukuri (a local curved Nepalese Knife) as he came out of his residence following an unknown call. Witnesses said the attackers fled the scene and that their faces were not discernable as the attack took place during a power outage. Bista sustained wounds on his head and arms in the attack.