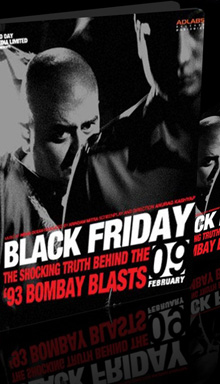 Anurag Kashyap's "Black Friday"
Ever so often, Indian films crash into the censorship wall and flounder or even freeze. Sometimes, the movies are frozen for months, even years. Anurag Kashyap's feature, "Black Friday", based on the 1993 serial bomb blasts in Mumbai, lay in the cans for well over two years. India's Central Board of Film Certification ruled that "Black Friday" cannot be shown in India. The Supreme Court then intervened. The movie hit Indian theatres in 2007, after it had been applauded in Los Angeles, Locarno and Britain. Typical of India to stir from its slumber after global recognition.
Documentary makers have faced greater censure. Anand Patwardhan is one great example. Virtually all his films faced very rough times. His 1985 "Bombay Our City" was telecast after a four-year legal battle, while, his "Father Son and the Holy war" (1995) — though adjudged in 2004 as one of the 50 most memorable international documentaries of all time by DOX, Europe's leading documentary movie magazine — was screened on India's national television network, Doordarshan, in 2006, 11 years after it was made, and eight years after the director had filed a case in court. In 2002, his "War and Peace" was refused a censor certificate, because the Board wanted him to make 21 cuts. Patwardhan went to court and won the case, yet again.
S. Krishnaswamy's documentary on Punjab's Operation Blue Star, "After a Thousand Days of Terror" (1984), was not certified by the Board, and hence could not be shown in India, although it was widely seen abroad. The Operation was conducted by the Indian military to flush out Sikh terrorists holed inside the sacred Golden Temple at Amritsar in Punjab; their leader, Jarnail Singh Bindranwale, was killed. Krishnaswamy says that though the entire filming was supervised by the military authorities, with their checks extending into the editing room, to ensure that sensitive material did not find its way into the documentary, the Board did not permit its screening without cuts. The director was in no mood to listen, and the movie was never released.
In Krishnaswamy's case, the Board's attitude seemed particularly dogmatic, given the fact that he and the military had ensured that nothing of a sensitive nature had got in. Yet, the Board, which is a wing of India's Ministry of Information and Broadcasting Ministry, refused to budge, indicating a serious lack of connect between different government departments. Ironically, the External Affairs Ministry went on to make several hundred copies later and showed the film all over the world.
Well, Indians, it seemed in this case, were not considered mature enough to watch what happened in the Golden Temple after a thousand days of horror. It was great loss for Indian viewership, particularly because Krishnaswamy and his team were the first civilians to enter the Temple after the military operation.
The Board, arrogantly believing that it is indeed the nation's keeper of morals, continues to be as rigid even today — in this day and age when hundreds of television channels and internet sites bring the most dreadful stories and images right into the living room. How depressingly archaic and darkly middle age all this appears.
Now, the latest fracas is between the Board and the Tamil feature film, "Aaranya Kaandam". Not only has it been butchered by the censors, but, to add insult to injury, it has also been slapped with an adults-only certificate. This means it cannot be watched by under-18s, a situation most producers regret because it shrinks their market.
Interestingly, the movie won the Grand Jury Award at the South Asian International Film Festival in New York, and is said to depict in depth the activities of the drug mafia in Chennai. The movie does have blood and gore, but so did "Raktha Charithra". There have also been any number of Madurai based Tamil films in recent times that have been as violent, and yet cleared for public viewing without major cuts. One can draw one's own inferences here.
The purpose of citing all these examples is to reiterate my long-standing view that India should adopt a rating system for cinema like that in the USA or the UK. One may have a 12+plus category, a 15+category, an 18+plus and so on, and grant certificates without calling for cuts.
As much as writers/directors/producers have a right to artistic liberty, audiences must have the freedom to make their own choices and watch what they want to. I am sure they are mature enough to decide what is right and what is wrong. Come on, today's 13-year olds exhibit a kind of wisdom that is amazing. Only to be expected, I suppose, in this information age, and, believe me, it is very easy to find an uncut/uncertified version of a movie in one's own backyard. There is a thriving industry churning out illegal video disks. So, what is Board hoping to achieve by its inflexible mind-set?