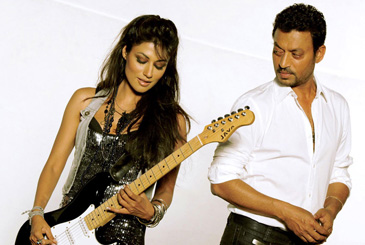 Chitrangada Singh (left) as Priti in "Yeh Saali Zindagi"
Sudhir Mishra has never been a particularly favourite director of mine. His films – "Dharavi" about the fortunes and misfortunes of a Mumbai cabbie or "Calcutta Mail" narrating the plight of a father searching for his young son, or "Hazaaron Khwaishein Aisi" on the aspirations of three Delhi university students, or "Khoya Khoya Chand" looking at the lives of movie celebrities in 1950s Mumbai – did not quite haul my heart or ruffle my head.
But his latest, "Yeh Saali Zindagi" (This Bloody Life), shook me out of the unflattering impression I have had for Mishra. It is a damn good film — intelligently scripted, well directed, wonderfully acted out and imaginatively edited. Despite its many characters, there is little room for confusion. One way Mishra avoids this is by printing the names of the characters on the screen as and when they make their first appearances. Of course, even then one may not know who the actor himself or herself is. Take the case of Aditi Rao Hydari, who has acted in only one Tamil ("Sringaram"), one Malayalam ("Prajapathi") and one Hindi ("Delhi-6) movie till now. But as the wife of a gangster, she splendidly portrays the distress and dilemma of having to live a life fraught with nerve-wracking uncertainty. She is a topper, certainly, as Shanti.
So are others. Arunoday Singh as Shanti's husband, Kuldeep, living precariously between the demands made by his gangster boss, cooling his heels in jail, and a wife, furiously pleading for a dignified existence, infuses into his role an amazingly charismatic restlessness. He really cannot decide whether he ought to go back to his pretty wife that he so passionately adores (and their little son) and a simple life of hot lentils and bread or play with guns and lives, his own included.
It is, however, Irrfan Khan, who shines the brightest. He is brilliant as Arun, a gangster who falls for the wrong woman, crooner Priti (Chitrangda Singh), in love with the already engaged son of a corrupt Minster. In many ways, "Yeh Saali Zindagi" is Khan's film, and the twists of turns of this crime thriller often follows those in Arun's life. As the gentleman gangster, willing to bite the bullet for his love (so what if she wants another guy), Khan's one liners are delivered with unbelievable subtlety. His amazingly restrained mannerism – that does not ditch him even when he is hung upside down from the balcony of a high-rise building – is a rare treat in an industry that goes for the melodramatic as a hungry tiger for its kill.
Adding up to this are the stunning visuals of Delhi, where the story unfolds in an exciting pace, throwing up surprises and shocks at the turn of every frame. Basically, it is the tale of Arun working for another gangster and falling foul of him. Cupid strikes Arun, but the arrow seems to be for someone else. Kuldeep's story forms a powerful subplot, and finally intertwines with the main narrative. Links are clearly established, and the plot is tied up neatly in the end.
Indeed, one of the best works I have seen in many months.