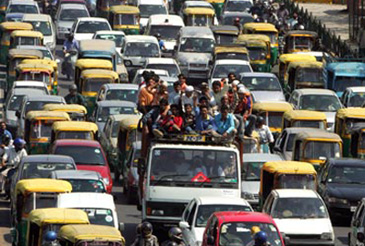 Traffic scene in New Delhi, India
Road rage has been problem in the developed West for years. But countries such as India that are beginning to fancy themselves as part of the first world – by throwing a few statistics pertaining to the number of mobile telephone connexions, cars on the streets and growth rates – are beginning to see an uneasy spurt in the incidence of anger on roads. Recently in an upmarket locality of New Delhi, a big car driven by a commercial airline pilot snicked a smaller one of a restaurant manager. He got out, walked up to the pilot and punched his face. Blood flowed, and probably in panic the pilot started his car to drive away. The manager came under the wheel and was killed. What was a very minor scratch on the car lead to death, and a possible jail term for the pilot, and, who knows, a cancellation of his flying licence. Now, who is going to trust him with 300 passengers on air!
The term road rage was first spoken of in the U.S. during the late 1980s, specifically by a television station in Los Angeles. Cases of rash driving, physical assaults and even shootouts occurred after drivers and other road users got irritated and angry. A decade later, a move began in the medical fraternity to certify road rage as a medical condition. According to an article published by Associated Press in June 2006, " it is already an official psychological disorder in the Diagnostic and Statistical Manual of Mental Disorders. The behaviours typically associated with road rage are the result of intermittent explosive disorder. This conclusion was drawn from surveys of some 9,200 adults in the U.S between 2001 and 2003 and was funded by the National Institute of Mental Health".
In India, no such survey has been done, but the causes of road rage are more varied than they are elsewhere. A more important one is socio-economic. Remember the restaurant manager was not as well to do as the pilot, whose ilk in India takes home unbelievably huge salaries. One of the most common places that one sees such blatant divide is the road, where huge cars with still huge price tags attract greater attention, awe and even favours. A valet at a public place will get to a bigger car quicker than he does to a smaller one. A traffic police will let a bigger car pass through an offense than he would a smaller one, also because he is afraid of the greater economic and political clout of the former. In India, big is beautiful, small seldom is.
Also, as sociologists will aver, an individual will behave in a completely different manner in a crowd or a situation of anonymity. A docile, friendly man could become part of an angry, stone-throwing mob out to wreck damage. A mother, extremely kind and considerate to her children, will run into a rage on the road, mouthing expletives or indulging in other kinds of wantonly rude acts. Obviously, because she feels that nobody knows her on the road. So, loud honking, tailgating and dangerous overtaking become the rule on the road, particularly in India with its rather ineffective policing, unbelievably low fines for violations and rare convictions of the guilty. Some time ago, two celebrities, one a movie star and the other the son of a rich/influential man mowed down men, women and children sleeping on the pavement, and hardly paid a price.
Another vital reason for Indian road rage is the way thoroughfares are being cluttered with private cars and two wheelers. With an extremely inadequate public transport in most of India, people have to rely on their own vehicles. Conditions for driving are far from favourable: road space is way below the ideal 33 percent in just about every city. Tailgating and honking, pushing and shoving have become the norm causing flared tempers and physical fights.
In the end, what can be inferred from all this is that there is so much of pent up anger that it needs a mere snick on the car bumper to evoke one's wrath. And the more anonymous the scene and situation are, the easier it is for one to lose one's temper. The restaurant manager had to have been a people's man, dealing with customers day in and day out. He could not possibly have lost his cool in the restaurant, for that would have meant his dismissal. So, the anger that must have built up in him facing rich and often arrogant customers must have translated that morning into that deadly punch. Which cost him his life. Road rage in an important way boils down to class distinctions that create uneasy barriers.