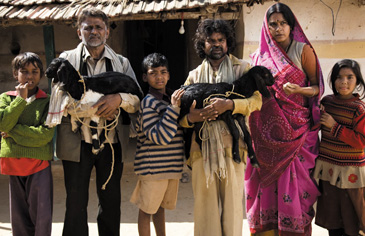 "Peepli (Live)" produced by Aamir Khan
India has, yet again, not been able to get an Oscar nomination for the Best Foreign Picture. The last nod for the country came in 2002 with Aamir Khan's "Lagaan." In fact, since 1956, the year the Academy of Motion Picture Arts and Sciences began presenting Oscars for foreign films, merely three Indian movies have managed to squeeze into the short list of five. They were "Mother India," "Salaam Bombay" and "Lagaan." None ultimately went on to win the statuette, and all of them were in Hindi.
This time, the Mumbai-based Film Federation of India, which choses the country's Oscar entry with the help of a special panel it sets up, picked "Peepli (Live)", produced by Aamir Khan, written and directed by first-timer Anusha Rizvi. This is the third time that Khan's work has been selected to represent a nation that makes 1200-odd movies every 12 months in many, many languages. His "Taare Zameen Par" directed and produced by him (and where he essayed a school teacher discovering dyslexia in a boy), was sent up in 2007, but it failed to make it to the Oscars shortlist of five films.
Unfortunately, "Peepli (Live)", set in a village with the same name in Madhya Pradesh, has all along been carrying a misleading tag line. It really is not about farmer' suicides, a tragic and growing problem in India, where tillers, suffocated by crippling debts and perennial monsoon/crop failures, have been ending their lives. The farmers' suicide in "Peepli (Live)" is merely incidental to the plot. As the title itself indicates, "Peepli (Live)" is all about television channels and popularity ratings that have turned perfect journalists into imperfect paparazzi.
The movie is, at best, an exaggerated drama, sometimes pretentious, sometimes phony. Also, the story, which is mostly about the fierce one-upmanship in the world of television, is not peculiar to India. It can and does happen all over the world. And, the Academy is only interested in a cinema that captures the local flavour and essence. Certainly in the foreign language category.
Sadly, the better of Indian cinema has never been chosen to represent the country. Satyajit Ray's brilliant classics, Ritwick Ghatak's gripping works, Mrinal Sen's captivating fare, Buddhadeb Dasgupta's poetic cinema, Aravindan's touching films and Adoor Gopalakrishnan's excellent body of work were never considered by the Federation. Shockingly so.
What is equally worse, it has been ignoring even the better of the Hindi cinema. Guru Dutt, Bimal Roy and early Raj Kapoor are examples. So too, Shyam Benegal, who along with some others, pioneered the New Indian Wave that began with Sen's "Bhuvan Shome" (Mr Shome) in 1969. Why, Benegal's, "Well Done Abba", a remarkable satire on India's bureaucratic and political systems told through a naïve car driver (Boman Irani, and what a riveting performance), could have been a far better pick this year.
Or, even Aparna Sen's "The Japanese Wife", that lyrically narrates the story of a school-teacher, living in a remote part of the Sundarbans in West Bengal, who marries a Japanese woman pen-pal through the letters they exchange. They never meet for 15 years. Yet, their unconsummated marital life remains intact, and they stay faithful to each other. The story may look a trifle unreal in today's times, but given the teacher's laidback life and the deplorable backward region that he lives, Sen's work has a certain magic about it that endears. Besides, she captures the rural Bengal and its simple folk in their authentic tang.
But, obviously, the Federation and its team were not impressed. They selected "Peepli (Live)" only to run into disappointment.