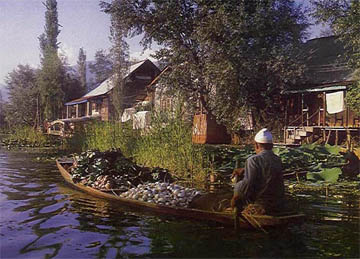 A floating vegetable market on Dal Lake in Kashimir
Courtesy Shanglootravels.com
India and Pakistan are still holding on to their own rigid positions. India keeps harping that Kashmir can only be one of a list of subjects to be discussed. Pakistan disagrees and argues that Kashmir is a central issue which has to be tackled first.The two countries have fought four wars over Kashmir — which both claim to be their own — since the British divided the subcontinent into India and Pakistan in 1947.Pakistan President Gen. Parvez Musharraf appears adamant: a recent television news report showed him say this in no uncertain terms. "Kashmir has to be the key question in any talks."In Pakistan, many fear that India will never talk Kashmir, and that New Delhi awaits that day when Islamabad will surrender in "abject defeat." They contend that the confidence-building steps that India has been campaigning for are mere excuses to wear out Pakistan.India counters this by saying that Pakistan has not shown any great determination in stamping out insurgency in Kashmir.
Pakistan President Gen. Pervez Musharraf gestures upon arrival at the airport in New Delhi, July 14, 2001.
Courtesy Punjabilok.com
Islamic militants, supported by Pakistani military, have been sneaking into Indian territory to cause death and damage, and this has been going on since 1989. This infiltration has risen in recent weeks. Indian military commanders are reasonably certain that when spring breaks and the snows melt, infiltration will grow even more. Musharraf is certainly going back on the pledge he made to root this evil out.In any case, Musharraf never quite delivered what he had promised American President George Bush and New Delhi. According to some reports, Islamabad wants the return of the old order in Afghanistan, the Taliban under the umbrella of Hizab-e-Islami leader Gulbuddin Hekmatyar. The reason for this is simple.A friendlier administration in Afghanistan will help Pakistan to treat it as a base for militant operations. During the earlier Taliban regime, it was a fact that Islamabad had terrorist bases there, and these were indulging in anti-India operations.Some analysts are of the opinion that Musharraf is increasingly getting convinced that terrorism is the answer to the Kashmir imbroglio. Why? Because he thinks that this is the only way India can be made to yield substantive concessions on Kashmir.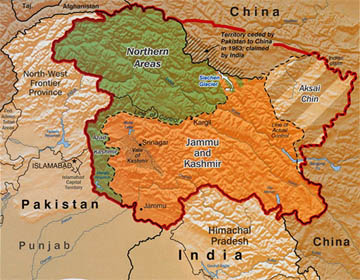 Unfortunately, the 15-year-old rebellion in the Indian half of Kashmir has caused untold misery to the ordinary people of the beautiful valley, where economic development has been affected, and where unemployment is naturally high.A new generation of alienated youth is now growing up. These young men are disappointed and disgruntled, especially so when they see the other regions of India prosperous. Even mobile telephones were allowed only recently allowed in Kashmir.However, India-Pakistan relations have improved, perhaps even out of recognition, since 2002, when they braced for war after an attack on India's Parliament in New Delhi. It was presumed to have been the work of Pakistani terrorists.Diplomatic ties are now normal, and a cease-fire along the Line of Control dividing Kashmir (into roughly two halves between the two nations) is holding since November 2003. There does exist some kind of confidence between the nuclear weapons command systems.But a lot more needs to be done, and as India's Foreign Minister Natwar Singh, remarked, when two hostile neighbors begin to cooperate, the sky can only be the limit.
| | |
| --- | --- |
| | Kashmir Kid: The photo was taken in Kashmir on a trekking trip in August of 1991. |
Despite what skeptics may say, I feel that the solution to the Kashmir problem need not be a messy or complicated one. It would be worth considering converting the Line of Control into an international border.Kashmir can remain divided. It would hardly matter now for the people living on either side. If there are still families who have some sort of connection on the other side, a free access can be given to them.But the problem is, right or wrong, Pakistan still nurses the idea of Kashmir becoming a part of it. And India is still to be convinced that it can let one half of Kashmir remain with Pakistan.