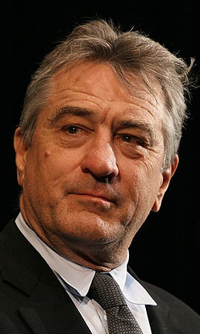 Robert De Niro
American actor, director and producer Robert De Niro will chair the Cannes Film Festival jury. The 64th edition of the Festival will run from May 11 to 22.
De Niro at 67 will be the third American to head the jury at Cannes, the world's most celebrated movie festival. Tim Burton served on that jury in 2010 and Sean Penn in 2008.
Two of De Niro's films won the coveted Palm d'Or: Martin Scorsese's "Taxi Driver" in 1976 and a decade later, "The Mission" helmed by Roland Joffe.
De Niro is one of the greatest performers the world has ever known. Born to artist parents and raised in New York's Greenwich Village, his "Method" style of acting helped him master this amazing ability to disappear into a character. In two of the his most "dramatic physical transformations", De Niro put on 60 pounds as boxer Jake La Motta in Scorsese's "Raging Bull", and lost all his fat to play the mean looking psychopath also in Scorsese's "Cape Fear", frightening audiences out their wits.
De Niro was first noticed in Scorsese's 1973 "Mean Streets" and Francis Ford Coppola's "The Godfather Part II" the following year. Stardom came to him with "Taxi Driver". One masterpiece after another threw halos around him: Bernardo Bertoulucci's" Novecento (1976)", Elia Kazan's "Last Tycoon" (1976), Michael Cimino's "The Deer Hunter" (1978), Sergio Leone's "Once Upon a Time in America" (1984), Brian de Palma's "The Untouchables" (1987), Scorsese's "Goodfellas" (1990) and "Casino" (1995), Terry Gilliam's "Brazil" (1995) and Michael Mann's "Heat" (1995) among others.
With a couple of Oscars under his belt, and eight of his movies having screened at Cannes, De Niro has all his life worked his guts out. He learnt to drive a taxi, play the saxophone and got into the skin of a sexually charged, jealous boxer whose anger pushed him far beyond the ring.
Away from the glare of arc lamps, De Niro has lived a quiet life barring a few messy situations that he got entangled in. He was questioned over his possible involvement in a Parisian prostitution ring in 1998. He denied that he had anything to do with it, and quipped that even if he had paid for sex it was not a crime. Nevertheless, he was furious and told the French daily, Le Monde: "I will never return to France". He then advised his friends against visiting the country, gave back his Legion of Honour, and stayed away from the Cannes Film Festival.
But time is a great healer, and De Niro returns to Cannes this May in all glory. "The Cannes Film Festival is a rare opportunity for me, as it is one of the oldest and one of the best in the world", the famously terse and press-shy De Niro said in a statement.
The bad clouds have flown away. Everything is forgotten. It will be all hunky dory once again.
Gautaman Bhaskaran has covered the Cannes Film Festival for two decades.