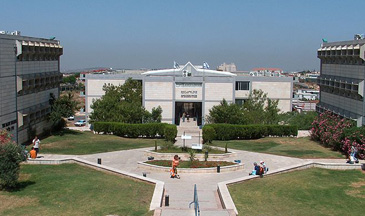 University Center of Ariel
On Thursday, Dec. 20, 2010 I attended The Ariel Conference for Law and Mass Media at the Ariel University Center of Samaria. Some 15 well-known academic experts, journalists and public figures from Israel, Britain and the US presented data from their respective research.Every speaker had something important to say but it was Melanie Phillips, the iconoclastic UK author and journalist who brought the audience to its feet and received a standing ovation for her outstanding analysis of the failure to comprehend the essence of the Islamist challenge to Israel and Western civilization.
Knesset opposition leader Tzipi Livni opened the proceedings. She claimed that it is in Israel's interest to create a Palestinian state in Judea and Samaria. Livni alluded to the many dangers this idea encompasses but simply brushed them aside. Never once did she question Mahmoud Abbas and his negotiating team's legitimacy (Prime Minister Abbas' term of office actually expired a year ago and Hamas won the last PA elections in 2006). Livni related that during the previous Kadimah party-led government, in which she served as foreign minister, she had negotiated with Abbas for nine months and every point of contention was discussed. However, Livni has never provided any details of demands made and concessions offered. Amazingly, she stated that "in the negotiating room everyone has [his] rights". In other words, in her mind, Arab/Palestinian rights to Judea and Samaria equal Jewish/Israeli claims.Danny Ayalon, the current deputy foreign minister was the next speaker. He reminded everyone that the delegitimization of Israel is not really new. The UN resolution equating Zionism with racism was passed in 1975. Ayalon stated that the Palestinian negotiators over the past seventeen years have evaded making any commitments or concessions while blaming Israel for the failure to reach agreements. Ayalon opined that "we do not really have a partner". In contrast to accepted wisdom, he believes that time is on Israel's side. Furthermore, radical Islam poses a far greater threat to the region today and this requires an international response. In conclusion, he asserted that any agreement with the Palestinians must leave Ariel within Israeli sovereignty.
The first session dealt with the delegitimization campaign against Israel. Manfred Gerstenfeld, an economist and investment advisor with the Jerusalem Center for Public Affairs spoke about the Arab economic boycott. He stated bluntly that Arab and Moslem countries "are not cultural" because they resort to war first. By contrast, western countries promote their interests initially in non-violent ways and then only as a last resort go to war. The Arabs do the opposite. Over the decades they failed to destroy Israel by military force so they now concentrate their efforts on delegitimization and demonization as the UN's anti-racism conference in Durban, 2000 demonstrated.Gerstenfeld listed the many different types of boycotts; commercial, academic, political, governmental, sports and artists. Norway and the UK are the worst boycott offenders. Gerstenfeld thinks that academic boycotts are the most serious yet universities, proponents of tolerance and freedom, are extremely reluctant to fight initiatives to ostracize Israeli scholars and students. The next speaker, Gil Feiler from Tel Aviv University said that Arab boycott effort actually began in the 1920s. He went on to review several famous boycott cases. For many years the Japanese acquiesced to the boycott and refused to sell their cars in Israel with the exception of Subaru which was a small company thirty years ago. Feiler talked about the L'Oreal, Pepsi and Coca Cola cases. He also cited some of Israel's counter-boycott tactics. Feiler concluded his remarks by saying that the Arab boycott of Israeli products has been a blessing in disguise because it forced Israeli manufacturers to buy and sell in more distant, better developed countries. In his opinion an Arab-Israeli peace is not going to make a big difference in terms of trade relations because neither side has much to offer the other. Also, the Arab masses have limited purchasing power.Melanie Phillips began by declaring that Israel has already lost the public opinion battle. Indeed, Israel was not even aware that she was a party to this information war. A large number of anti-Israel organizations are busy inverting the truth and demonizing Israel. Phillips calls this "the dialogue of the demented". She spoke at length about this pathology that turns reality up-side-down.Believers who subscribe to the notion that Islam is perfection go on to claim that any Islamic attack on its critics is ipso facto an act of self-defense. Moreover, Moslems project their own faults onto their non-Moslem adversaries. Moslem aggression and intolerance is ascribed to others. This explains how Israel, the victim of Arab hostility is now called the aggressor. Palestinians are now the new Jews, the victims despite all their ongoing attacks on Israelis.
Phillips leveled sharp criticism at the left-dominated mass media for accepting and promoting the Arab claim that the Arab world's problems and backwardness are a result of colonialism, imperialism, capitalism and, of course, Zionism. "Progressive" commentators in the West, therefore, sympathize with Arabs and Moslems because their predicament seems to fit the Left's anti-capitalism, anti-imperialism, anti-colonialism and anti-Zionism ideologies. The objective examination of the facts would refute these ideological beliefs but, as Phillips explained, the dedicated Left has little or no use for rationality.
Liberal observers who idealize the Third World and believe in utopias now claim that Jews are all-powerful, control the world and prevent progress. This line of thought easily leads one to blame Israel for the Middle East conflict. These westerners, Phillips declared, "can't think straight."Furthermore, they promote appeasement policies. Arab aggression has to be rewarded and Israel must pay the price. It is really "surreal", in Phillip's estimation.
Worse still, Israel does not respond to these absurdities. Instead, there are Israelis who claim that a Palestinian state would be good for Israel. Many Israeli leaders refuse to understand that the Oslo accords (from 1993) are a failure and that they ought to conduct Israel's affairs in accordance with realpolitik and not wishful thinking. Phillips thinks that Israel is suffering from a kind of auto-immune disease because so many of its politicians have accepted the Arab/Palestinian narrative. Obviously, Arab propaganda has been quite successful.In conclusion, Phillips asserted that the progressive Left is bigoted because they use different standards to judge Arabs and Israelis. In this conflict, Arabs should apologize to Israel and not vice versa. Israel's diplomats have failed to take the moral high ground and annunciate the justice of Israel's actions. Israel should discard its false preconceptions about Arab intentions and become pro-active. Israeli spokespeople must educate people abroad about the facts in the Israel-Arab conflict.
The next session examined the feasibility of establishing a Palestinian state west of the Jordan River. This panel discussion was chaired by Martin Sherman of Tel Aviv University. In his opening remarks, Sherman said that the very idea of a Palestinian state has proven divisive in Israel; some people are in favor while others oppose the plan. Also, the very idea of creating a Palestinian state serves to delegitimize Israel and demonize its army.Sherman's introduction focused on the security aspects of an Israeli withdrawal from Judea and Samaria. Briefly, Israel's main airports, road infrastructure, power stations, metropolitan Tel Aviv and water resources would be exposed to Palestinian bombardments from the hills overlooking the coastal plain. The physical existence of the country, Sherman explained, would be seriously endangered. The accompanying slide presentation made this very clear as well as frightening.In conclusion, Sherman reminded his audience that both the Fatah constitution and Hamas charter call for Israel's destruction and both organizations maintain militias to accomplish this objective. Finally, alluding to the official negotiating positions of both parties, Sherman observed that maximum Israeli concessions do not satisfy minimum Palestinian demands.Caroline Glick, deputy editor of the "Jerusalem Post" began her presentation by saying that the two-state solution is not a matter of policy but rather a dream fantasy. She said that there has never been a serious debate on the subject in Israel. Furthermore, the Palestinians have never accepted Israel's right to exist. And today Arab society within Israel is undergoing radicalization. Arab militancy in the Galilee and in the Negev is an additional threat with which Israel has to contend.Glick maintains that the problems have not been thought out properly and a highly questionable ideology is behind the 'two-state solution'. In reality, she said, we already have two Palestinian entities; a Hamas regime shooting rockets at Israel and a Fatah-run Palestinian Authority waging a political war against Israel.Glick noted that Israel's claim to the territories is stronger than that of the Palestinians and that Israel's security needs are greater than those of the Palestinians. Israel, she asserted, must control the Jordan Valley, maintain Israeli settlements in Judea and Samaria, keep Jerusalem united and incorporate the large settlement blocks.In light of the facts on the ground, Glick went on to present her five point stabilization program. This plan calls for the dismantling of the Palestinian Authority, overthrowing the Hamas regime in Gaza, taking control of the Philidelfi corridor between Gaza and Egypt, the creation of a security zone around Gaza and extending Israel law to the large settlement blocks thereby making them an integral part of Israel proper.As for the Palestinians, Glick advocates limited autonomy over an extended test period. She would dissolve all Palestinian militias and leave all security matters in Israeli hands. Glick noted that this program, for the most part, is actually in effect today and has been since 1993. All the talk about its unsustainability is really brain washing based on disinformation.Glick concluded with a reference to the Israeli public that understands this reality and knows that a 'two-state solution' is an exercise in fantasy.The next speaker, Ben-Dror Yemini, an independent-thinking journalist and editor, announced straight away that he favors a 'two-state solution'. He condemned the "lie industry" that holds innumerable conferences to decry the "occupation" and "apartheid" falsely attributed to Israel. He thinks that there are far too many international organizations preoccupied with the Palestinian issue. Yemini counts 200 NGOs and EU bodies dealing with the problem: 198 of them are working to destroy Israel while only two support a 'two-state solution'. He wondered out loud about the sources of the vast sums of money that was needed to implement the Apartheid Week protests.The big lie, according to Yemini, is that all these groups like ISM (International Solidarity Movement) are supposedly working on behalf of the Palestinians. The truth is that their real aim is to destroy Israel.
The Palestinians, under Mahmoud Abbas, insist on the "right of return" of refugees and their descendents and steadfastly refuse to recognize Israel as a Jewish state. Indeed, they have always rejected the 'two-state solution'. Yemini concludes that Israel must create a Palestinian state because, in his words, "there is no alternative."Shaul Arieli, a member of the Council for Peace and Security's executive committee, was the next speaker. He proclaimed that we have no choice; we must create a Palestinian state because it is in Israel's interest to do so. He admitted that there are dangers but Israel must chance it. NGOs here and abroad are striving for a Palestinian state because the international community wants stability in the Middle East. For Arieli, the big question is how will this state come into existence? Will it be founded on a negotiated agreement that takes Israel's interests into consideration or will it follow a unilateral declaration?Arieli wants a permanent solution and not a temporary arrangement. He says it is imperative for Israel and the Palestinians to reach an agreement concerning all the issues: water resources, air rights, borders, security, Jerusalem, the holy sites and more. As a former negotiator, he claims that the Palestinians are ready to agree on these points.Abraham Sion who heads the Ariel Center for Law and Mass Media [the conference host] began his lecture with a proclamation that Oslo (i.e. the "peace process") was a mistake and we are now at the start of the catastrophe that this agreement has produced.Israel brought arch-terrorist Arafat from Tunisia and bestowed him with legitimacy as a statesman who could even be invited to the White House. However, Sion pointed out, Arafat never gave up the armed struggle. Indeed, Feisal Husseini, Arafat's referent for Jerusalem-related matters, admitted that the 1993 Oslo agreements constituted a Palestinian Trojan Horse on the way to Israel's defeat. Furthermore, as Sion pointed out, Palestinian education encourages children to be shihads (martyrs) by carrying out murderous attacks on Israelis.No Palestinian leadership, according to Sion will ever agree to a de-militarized state and even if it did agree, it is not likely that they will uphold such a restriction.Sion reminisced about his Arab students at Haifa University who declare that they are Palestinians. He went on to explain that Arabs holding Israeli citizenship do not need to hold 50% of the Knesset seats to influence Israeli politics and policies. They need only 20% to secure the decision-making balance of power.The conflict, Sion asserted, is really between Arabs and Israeli Jews.The Oslo accords, Sion explained, have resulted in Israel's delegitimization today. Israel actually invented the Palestinians and went on to recognize their "rights". Now we are being pressured to expel 100,000 Israelis from their homes in Judea and Samaria. Sion thinks that this cannot be done. Israel, he exclaimed, lost at Oslo because it reversed the successes of the 1967 Six Day War. Oslo also negates the famous UN resolution 242 which obligates Israel to withdraw from territories (which it has already done) and in return be granted peace and recognized border (which the creation of a Palestinian state will jeopardize).Sion ended by saying that there is no possibility of creating a Palestinian state and expecting to live peacefully with hate-filled 18 year old Arabs who were all born when the Oslo accords were signed in Washington in 1993.
The third session dealt with Israel in International Law. The speakers addressed the problem of lawfare; using the courts in western countries to prosecute Israeli public figures and military personnel for alleged war crimes.Gabriela Shalev, a law professor who was Israel's ambassador to the United Nations explained that existing international conventions regarding warfare were conceived in the context of state vs. state conflicts when regular armies fought one another. Today, however, many armed conflicts are between states and insurgents who are often terrorists. But no up-to-date war conventions have been formulated to deal with this new situation.Shalev discussed the erroneous Goldstone report and the anti-Israel actions of the Geneva-based UN Human Rights Commission. The Goldstone report, she said, was an attack on Israel; its military, its judiciary and democratic character. Essentially, Goldstone and jurists like him deny Israel the right to self-defense.The next presenter was Meir Rosenne who served as Israel's ambassador to the US and France and was also a legal advisor in the foreign ministry. He began his talk by distinguishing between two sets of international law; one for Israel and another for everyone else in the world. When, for instance, Britain sent its fleet thousands of miles to the Falkland Islands in 1982, the UN Security Council accepted the British claim that this was a "defensive operation" against Argentina. By contrast, the UN denies Israel the right to build a defensive fence to keep terrorists away from their Jewish targets.Rosenne explained that the term "occupied" territories is false. He said that Judea and Samaria are really disputed territories. Furthermore, the UN resolution 242 makes no mention of refugees whatsoever. In effect, Israel has, itself, created the "Palestinian territories" (i.e. Zones A and B where the Palestinian Authority now rules).Rosenne also deplored the Swiss condemnation of Israel as well as Ahmadinejad's advocating genocide in his UN speeches. Rosenne reminded his listeners that the Middle East conflict is all about Israel's right to exist.Steven Goldberg, an attorney and vice-chairman of ZOA, the Zionist Organization of America, took up the legality of Israeli settlements in Judea and Samaria. These areas, Goldberg explained, are liberated (from Jordanian occupation) territories, not occupied and not disputed. Established principles of international law recognize Israel's rights to these territories.
Goldberg then went on to review the Balfour Declaration, the San Remo conference (April 1920) decisions and the League of Nations' mandate directives to Britain (July 1922) to facilitate the establishment of a Jewish national home. The United Nations under Article 80 of its charter is obligated to adopt and enforce previous League of Nations decisions and directives.Goldberg reminded everyone that the 1949 cease fire lines between Israel and its Arab neighbors were never viewed as borders by Arabs or anyone else. In fact, Eugene Rostow (author of UN resolution 242) and Stephen M. Schwebel of the International Court of Justice affirmed that Israelis have a right to settle in Judea and Samaria. Additionally, the 1993 Oslo accords do not obligate Israel to withdraw from these areas.Goldberg concluded his remarks by declaring that Israel has a winning case.
The last session, Israeli and International Media, began with Joshua Rozenberg's in-depth explanation of legal machinations in the UK. Rozenberg, Britain's best known commentator on law, elaborated on an old English law that allows ordinary citizens to initiate private prosecutions. One only has to present cursory or shallow evidence to a local magistrate to obtain an arrest warrant. This law, along with the concept of universal jurisdiction that applies to alleged war crimes and other grave breeches of criminal law committed anywhere in the world is used maliciously by anti-Israel organizations such as Lawyers for Palestinian Human Rights.Rozenberg reviewed several cases in which foreign national were indicted and tried and, in one instance, convicted. He also mentioned the airport incident in which IDF General Doron Almog avoided arrest by remaining on his El Al plane and flying back to Tel Aviv immediately.The various approaches to changing these laws that threaten Israeli officials with arrest in the UK were clarified. The major political parties disagree on how to amend the laws so as to avoid embarrassing diplomatic complications. It appears that the Labor party is less willing to extend protection to Israelis and other foreign representatives visiting Britain.Richard Landes from Boston University followed with a description of cognitive warfare. Palestinians present themselves as an oppressed people living under an intolerable occupation fighting a war of national liberation. This subterfuge is swallowed hook, line and sinker by the liberal western media whose coverage of the Arab-Israeli conflict depicts Israel as strong while the Palestinians are weak. In other words, the Palestinian David is fighting the Israeli Goliath.The Palestinians claim, via the liberal western media, to be striving for peace but their real intention is to destroy Israel in stages. The Arab concept of takia (to hide one's true objectives) is a guiding principle of Palestinian media manipulation. Landes quotes Melanie Phillips who refers to this deceit as cultural AIDS.Landes is of the opinion that Israel has already lost the cognitive war because Israelis never even understood that they were engaged in a crucial information battle. Furthermore, the liberal western media and many, if not most, Israelis are fixated on peace and wish to avoid bloody confrontations. Palestinians understand this western mindset well and use it to their advantage.According to Landes, the liberal western media is reluctant to criticize Islam because Moslems are sensitive. They are easily insulted. We shouldn't hurt their feelings. He illustrated this by saying that even when you present a truthful but critical report about the Palestinians, they object to it. Journalists who fail to support Palestinian information precepts are expelled, harassed and threatened.Landes employs the term demopath to define someone who uses the language of human rights in reference to his own group but refuses to extend human rights to others. The UN, Landes observes, is full of countries hostile to human rights but these same people use human rights rhetoric and imaging on their own behalf.Another facet of the cognitive war relates to terrorism and the Islamic fundamentalist who indiscriminately murder innocent bystanders. These Islamists adhere to the millennium idea which calls for the total destruction of society in order to recreate it in a more perfect, utopian mode. Landes thinks that the mainstream media people are dupes because they let the Palestinians deceive them. Western liberals want to believe that we can all be friends and giving aggressive Arabs a good press is one way of promoting friendship but this is really counter-productive; a case of self-deception.Landes referred to the famous Muhammad al-Dura photo which was projected on TV screens for an extended period of time, especially in France where Moslem demonstrators consequently rioted. This photo proved to be a very effective recruiting poster for jihadi organizations. The western media often unwittingly helps the jidadis reinforce their public image in impressionable Moslem eyes.An accepted truism in the western world posits that improved economic conditions will lead to more sane and tolerant politics the Arab world. This, Landes suggests, is not the case because Arab societies focus on honor and shame as dominating values molding their cultural milieus. This childish honor/shame orientation takes precedent over socioeconomic development. It is, in Landes view, pathological. In terms of game theory it is a case of the 'I win, you lose' mentality.In conclusion, Landes advocates standing up to media perversions of the truth. He suggests that we launch an effective counter attack in the media war.
Former IDF Chief of Staff Moshe "Bogie" Ya'alon, now Deputy Prime Minister and Minister for Strategic Affairs was the last speaker of the conference. He read a prepared analysis that touched on all of Israel's major geopolitical dilemmas. Ya'alon's survey did not go into detail. He highlighted Israel's need to build a strong society within and fight Moslem radicals abroad. The Islamists seek to destabilize the Middle East while Israel strives to advance regional security. A strong Israel, Ya'alon intimated serves this goal of increased regional stability and peace.
The Ariel conference was an outstanding success because each speaker looked at Israel's problems from a unique perspective and offered distinct, even opposing ideas to strengthen Israel's position vis a vis the many actors now influencing the Middle East. Next year's meeting should prove equally insightful.