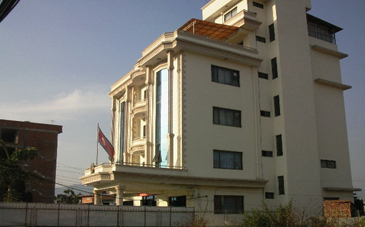 The North Korean Embassy in Katmandu
Katmandu — The government has decided to return to their own country two South Koreans who were detained by police for their alleged role in the defection of a North Korean.According to the Department of Immigration (DOI), Choi Won Sop and Sun Hack Dal have to leave Nepal by Dec 30, 2010. They were handed over to their Nepali wives on Monday on condition of arranging their return to South Korea within that deadline. "We left them to remain with their families before their departure as requested by the South Korean Embassy. But we have taken their passports," said a DOI official.DOI officials said this is not a case of deportation but an act of repatriating foreign nationals suspected of unwarranted activities here, as provided for by existing immigration law (Immigration Act 2049 BS and Immigration Regulations 2051)."It would have been a case of deportation had they been convicted of any charge under immigration law," said DOI officials. The South Koreans were booked for a public offence charge and released by the District Administration Office Kathmandu last Friday on a pledge to report back as stipulated."If they had been released on bail, we would be entitled to deport them," said an immigration official.DOI Director General Narayan Sanjel said that the two South Koreans would be returned home as they have come up with air tickets for before December 30.DOI has claimed that the decision to return Choi and Sun was taken on the basis of a police report that they had admitted to helping the North Korean defect to South Korea. Police, acting on a complaint by the North Korean embassy here, arrested Choi and Sun three weeks ago and booked them on a public offence charge to look into their role in the defection of Yang Hyok-Kae. Yang apparently ran a restaurant before his disappearance and he is suspected by the authorities to be a North Korean spy.Following their release, SP Ramesh Kharel said that Choi and Sun were handed over to the immigration department after confirming that they had taken Yang to India. Choi and Sun admitted during interrogations by police that they took Yang to the South Korean Embassy in New Delhi, India where he could have been helped to find asylum in South Korea.Yang is believed to have already reached South Korea.Choi and Sun did not have Indian visas to travel with Yang to New Delhi. They had sneaked into India through Raxaul.
.
Both have been living in Nepal for more than 10 years with their Nepali wives. Choi is known to have three children by his Nepali wife. Sun had been on a family-relation visa valid till August 2011 while Choi is found to have been living in Nepal by extending his tourist visa. "There is no issue with their visas," said a DOI official.The disappearance of Yang more than a month ago had triggered a diplomatic outcry by North Korean officials in the capital. They had pressed the Ministry of Home Affairs (MoHA) and the Ministry of Foreign Affairs (MoFA) to prosecute the South Koreans on a kidnap charge. Yang came to Nepal in December 2009 and started operating the Kumgangsam Korean Restaurant on the top floor of the Woodlands Business Complex at Durbarmarg nine months ago. After he fell out with the business complex owner over their rental agreement, North Korean officials brokered a settlement between them. One official who identified himself as a third secretary at the embassy was said to have been involved in monetary negotiations.Yang was also known to be a fraudster owing around Rs 7 million to several Nepali businessmen, who, however, did not bother to complain to police.