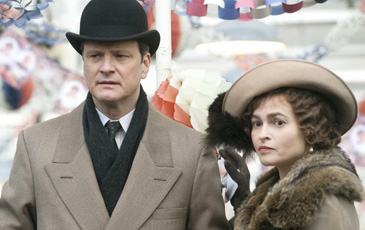 Tom Hooper's British drama "The King's Speech"
Often, a film festival's opening movie may well set the tone, conveying a broad indication of the selection. Tom Hooper's British drama, "The King's Speech", that heralded the seventh edition of the Dubai International Film Festival on Sunday evening seemed to indicate precisely this.
Having clinched eight British Academy of Film and Television Arts Awards, including one for Best Picture, "The King's Speech", is, but for a somewhat stagy look, a marvellous piece of entertainment, extremely well enacted, splendidly mounted and ably narrated. It certainly kept the huge audience here in thrall.
Colin Firth, last seen in Tom Ford's "A Single Man", plays King George VI, tortured by a terrible stammer and forced to ascend the throne of England at a time when Hitler is preparing for his bloody march. It is the mid-1930s and the world is just not willing for another great war, and England, having been bled by its expansionist ways, is in the throes of a power struggle. King George V is dead, and his eldest son, Edward VIII, throws away the crown to marry an American divorcee, pushing his younger brother to take up the enormous responsibility of leading a nation through a catastrophic war.
In desperation, George VI hires a speech therapist, Lionel Logue (brilliantly portrayed by Geoffrey Rush), to help get over his stutter and the resulting lack of confidence. As the clouds of conflict loom over Europe, the two men battle out inside their private chambers. Logue will not address George as His Majesty or Sir, and insists on calling him Bertie, as he is known to his family. The King is reluctant to play by the therapist's rules.
"The King's Speech" has many such moments that are both dramatic and poignant. In a telling scene, as his family watches a recorded speech of Hitler, fiercely mouthing a war cry in German, the King's daughter asks him what the dictator is saying. George VI replies, "I do not know, but he is very good".
Tipped to win several Oscar nods, "The King's Speech", by the fact that it actually happened reaches another level. And it could not have come at more apt period in British history, when the monarchy there is struggling to keep alive an image, bruised and battered in recent years by the Princess Diana scandals, Prince Charles' remarriage to a divorcee (the church and Parliament now allow it) and the latest egg attack on the royal couple. With yet another wedding in the family coming, the British monarchy could well do with some cinematic plastic surgery.
"The King's Speech" appears to fit that bill, and admirably. Here is a King, who battled his own private demons to lead his country through the dark and depressing days of war that maimed and murdered Britain. And, triumphed in the end. But he never really got over his stammer, though learnt to cope with it.
About 157 from 57 countries will be screened till December 19, when the Festival ends. The canvas is really wide stretching from South America to South Korea, with a strong competition thrown in. A robust market and a far greater public interaction than seen in earlier years will mark the Festival.
In a significant first, audiences across Dubai have been able to watch the Red Carpet ceremony live and for free at the Festival's new outdoor venue in the Jumeirah Beach Resort.
The Festival's important Arab films, representing the length and breadth of the Arab world from Iraq to Morocco, are primarily distributed among its in-competition Muhr Arab and Muhr Emirati Awards segment and its out-of-competition Arabian Nights and Gulf Voices categories.
The Festival includes 41 world and 13 international premiers that will touch just about every genre from thriller to comedy and drama to documentary.
Gautaman Bhaskaran is covering the Dubai International Film festival, and may be contacted at gautamanbhaskaran@yahoo.in