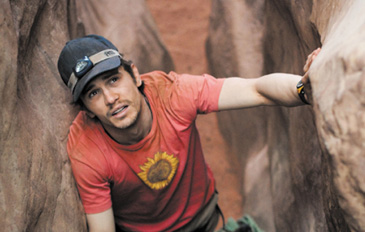 Danny Boyle's "127 Hours"
Often competition helps. I have always wondered whether the Cannes Film Festival would have ever attained such a star status had there not been Venice. In fact, Cannes owes its very birth to Venice, whose constant snub of French cinema led to a do-or-die bid to found the Festival on the Riviera. Pusan grew and flourished out of its strong desire to overtake the festivals in Tokyo and Fukuoka. With the International Film Festival of India at Goa tottering, the Mumbai Film Festival is getting bigger and brighter. It has already edged past its much older counterpart.
Perhaps, the spirit of competition has been driving the young festivals at Abu Dhabi and Dubai into a fast racing track. Dubai's recent organisational hiccups have undoubtedly helped Abu Dhabi to score better grades. However, Dubai, I am told, is all geared this year for a marvellous show.
Opening on December 12 with Tom Hooper's star-driven "The King's Speech" (written about in an earlier column), the Dubai Film Festival's seventh edition will unwrap a wide array of movies. The highly popular Cinema of the World section will focus on Europe. Danny Boyle's (the man who literally made India's Frieda Pinto into an international celebrity) "127 Hours" is a nail-biting adventure about a mountaineer whose life falls into a tragic pit, while Sweden's psycho-thriller, "Corridor", pushes a medical student to a frightening corner after he runs into a neighbourhood girl. Alejandro Gonzalez Inarritu tells the story of a sensitive street criminal in "Biutiful."French "Copacabana" is a comedy about a socially conservative mother and her unconventional daughter; German "Suicide Club" shows how five strangers meet on a rooftop to take the plunge and; Turkish "When We Leave" paints a powerful plot of a liberated young woman fighting familial shackles.
Then there is the Romanian drama, "If I Want to Whistle, I Whistle", about teenage rage. Three Russian boys in "Tomorrow Will Be Better" strike out for Poland chasing a dream. "My Joy" in Russian follows a trucker whose one routine delivery takes him headlong into a dangerous alley.
From Arabia, 12 pictures will represent the best of the region's modern cinema, vying for one of the most prestigious prizes, Muhr Arab Features Competition. Tackling issues as diverse as sexual harassment in Egypt to supernatural incidents in Morocco, the films will include seven world premieres, two international premiers and three Gulf premieres.
"Six, Seven, Eight" helmed by the renowned Egyptian scriptwriter, Mohamed Diab" is all about the growing incidence of sexual crimes. Three women from different social strata in Cairo decide to deal with eve-teasers when they find the police ineffective. "Cairo Exit" is also from Egypt, a raw drama about two lovers who have to choose between a miserably life at home and running away illegally to Europe.
Iraqi director Kassem Hawal captures in his "Singer" the horror of dictatorship as seen through a singer, while "Damascus with Love" depicts a rare side of the city, of how people from varying communities live together in harmony. Lebanon's "Stray Bullet" looks at a young woman's plight as she is being forced into a marriage she does not want. Moroccan maker Jillali Ferhati narrates in "At Dawn" how unemployed actors yearn to stage a play.
The Indian basket:
In the city State where Indians form the largest expat community, driving the region's economy and helping it to flourish, the Festival will celebrate Indian cinema. The eight-day event, to run till December 19, has lined up several Indian movies, that seem to be quite representative of the nation's diversely beautiful culture and heritage.
In an important way, Aparna Sen's "Iti Mrinalini" (The Unfinished Letter), to feature at Dubai, describes and comments on Bengal's film scene, the State where the director hails from. Sen shot into limelight when India's iconic Satyajit Ray cast her in "Teen Kanya" (Three Daughters) in 1961. Twenty years later, after having acted in memorable movies, including those from the Merchant Ivory stable, Sen changed positions to step behind the camera. Her debut work, "36 Chowringhee Lane", was set in Kolkata, where a street by that name actually exists. (In fact, a very good friend of mine from school days used to live there.).
Sen did make many more movies, but her latest, "Iti Mrinalini" — which once again tackles loneliness, this time in an aging film star — captures a kind of magic not often seen in contemporary Indian cinema. Sen herself essays Mrinalini, the actress, hounded by the media and abandoned by the man she loves. A lot of it is autobiographical, and for one like me who grew up in Job Charnock's defining mid-day halt, "Iti Mrinalini", appears so familiar.
Two movies from the south of India may well be a remarkable canvas of imagery and ideas. Shyamaprasad's ("Agnisakshi" and "Ore Kadal") new drama, "Elektra", takes us into an aristocratic household in Central Kerala to plot a narrative that has been inspired by Greek mythology. Prakash Raj, Nayanthara and Bollywood actress Manisha Koirala will form the main cast.
Tamil Nadu's "Mynaa" by Prabusolomon did remind me of Ameer Sultan's "Paruthiveeran", a kind of cult film that has been inspiring several young directors. "Mynaa" could well be the story of Romeo and Juliet, though it takes places far away from Shakespeare's Italy, in the hilly region of Theni. Mynaa and Suruli are childhood sweethearts who find money playing a deadly spoilsport. Arrested for beating up Mynaa's mother, who fixes up her daughter's marriage with a rich groom, Suruli escapes from jail. Two policemen chase him on a Diwali day, and the movie rolls through hills and forests to narrate how the relationship between the convict and the policemen eventually changes from one of hostility to one of endearment. Bold enough to set his work in a remote rural region, Prabusolomon depicts realism through a romance in which the lovers are not costumed and painted silly.
Aamir Bashir's "Harud" (Autumn) takes us into the tragic world of Kashmir militancy, where a photographer's family has to come to terms with his disappearance, but not before his younger brother tries being a rebel himself. Two decades of volatility in Kashmir come alive on screen to shake us out of our slumber and smugness.
Finally, we have "Shor" (Noise), a satire on Mumbai's madness. The movie follows three men as they live through a series of disturbing incidents during a festival. One is harassed by gangsters. A bootlegger finds a bag of explosives while a cricketer is told that he can be in the team only if he pays.
In the days to come, I am told that there could additions to the basket of Indian movies.
Gautaman Bhaskaran will be covering the Dubai International Film Festival this year.