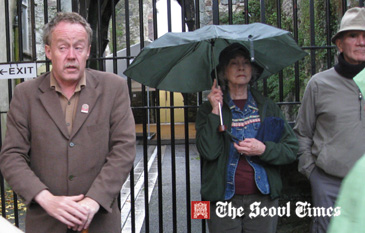 Jack Burtchaell leads walking tour. Photo by Mrs. "Doris Hagan"
Situated on the south-east coast, Waterford is Ireland's oldest city and as might be expected, is steeped in history. John Hagan highlights some of its ancient and modern treasures.
Walk with Jack
Probably the most recognisable face in the City is that of Jack Burtchaell who has been leading, informing and entertaining tourists with the history of Waterford for 20 years. Jack's tours, which last about an hour, wend through the main locations associated with the Viking Quarter and the City's historical waterfront. Be prepared for a little role play and laughter as Jack ebulliently teases out Waterford's rich past as well as providing insights into its notable personalities. Tours commence at 11:45 a.m. and 1:45 p.m. daily from the Museum of Treasures. Tel: +353 (0) 51 873711; www.waterfordtreasures.ie Museum of Treasures.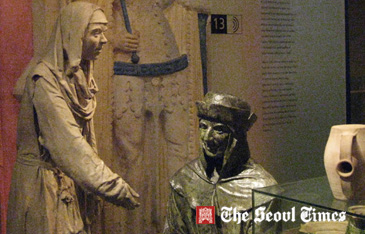 Museum of Treasures Photo by Mrs. "Doris Hagan"
Housed in a six storey historic granary, and opened in 1999, this award winning museum recounts the 1000 year heritage of Ireland's oldest city from its establishment in Viking times to the present.Formerly the richest town in Ireland, after Dublin, Waterford was once the nation's wine capital and birthplace to many of Ireland's heroes including Thomas Francis Maher. Audio visual interactive presentations, together with an audio guide in 6 languages depict something of the city's ethnic, cultural and religious diversity featuring many artifacts excavated from beneath the surrounding streets including a find of Iraq silver dating from 742 BC.The Museum, which attracts in the region of 36,000 visitors each year also houses a tourist office, gift shop, an exhibition gallery and a busy contemporary café/restaurant. Open: Monday-Saturday 9 a.m. – 6 p.m. and Sunday 11 a.m.-6 p.m. (June-August) and Monday-Saturday 10 a.m.-5 p.m. and Sunday 11 a.m.-5 p.m. (September-May).Tel: +353 (0) 51304500; www.waterfordtreasures.ie
Reginald's Tower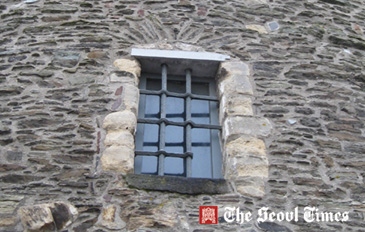 Reginald's Tower Photo by Mrs. "Doris Hagan"
Reginald's Tower is the oldest urban monument in Ireland and the oldest monument to retain its Viking name. Believed to be the first building in Ireland to use mortar, it remains Waterford's best known landmark. Boasting its own mini-history, featuring kings, princes, heroes, rascals and villains, the Tower has served variously as a mint, munitions store, prison and residence.It was here that the legendary Anglo-Norman lord, Strongbow, met his future bride Aoife – a union which was to change the course of Irish history forever. Open daily 10 a.m. – 5 p.m. Tel: +353 (0) 304220; www.waterfordcity.ie/city/walls/reginalds-tower.htm Waterford Crystal Visitor CentreCrystal has been manufactured in the City from 1783 with a new state of the art centre opened in June 2010 where visitors can gain an insight into how the world's finest crystal is made. On a 45 minute conducted factory tour, see how silica, potash, lead and enamel are transformed into elegant, intricate glassware.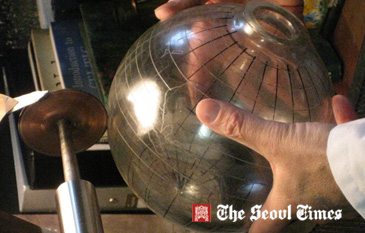 Engraving Waterford Crystal Photo by Mrs. "Doris Hagan"
Using traditional methods, skilled craftsmen heat, blow, mould and engrave the crystal into an array of products from Lismore patterned wine glasses to unique orders such as the Pebble Beach Golf Trophy and Volvo Ocean Challenge trophy. Also on site is the largest display of Waterford Crystal in the world together with the added bonus of tax free shopping. Retail store open Monday-Saturday 9 a.m.-6 p.m. and Sunday 10:30 a.m.-6 p.m. Factory tour: Monday-Saturday 9 a.m.-4 p.m. and Sunday 10:30 a.m.-6 p.m: Tel: +353 (0) 51 317000; www.waterfordvisitorcentre.com
Dooley's Hotel
Originally built in 1700, and recently renovated, this winner of a Failte Ireland tourism award is a family hotel, run by June Darrer and daughters Margaret and Tina. Situated on the historic waterfront overlooking the River Suir, it is famous for its traditional hospitality, friendly staff and relaxed ambiance. The hotel's New Ship restaurant, with its old time charm boasts quality a la carte and table d'hôte menus featuring local produce. After a hard day's sightseeing visitors can also chill out in the Dry Dock lounge bar over Guinness, coffee and snacks. Tel: +353 (0) 51 873531; www.dooleys-hotel.ie While in Ireland John Hagan was a guest of Tourism Ireland Ltd.For further information on Ireland www.discoverireland.com