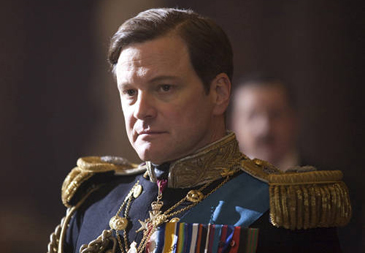 "The King's Speech" by Tom Hooper
The star-driven and highly acclaimed "The King's Speech" will open the 7th Dubai International Film Festival on Dec. 12, 2010. Helmed by Tom Hooper (with "Red Dust" and "The Damned United" behind him), the movie recently clinched eight British Independent Film Awards, including those for Best Picture, Best Director, Best Screenplay and Best Actor.
Starring Colin Firth (last seen in "A Single Man"), Geoffrey Rush ("Pirates of the Caribbean") and Helena Bonham Carter ("Fight Club") among others, "The King's Speech" narrates the true story of King George VI, Queen Elizabeth's father. Firth plays the king, who reluctantly steps on the throne after his father dies and brother Edward VIII abdicates in 1936, choosing to marry a commoner, Mrs Simpson, rather than rule England. George VI, who was deemed unfit to rule a nation on the brink of war, because of impaired speech, hires a therapist.
The Guardian's Peter Bradshaw writes: "Tom Hooper's richly enjoyable and handsomely produced movie about George VI's struggle to cure his stammer is a massively confident crowd-pleaser. What looks at first like a conventional Brit period drama about royals is actually a witty and elegant new perspective on the abdication crisis and on the dysfunctional quiver at the heart of the Windsors and of prewar Britain. It suggests there was a time when a member of the royal household experimented with psychoanalysis – disguised as speech therapy…The film is a clever anti-Pygmalion. Where Henry Higgins had to get Eliza Doolittle to smarten up and talk proper, the therapist finds his pupil has gone too far in the other direction…"
The Festival Chairman, Abdulhamid Juma, said: "We are delighted to host the movie and its considerable talent in Dubai. The Festival has always sought to bring the best cinema of the world to Dubai and the greater Middle East, and 'The King's Speech' certainly fits that bill. It has scooped up the People's Choice Award at the Toronto Film Festival and earned rare standing ovations wherever it has been seen. We are excited to begin our programming on such a high note." Last year, the Dubai Festival got James Cameron's 3D epic, "Avatar" and the musical, "Nine", before they opened in America. Dubai has also been an early screening stage for works such as "Slumdog Millionaire" and "Paradise Now" that went on to garner big international kudos.The Festival will run till December 19.
Gautaman Bhaskaran had covered the Dubai International Film Festival in its early years.