America
"America's First Pacific President" Attends Seoul G-20 Summit
Special Contribution
By Victor Cha
CSIS Korea Chair

In the week following the November 2 midterm elections, US President Barack Obama is scheduled to make several stops in Asia on his way to and from the November 11–12 G-20 Summit in Seoul, South Korea.Thus far, his itinerary includes visits to Indonesia, India, and Japan. This trip is the president's third attempt to go to Indonesia, his early childhood home, since he took office. The first two attempts were delayed by the push to pass the U.S. health care reform bill and the Deepwater Horizon disaster in the Gulf of Mexico. The 12-day Asia tour will be the longest international trip of Obama's presidency, signifying to many Asia watchers that the administration highly values its strategic and economic relationships within the region and that Obama intends to live up to his claim of being "America's first Pacific president."Q1: Why is President Obama going to Asia?A1: The administration has indicated that the president intends to focus on economics during his second trip to Asia. While in Mumbai, Obama is scheduled to address the U.S.-India Business and Entrepreneurship Summit. In Indonesia, it is predicted that he will stress the Islamic country's growing role in the international economy and in the fight against religious extremism.In Seoul, he will be joining other leaders at the G-20 Summit to discuss issues of international economic significance, such as the global financial crisis, currency revaluation, development, etc. Following the G-20 Summit, the president will fly to Japan for the 18th APEC Economic Leaders' Meeting.Q2: Why is it significant that Seoul is hosting the upcoming G-20 Summit?A2: As host of the 2010 G-20 Summit, South Korea will be making history on multiple accounts. It will be the first non–G-7 member state, as well as the first "emerging" economy, to chair the summit. South Korea will also be the summit's first non-Anglophone chair. All of these "firsts" signify an expansion of the G-20's focus, from one resting solely on collective action during the global financial crisis to including international support for developing economies.Having transitioned in a mere 60 years from a developing country to the 15th-largest economy in the world, South Korea is the model "rags-to-riches" story for other developing nations. As a recipient-turned-donor of international development aid, South Korea's growing strength in the global market reflects the reciprocal effects of official development assistance, and it is likely that the country will use itself as an example at the summit to emphasize the importance of global development projects.Q3: What is on the agenda for this G-20 Summit, and how will it be different from its predecessors?A3: The Seoul G-20 Summit has set out four agenda initiatives: to ensure the continuation of recovery from the global financial crisis; to forge an agreement on a comprehensive policy action plan to lead the global economy toward stable, balanced growth; to reform and strengthen the global financial regulatory system to maintain growth and avert future crises; and to modernize and reform international financial institutions, such as the IMF.The Seoul G-20 will go beyond its predecessors in addressing development issues and ensuring follow-through on its commitments. A working group for development policy was established at the Toronto G-20, with South Korea as one of the cochairs. Through this working group, South Korea has pledged to enact a detailed development agenda with a multiyear action plan. This plan is set to be ratified by the G-20 at the close of the Seoul Summit.Q4: What is the major concern that Pacific Rim G-20 members (China, Indonesia, Japan, and South Korea) will voice at the Seoul Summit?A4: The most heated summit issue to affect the region, especially China, is the forced revaluation of currency. At a recent G-20 meeting in Gyeongju, Korea, the finance ministers of participating states agreed to move toward "market determined exchange rate systems" and refrain from "competitive devaluation of currencies," though they were unable to agree on any sort of numerical guidelines to deal with imbalances.For the time being, these actions seem to have staved off fears of a potential U.S.-China currency war. However, exactly what constitutes "market intrusive" monetary policy and consensus on a standard surplus/deficit–calculation method remain elusive as the G-20 members head to the Seoul Summit.Victor D. Cha holds the Korea Chair at the Center for Strategic and International Studies in Washington, D.C.Critical Questions is produced by the Center for Strategic and International Studies (CSIS), a private, tax-exempt institution focusing on international public policy issues. Its research is nonpartisan and nonproprietary. CSIS does not take specific policy positions. Accordingly, all views, positions, and conclusions expressed in this publication should be understood to be solely those of the author(s).

Related Articles
Continued Expansion and Upgrade Work at ...
The Burgeoning North Korea Missile Threat
No Significant Activity Observed in N. Korea's ...
Sharp Focus: A Unique View of the Sinpo ...
Sharp Focus: A Unique View of the Mayang-do ...
Sinpo South Shipyard Update: North Korea Moves ...
N. Korea Shows Signs of Reprocessing Activity ...
Business as Usual: North Korea Restarts ...
Two Years since Singapore: Did Kim Outplay ...
Pyongsan Uranium Concentrate Plant Remains ...
Singapore Summit Assessed by Victor Cha
N. Korea Announces Successful Hydrogen Bomb ...
Reports of Another High-Level Execution in ...
US President Obama to Visit S. Korea April ...
North Korea Abducts American Senior Citizen
S. Korea President Park Geun-Hye Holds Summit ...
N. Korea Threatens to Strike the United States
CSIS Korean Chair Victor Cha Analyzes North ...
South Korea Elects President Park Geun-Hye
North Korea's Successful Rocket Launch
North Korea's Second Rocket Launch in 2012
Shake-up in Pyongyang
The Death of the DPRK Leader
Restart of U.S.-DPRK Negotiations
S. Korea Wins Bid to Host 2018 Winter Olympics
Beijing Acts Like North Korea's Defense Lawyer ...
Succession in North Korea
Jimmy Carter's Mission to North Korea
The Aftermath of the Cheonan
North Korean Leader Kim Jong-il's Visit to ...
The Sinking of the ROK Navy Vessel Cheonan
Obama's North Korea Conundrum"
Pyongyang Deserves Same Treatment as Seoul
"Seoul Government Needs to Conduct Its Own ...


Other Articles by Prof. Victor Cha
Continued Expansion and Upgrade Work at ...
The Burgeoning North Korea Missile Threat
Biden-Moon Summit: Rejuvenating and ...
Sinpo South Shipyard Update: North Korea ...
N. Korea Shows Signs of Reprocessing ...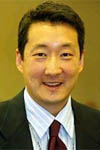 Dr. Victor Cha is Korea Chair of the Center for Strategic & International Studies (CSIS). He earned his MA from Oxford, and Ph.D. from Columbia. Many books he authored include the award-winning author of "Alignment Despite Antagonism: The United States-Korea-Japan Security Triangle." As prolific writers of articles on int'l relations in such journals as Foreign Affairs and The Washington Quarterly, he also interacts frequently with CNN, NYT, and Washington Post as well as Korean media.