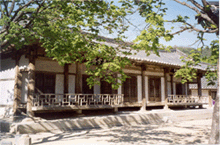 When Britain's Queen Elizabeth II was in Korea in 1999 people expected her to visit
such traditional places as Seoul's Kyongbok Palace, Folk Village in Yongin, or Kyongju, the ancient capital of Shilla Dynasty(B.C.57-A.D.935). Surprisingly, she chose to visit Andong, a small city down in North Kyongsang Province.Famous for its Hahoe Village and Hahoe Mask Dance the provincial city best preserves the archetypal Korean Confucianism of Chosun Dynasty(1392-1910) with its magnificent Seowons(Confucian academy), and time-honored Chongtaeks(head family's house).Seowon, literally "reading garden," is not only an academia where pupils are disciplined with the rule of Confucianism, but also a sacred place where eminent Confucian scholars' memorial tablets are enshrined. There are about 30 seowons in and around Andong.Of them Dosan Seowon is the most famous. Nestled in the northen part of Andong, Dosan Seowon keeps the memorial tablet of arguably the most well-known Korean Confucian scholar Lee Hwang. He played a leading role in the proliferation of Korean Confucianism in the middle of Chosun Dynasty.Lee Hwang was in the vanguard of the "Yongnam" School of neo-Confucianism, which focused on the 'li'(principle and reason) in contrast with 'ch'i'(vital force or matter), which was advocated in the rivalling Cholla Province.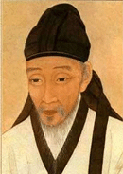 Since Lee Hwang established Dosan Seowon in 1561 for the education of his disciplines, a number of top Korean Confucian scholars including Yu Sung-Ryung, Jung Goo, and Kim Sung-Il were able to keep studying the theory of 'li' and integrate the philosophy into the mainstream of Korean Confucianism.What makes Andong even more famous and popular among both the local and foreign
visitors are Chongtaeks, main houses of family clans. Throughout the country, Andong is one of the few places where Chongtaeks still remain intact. Among a dozen Chongtaeks in Andong, the Pungsan "Ryu" family Chongtaek has become the best known one since the Queen Elizabeth II's visit. Confucian family culture is well preserved in these Chongtaeks which have weathered hundreds of years.In actuality, it was Hahoe Mask and its Mask Dance that gave Andong city its prominence to the outside world. Nowadays a variety of cultural events related to Hahoe Mask Dance attracts numerous visitors from all around the country and the world. These events are being held in Hahoe Village in the city. In particular, Haehoe Pyolsingut, a Mask Dance representing Hahoe Village, is the most popular among foreign tourists because they can intermingle with the performers during the play. Such folk games as Chajeon-nori, Notdaribalkki, and Sonyoujulbulnori are performed as well.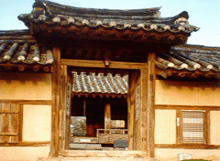 Chajeon-nori is typically a male pastime in which two large teams fight in an open field carrying long Dongche(a kind of ladder made of wood), while Notdaribalkki is a group game for women. In it women form a human bridge by stooping over side by side and allowing a "princess" to step across their backs. And Sonyoujulbul-nori is a kind of fireworks display. During the play, lots of small fireballs fall along a rope hanging from a cliff called Buyongdae.A visit to Andong is more enjoyable because of its unique food, which includes Andong Soju(distilled liquor). Andong Soju is the most famous one among the regionally -distilled sojus in the nation for its refreshing taste and its exceptional quality of sharpening appetites.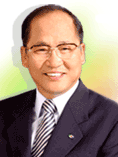 "A total of 120 villagers will serve as volunteer tour guides and among them are 20 volunteer interpreters exclusively for foreign visitors, said Kim Hwi-dong, chairman of the festival's committee and also mayor of Andong, "These volunteers will serve not only in English but also in Japanese and Chinese."Mayor Kim said Andong city will hire foreigners as its employee in order for the city to be better known to the outside world. The city administration will employ
foreigners speaking English, Japanese, and Chinese, respectively.During September 26th through October 5th an exhibition of the "2003 Andong Mask Dance Festival" is being held at the main stage on the Nakdong River and in Hahoe Village in Andong. A total of 30 local and foreign mask dance groups stage their performances. For further details visit its official homepage:
http://www.andong.go.kr/eng/index.asp
▶ Related Articles
"Andong Mask Dance Festival" Starts Sept. 26