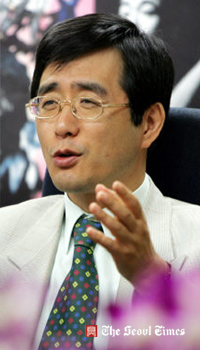 SIDance Artistic Director
Lee Jong-Ho
One of the world's major dance festivals, "SIDance 2010," is currently underway at Seoul's major theaters from Sept. 30 to Oct. 20, 2010.
The largest internation dance festival in the nation has attracted a total of 60 groups including 24 international groups from 20 countries for 64 works this year.On the occasion of the nation's most succesful and largest dance festival the SIDance Artistic Director threw an interview recently to talk about how he turned it into success in 10 years. Here are the questions and answers.
What was the motivation to launch SIDance?
First, I wanted to show aesthetic, top-quality dance performance to provide intellectual stimulation to dancers and the audience. Looking back at the early days in 1998, Korean contemporary dance was yet shaky like someone who tries an abstract painting without mastering representational drawing skills. So I tried to cast groups who can present the best pieces only with their body movements rather than relying on stage settings. But now it's a bit changed since creative dance in Korea has made substantial progress. And second, I think the target of a festival varies depending on who makes it. As an audience who has some cultural background and expertise in this field, I was thinking carefully about how to reach out to people who think dance is too esoteric to enjoy. And besides that, as much as I cared about the popularization of dance, I was also wondering and still am how to increase the interest of intellectuals and those who lead the public opinion in dance to enhance the status of dance in our society. Ultimately for the growth of dance, we need those people who have the influence to lead the culture to enjoy and appreciate dance.
What has changed so far since you started?
When we started SIDance in 1998, the Korean dance circle was eager to learn everything. So I wanted to invite groups from central cities of the world's contemporary dance scene, such as New York, London, and Paris, and introduce new styles. That gave diverse intellectual inspirations to dancers and was also a chance to introduce new contemporary dance to the audience. After achieving the initial objective and our contemporary dance also has grown dramatically, the Festival turned its eyes to other parts of the world and began to get interested in what countries other than advanced countries. So we began to include some dance performances of other relatively unfamiliar regions. In addition, I have become interested in the concerns of dancers in those regions. I wanted to know how they dealt with the same concerns that Korean dancers faced. For example, what about dances of African artists who studied in the West? I am very interested to know how such artists can keep their identity and still be successful as modern dancers.
Tell me about volunteers of SIDance.
Yes, we have a network of volunteers named "sikeuri" who will help us again this year. Some of them participate in SIDance by chance and end up changing their career track to performing arts planning, and some just join their friends and finally become hardcore dance fans. Such a variety of about fifty people work in shifts and they do work really hard in the field. "Dancing city" is the stage where they play the most important role and these few best people make a really great contribution to the performance.
What are the difficulties of leading the festival?
Financial issue is definitely the biggest challenge. It has become worse especially since last year and we are expecting to face quite serious deficit this year too. In the face of financial difficulties, we have somehow managed to make it with a do-or-die attitude. But now it seems we're almost reaching the limit. In fact now I'm giving serious consideration to scaling down the festival. I have recently often thought of what the director of Festival d'Avignon told me back then when I first started SIDance. When I asked him what were the three key factors needed for a festival, he said, "the first is money, the second is argent – which means money in French - and the third is money."
It's already been more than 10 years. Have you ever gone through the motions?
I still haven't done enough of what I wanted to do to go through the motions. There were teams I really wanted to invite or sub-events I really wanted to try, and yet I haven't seen all of them happen. I always find myself getting excited while I make plans for the next year or years ahead. I think this thinking of how I can realize more of what I want to see and the pondering on better programs keep me from going through the motions.
What do you think makes a good festival?
You should try hard to make sure that it (your work) is not feeling like a burden instead of a pleasure. Of course when it's too challenging, I sometimes feel a little regret. But I don't want to whine because I started this because I liked it. For a successful festival, you should know international trend, have a sharp eye for selecting pieces and good national and international networks. Also you need future-oriented insight and mind, overall management capability, artistic sensitivity as a programmer, etc. In my case, I have tried to have these qualifications. But financial issue is the one last thing I'm still struggling to cope with.
What do you think Korean festivals look for?
I think each festival has its own distinctive identity and philosophy. They should have a clear answer to the question of why they do it. You don't stage a piece just because you like it. You have to make a program that fits the direction and character of the festival. A festival should have its unique color: for example, we show the latest trend, we only feature young dancers, or we focus on "safe" pieces targeting the upper middle class, etc. But I don't quite see such a tendency in our culture yet.
What Does SIDance Do?
SIDance is the top-notch selection of reputable dance performances that accentuate the brilliance of physicality and cultural diversity.It presenting dance works of internationally renowned choreographers including Suzanne Linke, Philippe Decouplé, Josef Nadj, Mauro Bigonzetti, Maurice Béjart, Saburo TESHIGAWARA, Akram Khan, Preljocaj, Stephen Petronio, and Random Dance &egrave.SIDance has developed into one of prominent international dance festivals.It is scouting for prospective choreographers who later became internationally acclaimed artists, including Tero Saarinen, Gilles Jobin, Vincent Mantsoe, Emanuel Gat, Olga Pona, Pedro Pauwels, and Inbal Pinto &egrave.SIDance Introduces works of various dance styles and cultural diversity: Flamenco, Tango, Belly dance, Latin dance, Media art from Latin America, Africa, Scandinavia, and Middle East Asia.It also raises cultural awareness on diversity, as well as expanding international networks to various countries, ntroducing traditional dance works from various regions and countries in Asia in recognition of the significance and contemporaneity of traditional cultures.
For more details or sales of tickets call 02-3216-1185 or visit its website at www.sidance.org