Indonesian workers look through the shattered windows of a building in Jakarta's modern business district, much of which was damaged in the bombing.
Courtesy Beawiharta — Reuters
Terrorism continues. Nobody is able to check it. Or, so it appears by the free run terrorists have.The cause at this point of time clearly seems to be Iraq, where the American invasion has triggered a frightening backlash. We have seen several terror attacks since then, and the most heinous of killings, those of the Nepali captives in Iraq being probably the most gruesome.With the latest bombing outside the Australian Embassy in Jakarta on Thursday (Sept. 9), it is evident that Muslim militancy is growing in intensity and pace.Osama bin-Laden's Al Qaeda-linked Jemaah Islamiyah claims to have perpetrated Thursday's ghastly crime in Jakarata.The group was blamed for the earlier explosions in Indonesia: in Bali in 2002, when 202 people, including 88 Australians, perished and; in Jakarta's JW Marriott Hotel in 2003, when 12 people died.Soon after Thursday (Sept. 9)'s blast, the Jemaah Islamiyah posted a message in an Arab website: We warn of more attacks unless Australia withdraws its forces from Iraq ... We advise all Australians to get out of Indonesia or we will make it grave for them."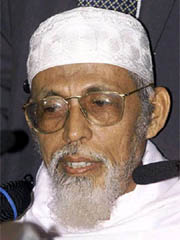 Abu Bakar Bashir, spiritual leader of Jemaah Islamiyah
The Jakarata attack can well influence the early October elections in Australia, where Prime Minister John Howard is contesting on a pro-American, anti-terror platform. The bombing also came just ahead of Indonesia's presidential polls, and, more significantly, two days before the September 11 anniversary of the disasters in New York and Washington in 2001.Analysts have also begun to wonder whether this would have an added implication on the November re-election of U.S. President George Bush. A spate of such terror attacks on America and its allies worldwide can certainly worsen the resentment against Bush at home.Michael Moore's powerful documentary, "Fahrenheit 9/11" — now being widely screened and applauded not just in the U.S. but elsewhere too — has damned Bush's policies with hard facts. One of them is the illogical and the unfair means adopted by the Bush administration to drag ordinary Americans into a fictitious war. For this, Moore reveals in his film, the U.S. President went to the extent of creating a fear psychosis in his country.In Australia, there have been serious reservations about Howard's policies. Many Indonesians felt humiliated by the loss of Timor in 1999, and have held Australia responsible. Most Indonesians are Muslims, and they have been disgusted with the "demonisation" of Islam in the America-led war against terrorism. Canberra's recent decision to buy medium-range missiles, which can strike Indonesia, has been yet another cause of ire.If these have been resented by Indonesians, Howard's direction has been an area of concern, debate and damnation even among Australians.However, the question now is, will Australians vote for Howard known for his strong security measures, but whose focus on matters such as health care, education, taxation, etc, has been painfully limited.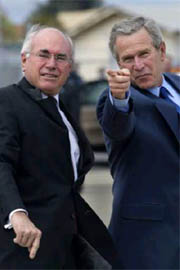 Australian Prime Minister John Howard (left) wth US President George Bush
Howard's Labor challenger, Mark Latham, has promised Australians to bring home his soldiers in Iraq before Christmas. This undoubtedly means that the current Islamic militant threat against Australians has a reasonably good chance of diminishing. But with American security cover over Australia, Latham may not find it a cakewalk to defy Washington. North Korea's nuclear ambitions are an another impediment.In the final analysis, Bush perhaps holds the key. His exit may signal a reevaluation of American methods in West Asia, and there can be a move to de-link terror from Islam. Attempts can be made to distance the two by narrowing the fight against militancy to the few hardcore Muslim elements, and suppressing the tendency to hold the entire religious community guilty in one way or the other.A serious effort must be made to win over the mild and the moderate among the Muslims in order to alienate the radical. Today, the entire Islamic race is peeved over the fact that each one of them is looked at with suspicion and hostility.I would like to conclude with an example of this. Last year, I was part of a small group of friends traveling by car from Canada to the U.S., when the one Muslim member, a respected Chartered Accountant and long-term Canadian citizen, was singled out by American immigration for uncomfortably long questioning before he was allowed to pass. The rest of us was just waved by!