* Original image size: 600x450 pixels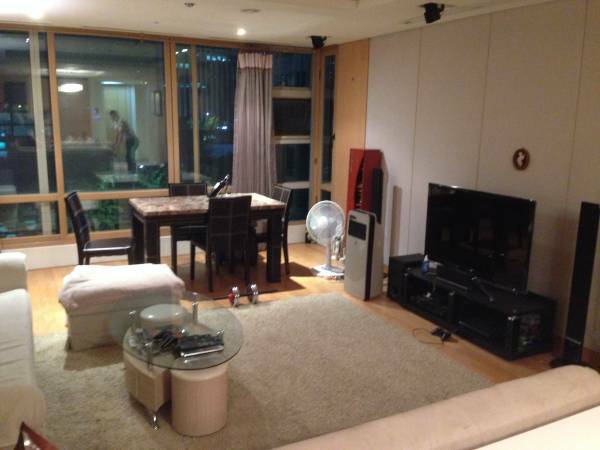 3 bedroom & 2 bathroom luxury apartment in a beautiful modern high rise apartment building located in Yeoido. The apartment, Lotte Castle Empire, has a huge gym (included in the utility fees) sauna and golf facilities (see 2 video tours below).
There are 2 professionals living here (British and South African). Available December 1st. Our roommate is moving back to America.
There are 2 options:-
(1) Master bedroom with en suite bathroom (900,000 rent with 10,000,000 deposit)
(2) Medium sized bedroom (800,000 rent with 10,000,000 deposit)
Utilities are equally divided every month. All utilities & energy bills will total between 120,000-150,000won per month.
Video Tours
---------------
(1) Apartment
https://www.dropbox.com/s/pp1cks0lmqn9bqw/file%202015.%2010.%2013.%20%EC%98%A4%EC%A0%84%201%2003%2051.mov?dl=0
(2) Gym, Golf & Sauna
https://www.dropbox.com/s/9ebdofubhimw9e3/apartment%20tour.mov?dl=0
-Furnished (Oven, Fridge, Dishwasher, -Washing machine & tumble dryer)
-50\" 3D/HD TV
-High Speed internet (wifi and cable connection)
-Projection system with 9 point surround sound
-Netflix connected (thousands of tv shows and movies)
-Great views from all the rooms and the shared living area
- Parking garages below the building
-Marble top dining table (seats 8)
-Kitchen with island
-Full gym and fitness centre (free weights, machines, treadmills and bikes)
-Library and study area
-Multiple restaurants in the building on the ground floor and nearby surrounding block
-Beautiful main lobby with reception area and 24 hour doorman service
-Dentist and dermatologist offices in the building
-Peaceful and serene on weekends as all companies are closed
-Tree lined streets, lovely for strolling in the evenings or weekends
-Large and stylish IFC mall with designer stores and various food options (foreign and local)
-Nearby parks and river
Transportation
-----------------
2 minutes from Yeoido station (line 5 & 9) to the center of Gangnam (Sin-nonhyeon) 15 minutes & Samseong/COEX 20 minutes by express subway.
10 minutes away from both Hongdae and Itaewon.
Many buses to Sinchon & City Hall 10 minutes and Itaewon 15 minutes
Local Area
-------------
Yeoido Park and Han River Park (5 minutes walk)
National Assembly
63 Building
Emart across the street
Walking distance to IFC mall (5 minutes)
Your IP : 61.72.xxx.xxx