Photo News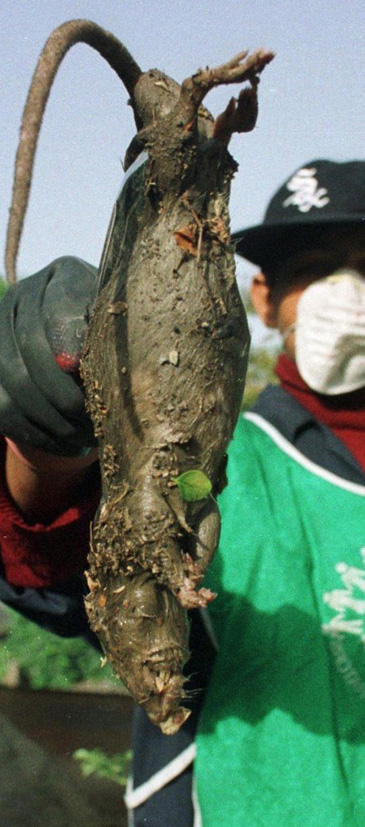 "Gigantic Rats" Captured in South KoreaFrequent appearance of giant rats stirs public outcry among South Koreans these days as more and more South Koreans are worried about negative side effects of the climatic changes on the Korean Peninsula.

Local scientists predict that the summer period will be six months by the year 2100, two months longer than now. Winter will be two months shorter than now.

South Korean media ascribe the recent strange appearance of abnormal animals and plants to the climatic changes that transform the flora and fauna of the peninsula.

Last week a local TV reported of the appearance of "monster rats," 10 times as big as normal rats. It says the rodents are one meter long and weigh as many as eight kilograms when they appeared in Haban Stream running through Gimhae, South Gyeongsang Province.

The TV channel mentioned about rapid growth of mosquitoes with the rising temperature and about appearance of fish on the sea previously unseen.

Some experts argue that the huge rats are actually nutrias. Nutrias live in large number in swamps and streams in and near Nakdong River, South Gyeongsang Province.

In Woopo Swamps one farmer caught as many as 600 nutrias with his traps.

Originally native to subtropical South America nutrias were imported to the nation in 1980s for its fir and meat. Some were released from the farms and multiplied as they have no natural predators.

In 2009 South Korea's environmental authorities designed nutrias as species dangerous to the environment.
ST Photo Gallery
Photo News
Embassy Events
Econo People 2005
Fashion Images
New Movies
Travel Images
Nayan Sthankiya's Photo Features New
Abuses of Iraqi Prisoners of War
Academy Awards Photos 2004
Adolf Hitler
Aishwarya Rai-Indian actress
Buddha`s Birthday 2004
Cannes 2004 — 57th Cannes Film Festival
Choi Tae-Ji Photo Gallery
Comfort Woman Picture Gallery
Crown Prince Felipe of Spain
Dokdo Photo Gallery
Erotic Paintings of Hyewon and Danwon
Franz`s Art Exhibition
Gando Photo Gallery
Geisha in Japan
Gwangju Massacre
Jeju Island
Kim Jong-Il and Kim Il-Sung
Koguryo Murals
Korean War (1950-53)
Madonna
Miss Universe 2004
Miss World Contest 2003
Mt. Kumkang or Mt. Diamond New
Natural Beauty of Korea
Rape of Nanjing (Nanjing Massacre)
Rio Carnival 2004
Ronald Reagan`s Life in Pictures
ST Family
Sonia Gandhi and Gandhi Clan
Taj Mahal Photo Gallery
Ukrainian Embassy
World War Two
Photo Gallery of World Newspapers/Media
Times of India
Hindustan Times
SantaBanta.com
Straights Times (Singapore)
Chicago Sun-Times
Moscow Times