Photo News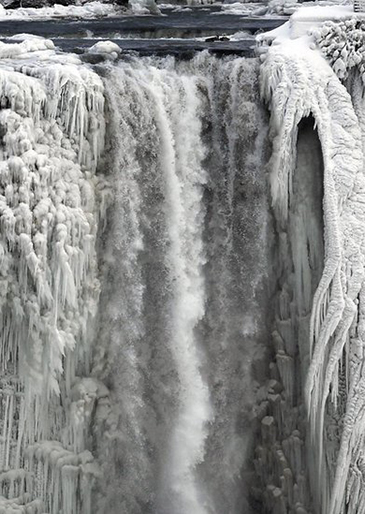 Niagara Falls Frozen in Time as Polar Vortex Blankets USPeople visiting one of Canada's most popular tourist spots got to see a rare site this week. The polar vortex that has hit many parts of Canada and the U.S. caused chilly temperatures which froze parts of Niagara Falls. The normally fast-moving water stopped flowing.

Parts of the Niagara Falls, located between the US and Canada, have frozen because of the Arctic chill that's gripped North America this week.

The frigid temperatures may wreak havoc with travel plans and force flight cancellations, but it also makes for some stunning photos. Niagara Falls resident Ted Williams shot these next two photos Wednesday night from the Canadian side of the Falls, overlooking the U.S. side.

What you're looking at is Niagara Falls encased in ice. You can see the Falls, still roaring in the back, but pretty much everything else near the Canada-US border has slowed down to a glacial pace.

The photo comes courtesy of Google Earth Pics who tweeted out the photo on Tuesday just as much of North America was contending with the fallout of a polar vortex, a system of tundra-like cold air that descended on the area to bring abnormally cold weather.

But while many may be bitter about the sub-zero temperatures, the timing couldn't be more perfect for the area. Niagara Falls is currently in the midst of its Ontario Power Generation Winter Festival of Lights, which embraces the cold and paints the waterfall and the surrounding area in a colourful winter wonderland. Travellers interested in seeing the frozen Falls at the festival can do so until Jan. 31, assuming you don't turn into a human icicle first.
ST Photo Gallery
Photo News
Embassy Events
Econo People 2005
Fashion Images
New Movies
Travel Images
Nayan Sthankiya's Photo Features New
Abuses of Iraqi Prisoners of War
Academy Awards Photos 2004
Adolf Hitler
Aishwarya Rai-Indian actress
Buddha`s Birthday 2004
Cannes 2004 — 57th Cannes Film Festival
Choi Tae-Ji Photo Gallery
Comfort Woman Picture Gallery
Crown Prince Felipe of Spain
Dokdo Photo Gallery
Erotic Paintings of Hyewon and Danwon
Franz`s Art Exhibition
Gando Photo Gallery
Geisha in Japan
Gwangju Massacre
Jeju Island
Kim Jong-Il and Kim Il-Sung
Koguryo Murals
Korean War (1950-53)
Madonna
Miss Universe 2004
Miss World Contest 2003
Mt. Kumkang or Mt. Diamond New
Natural Beauty of Korea
Rape of Nanjing (Nanjing Massacre)
Rio Carnival 2004
Ronald Reagan`s Life in Pictures
ST Family
Sonia Gandhi and Gandhi Clan
Taj Mahal Photo Gallery
Ukrainian Embassy
World War Two
Photo Gallery of World Newspapers/Media
Times of India
Hindustan Times
SantaBanta.com
Straights Times (Singapore)
Chicago Sun-Times
Moscow Times