Photo News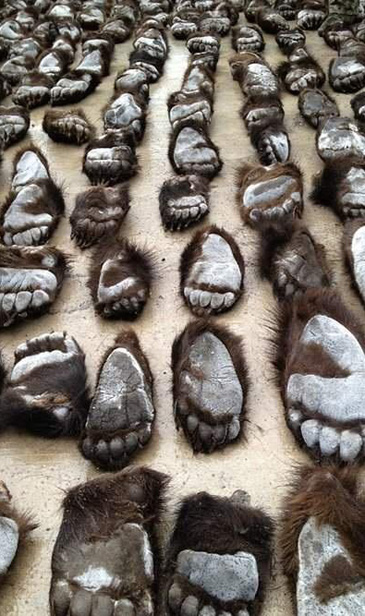 Over 200 Bear Paws Seized by Chinese OfficialsSmuggling Animal Parts Lucrative Business in China

A total of 213 of bloody large and small bear paws were discovered by the Manzhouli (滿州里) Customs, Inner Mongolia, under routine check of a car entering into China from Russia on June 15, 2013, Legal Daily (法制网) reported.

According to the Chinese newspaper, this is the most serious smuggling case with the largest number of bear paws confiscated.

One kilogram bear paw in Russia is sold at 2,000 rubles, equivalent to 400 yuan or 64 US dollars while in China, the price can be five or six thousand yuan per kilogram (US$ 800-960), ten times higher than the price in Russia.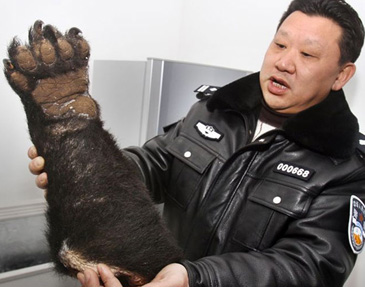 Chinese customs official shows a large paw of a black bear.



The Convention on International Trade in Endangered Species of Wild Fauna and Flora (CITES), also known as the Washington Convention, puts black bear on the endangered list.
The Convention expressly limits international trade of its products and life bears derivatives.

On Dec. 25, 1980 China joined the Convention, on April 8, 1981 the Convention entered into force for China.

In addition China Wildlife Conservation Act classifies bear as grade 2 of protected animals. Huge profits become main reason for smugglers to brutally go against the rule.

Earlier on April 9, 2013 Russian border guards in the Far East seized five kilograms of bear paws that poachers were trying to transport to China, reported Russia's RIA Novosti quoting a Federal Security Service (FSB) branch.

According to the Russian news media, the guards discovered packages containing the hidden paws under a platform loaded with timber while searching a cargo train traveling from Russia to China.

Bear paws, bear skins and fragments of tiger skeleton as well as some Far Eastern endangered plants are selling very expensive in China.

Chinese use the animal parts for traditional folk remedies and recipes and this makes many endangered species lucrative targets for poachers across the border in Russia.

The seizure of the bear paws is the first find of natural contraband in the region in year 2013.

On Jan. 19, 2012 a dozen of severed bear paws were seized by the local police at Chongqing Airport in the Yubei District of Chongqing in China.

On the day a logistics company that had arrived at an airport to ship seafood was discovered by security to have 10 bear paws, with the Forestry Police becoming involved to investigate.

According to preliminary information, these 10 bear paws were smuggled from outside the country, with Chongqing only being a transit point.

The Chang'an van stopped at the Jiangbei Airport freight station. Opening the door, a man around 30 years old got off and unloaded seven cartons.

"Shipping to Shenzhen," the man told the staff that the cartons held seafood inside.

According to regulations, all items shipped by air must be opened and inspected. Security screener Little Li carefully and cautiously opened the black plastic bags in two of the cartons and was shocked to find two furry black animal paws inside.

The 10 seized bear paws were all rear legs, all severed at the joints, the exposed muscles and flesh at the wounds having already discolored. The police determined that these bear were slaughtered at least half a year ago based upon experience.

On Dec. 14, 2011 Chinese officers of the Hunchun Anti-smuggling Sub-bureau confiscated 117 bear paws weighing a combined 126 kg in Hunchun, Jilin Province, close to China's border with the Russian Far East.

The National Wildlife Detection Center later identified 103 of the paws as from Asiatic Black Bears "Ursus thibetanus," the remainder (14) from Brown Bears "Ursus arctos."
ST Photo Gallery
Photo News
Embassy Events
Econo People 2005
Fashion Images
New Movies
Travel Images
Nayan Sthankiya's Photo Features New
Abuses of Iraqi Prisoners of War
Academy Awards Photos 2004
Adolf Hitler
Aishwarya Rai-Indian actress
Buddha`s Birthday 2004
Cannes 2004 — 57th Cannes Film Festival
Choi Tae-Ji Photo Gallery
Comfort Woman Picture Gallery
Crown Prince Felipe of Spain
Dokdo Photo Gallery
Erotic Paintings of Hyewon and Danwon
Franz`s Art Exhibition
Gando Photo Gallery
Geisha in Japan
Gwangju Massacre
Jeju Island
Kim Jong-Il and Kim Il-Sung
Koguryo Murals
Korean War (1950-53)
Madonna
Miss Universe 2004
Miss World Contest 2003
Mt. Kumkang or Mt. Diamond New
Natural Beauty of Korea
Rape of Nanjing (Nanjing Massacre)
Rio Carnival 2004
Ronald Reagan`s Life in Pictures
ST Family
Sonia Gandhi and Gandhi Clan
Taj Mahal Photo Gallery
Ukrainian Embassy
World War Two
Photo Gallery of World Newspapers/Media
Times of India
Hindustan Times
SantaBanta.com
Straights Times (Singapore)
Chicago Sun-Times
Moscow Times