Photo News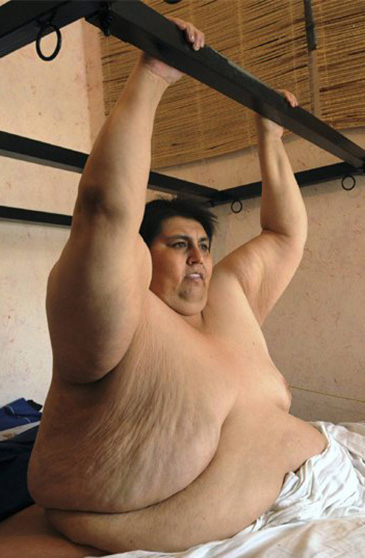 World's Heaviest Man Dies at 48A man who once held the record for being the world's heaviest person has died in Mexico at the age of 48.

Manuel Uribe's death was confirmed by a health department official from Nuevo Leon, the state where he lived.

According to the official, who could not be named, Mr Uribe was taken to hospital on Friday 2 May with an abnormal heartbeat.

He had to be taken there by emergency and civil defence workers using a crane.

Mr Uribe's cause of death has yet to be determined.

As well as the problems with his heart, he was also thought to have had problems with his liver.

He was named a Guinness World Record holder in 2006 after his weight was recorded at 1,230lb (560kg).

He had slimmed down to 867lb (394kg) since then.

Mr Uribe lived in the Mexican city of Monterrey, close to Mexico's border with the US, and had been stuck in bed for many years as he could not walk by himself.

Since 2002 he had relied on his mother and friends to feed and clean him.

He married Claudia Solis in 2008 and left his home for the wedding, one of the few times he was able to do so in recent years.

Mr Uribe said he weighed more than 20 stone (115kg) as a teenager and that from 1992 his weight began to increase.
ST Photo Gallery
Photo News
Embassy Events
Econo People 2005
Fashion Images
New Movies
Travel Images
Nayan Sthankiya's Photo Features New
Abuses of Iraqi Prisoners of War
Academy Awards Photos 2004
Adolf Hitler
Aishwarya Rai-Indian actress
Buddha`s Birthday 2004
Cannes 2004 — 57th Cannes Film Festival
Choi Tae-Ji Photo Gallery
Comfort Woman Picture Gallery
Crown Prince Felipe of Spain
Dokdo Photo Gallery
Erotic Paintings of Hyewon and Danwon
Franz`s Art Exhibition
Gando Photo Gallery
Geisha in Japan
Gwangju Massacre
Jeju Island
Kim Jong-Il and Kim Il-Sung
Koguryo Murals
Korean War (1950-53)
Madonna
Miss Universe 2004
Miss World Contest 2003
Mt. Kumkang or Mt. Diamond New
Natural Beauty of Korea
Rape of Nanjing (Nanjing Massacre)
Rio Carnival 2004
Ronald Reagan`s Life in Pictures
ST Family
Sonia Gandhi and Gandhi Clan
Taj Mahal Photo Gallery
Ukrainian Embassy
World War Two
Photo Gallery of World Newspapers/Media
Times of India
Hindustan Times
SantaBanta.com
Straights Times (Singapore)
Chicago Sun-Times
Moscow Times