Photo News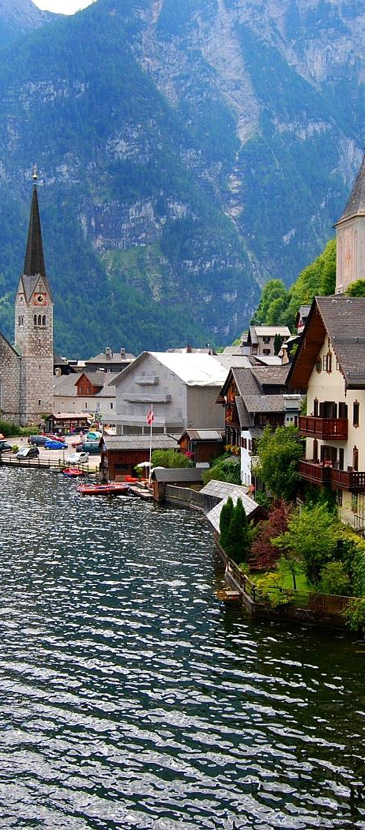 Salzkammergut in AustriaThe charming Salzkammergut lake and mountain district embraces parts of three Austrian provinces: Upper Austria, Salzburg and Styria.

Salzkammergut stands for sports and activities, for crystal-clear lakes boasting water of premium quality, for short and long walks and hikes, and for lovely lakeside beaches.

Marked by 76 big and small lakes, numerous brooks and rivers, gently rolling hills and impressive peaks, the Salzkammergut area lends itself to cross-country skiing, Alpine skiing and winter walking.


The lands on the shore of the Traun River comprise numerous glacial lakes and raised bogs, and the Salzkammergut Mountains and the adjacent Dachstein Mountains, the Totes Gebirge and the Upper Austrian Prealps with prominent Mt. Traunstein in the east. The towering mountain slopes are characterized by bright limestone (karst) and flysch rocks.

With its numerous lakes and mountains, the Salzkammergut offers many opportunities to take part in water sports, bathing, hiking, cycling, caving, golf and relaxing around lakes such as the Grundlsee or Toplitzsee.

The Katrinalm, an alpine pasture, is found near Bad Ischl. Typical Salzkammergut culinary specialities include dishes such as Kaiserschmarrn (cut-up and sugared pancake with raisins), Krapfen (similar to doughnuts) or Lebkuchen (gingerbread).

Parts of the region around Hallstatt were listed as a World Heritage Site in 1997, with the description: "Human activity in the magnificent natural landscape of the Salzkammergut began in prehistoric times, with the salt deposits being exploited as early as the 2nd millennium B.C.

This resource formed the basis of the area's prosperity up to the middle of the 20th century, a prosperity that is reflected in the fine architecture of the town of Hallstatt." The World Heritage Site includes the towns Hallstatt, Obertraun, Gosau and Bad Goisern.
ST Photo Gallery
Photo News
Embassy Events
Econo People 2005
Fashion Images
New Movies
Travel Images
Nayan Sthankiya's Photo Features New
Abuses of Iraqi Prisoners of War
Academy Awards Photos 2004
Adolf Hitler
Aishwarya Rai-Indian actress
Buddha`s Birthday 2004
Cannes 2004 — 57th Cannes Film Festival
Choi Tae-Ji Photo Gallery
Comfort Woman Picture Gallery
Crown Prince Felipe of Spain
Dokdo Photo Gallery
Erotic Paintings of Hyewon and Danwon
Franz`s Art Exhibition
Gando Photo Gallery
Geisha in Japan
Gwangju Massacre
Jeju Island
Kim Jong-Il and Kim Il-Sung
Koguryo Murals
Korean War (1950-53)
Madonna
Miss Universe 2004
Miss World Contest 2003
Mt. Kumkang or Mt. Diamond New
Natural Beauty of Korea
Rape of Nanjing (Nanjing Massacre)
Rio Carnival 2004
Ronald Reagan`s Life in Pictures
ST Family
Sonia Gandhi and Gandhi Clan
Taj Mahal Photo Gallery
Ukrainian Embassy
World War Two
Photo Gallery of World Newspapers/Media
Times of India
Hindustan Times
SantaBanta.com
Straights Times (Singapore)
Chicago Sun-Times
Moscow Times