Photo News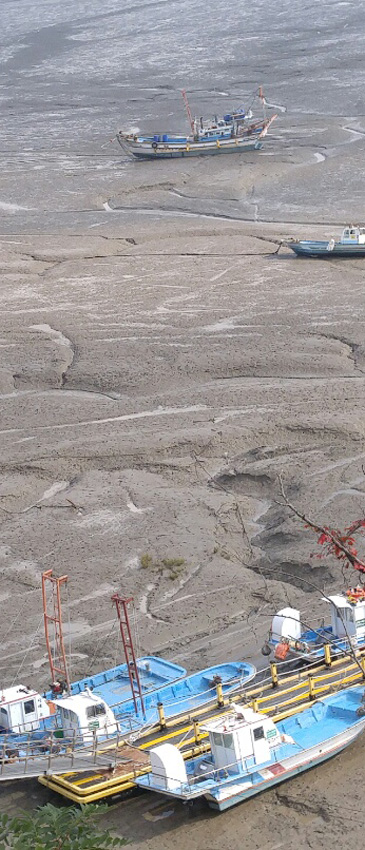 Fishing Boasts on Mudflats in S. KoreaBy Mr. Yoon Young-Hwan

Some fishing boats are stranded on the vast mudflats under the warm autumnal sun in Ganghwa Island in Incheon City, South Korea on a sunny day of mid-autumn in this photo taken by Mr. Yoon Young-Hwan.

This picture explains that western coastal wetlands of the Korean Peninsula show one of the highest difference between the rise and fall of the water level due to tides. The difference is as high as
8.5 meter around its western coastal areas.

At the height of the Korean War (1950-53) on Sept. 15, 1950 US Gen. Douglas MacArthur (1880-1964) made an amphibious landing at Incheon west of Seoul surrounding the fleeing North Korean attackers in spite of a strong warning about the high tide from his staffs.

In actuality, Korea's west coast tidal flats are one of the five major mudflats in the world, along with the eastern coast of Canada, the eastern coast of the US, Germany's North Sea coast, and the mudflats of the Amazon River basin.

Over 83 percent of all the Korean Peninsula's mudflats are localted around its western cocastal area facing Yellow Sea of China, providing a variety of seafoods for its folks.

The Korean coastal wetlands are surely ecological wonders, providing for a rich ecosystem in which abundant animals, fish, and plants reside. They are vital source of food for the locals.

Annually, the Boryeong Mud Festival is held in Boryeong City, South Chungcheon Province on the western side of the Korean Peninsula, which is a two-hour drive from Seoul.
ST Photo Gallery
Photo News
Embassy Events
Econo People 2005
Fashion Images
New Movies
Travel Images
Nayan Sthankiya's Photo Features New
Abuses of Iraqi Prisoners of War
Academy Awards Photos 2004
Adolf Hitler
Aishwarya Rai-Indian actress
Buddha`s Birthday 2004
Cannes 2004 — 57th Cannes Film Festival
Choi Tae-Ji Photo Gallery
Comfort Woman Picture Gallery
Crown Prince Felipe of Spain
Dokdo Photo Gallery
Erotic Paintings of Hyewon and Danwon
Franz`s Art Exhibition
Gando Photo Gallery
Geisha in Japan
Gwangju Massacre
Jeju Island
Kim Jong-Il and Kim Il-Sung
Koguryo Murals
Korean War (1950-53)
Madonna
Miss Universe 2004
Miss World Contest 2003
Mt. Kumkang or Mt. Diamond New
Natural Beauty of Korea
Rape of Nanjing (Nanjing Massacre)
Rio Carnival 2004
Ronald Reagan`s Life in Pictures
ST Family
Sonia Gandhi and Gandhi Clan
Taj Mahal Photo Gallery
Ukrainian Embassy
World War Two
Photo Gallery of World Newspapers/Media
Times of India
Hindustan Times
SantaBanta.com
Straights Times (Singapore)
Chicago Sun-Times
Moscow Times