Photo News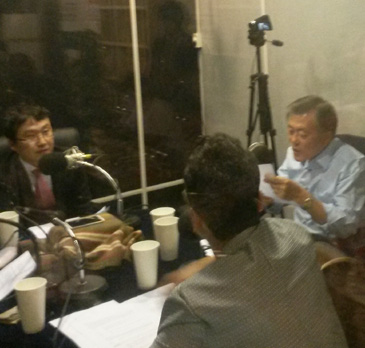 Moon Jae-In to Consider Running for National Assembly in Busan Next YearBy Lee Sang-Am, Staff Writer

Leader of South Korea's main opposition party is locked in a crisis over his confidence vote as the leader of the opposition camps in the nation.

Moon Jae-In, the chairman of the New Politics Alliance for Democracy (NPAD), has been under increasing pressure to step down as its chairman from his party members as well as other oppositions camps.

Other opposition leaders also demand that Chairman Moon Jae-in must withdraw his promise not to run in the next general election, and must take responsibility for the loss in the previous presidential election and the debacle in recent bi-elections for selecting lawmakers.

Moon has been blamed for his defeat in the 18th South Korean presidential election held on Dec. 19, 2012.

He garnered only to 48 percent of the votes whereas his opponent, Park Geun-Hye, the current president, of the ruling Saenuri Party gained 51.6 percent.

On Sept. 24, 2015 Moon went on the air at a local internet radio station in Seoul and he said that he would consider accepting the proposal of reform committee and would consider running for general election in Busan.

If Moon accept the committee's proposal he would have to vie with the ruling party Chairman Kim Moo-Sung for National Assembly seat in the general election in April next year .

The reform committee within the opposition party has been asking Moon to grapple with Kim, the most powerful presidential hopeful of the ruling party, in order to earn his right to run for the next presidential election.

Moon Jae-in was born on Jan. 24, 1953. Moon is a South Korean politician and the opposition leader of the New Politics Alliance for Democracy party.

He was formerly a lawyer and the former chief of staff to late President Roh Moo-hyun.

In the 19th legislative election on April 11, 2012, Moon won a seat in the Sasang District of Busan.

On Sept. 16, 2012, Moon received the nomination for the Democratic United Party's candidate for the 2012 presidential election after winning a majority in the party primaries.
ST Photo Gallery
Photo News
Embassy Events
Econo People 2005
Fashion Images
New Movies
Travel Images
Nayan Sthankiya's Photo Features New
Abuses of Iraqi Prisoners of War
Academy Awards Photos 2004
Adolf Hitler
Aishwarya Rai-Indian actress
Buddha`s Birthday 2004
Cannes 2004 — 57th Cannes Film Festival
Choi Tae-Ji Photo Gallery
Comfort Woman Picture Gallery
Crown Prince Felipe of Spain
Dokdo Photo Gallery
Erotic Paintings of Hyewon and Danwon
Franz`s Art Exhibition
Gando Photo Gallery
Geisha in Japan
Gwangju Massacre
Jeju Island
Kim Jong-Il and Kim Il-Sung
Koguryo Murals
Korean War (1950-53)
Madonna
Miss Universe 2004
Miss World Contest 2003
Mt. Kumkang or Mt. Diamond New
Natural Beauty of Korea
Rape of Nanjing (Nanjing Massacre)
Rio Carnival 2004
Ronald Reagan`s Life in Pictures
ST Family
Sonia Gandhi and Gandhi Clan
Taj Mahal Photo Gallery
Ukrainian Embassy
World War Two
Photo Gallery of World Newspapers/Media
Times of India
Hindustan Times
SantaBanta.com
Straights Times (Singapore)
Chicago Sun-Times
Moscow Times