Photo News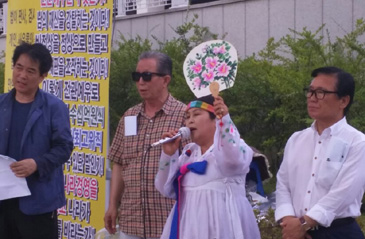 Civic Group Protests "Supreme Court" DecisionChairman Lee Yeon-Woo of the National Alliance for Saving the Nation and his members were protesting the "corruption" of the Prosecution and Courts over the case of the former Korean CIA chief Won Se-Hoon.

The pro-democracy civic group memebers gatherd on July 20, 2015 in front of the Prosecutors' Office in Seoul's Seocho-dong area to criticize the Supreme Court's failure to confirm the lower court's decision.

They said that the prosecution just turned into the waiting maid of the power. They also argued that Won is responsible for the influencing the previous presidential election as the chief of National Intelligence Service (NIS).

NIS chief Won was indicted for his "illegal" use of power in the last presidentional election in which current President Park Geun-Hye was elected president.

Won was serving his three-year jail term for his illegal involvement in politics and in the presidential election.

The Supreme Court failed to confirm the lower court's decision and decided to send it back to the lower court, touch off a series of protests among the democratic-minded civic groups in the nation, they argued.

As NIS chief, Won was blamed for making his office workers to write "favorable postings" on the internet, influencing the last presidential election in favor of the current President Park.

Won was appointed NIS chief under ex-President Lee Myung-Bak.
ST Photo Gallery
Photo News
Embassy Events
Econo People 2005
Fashion Images
New Movies
Travel Images
Nayan Sthankiya's Photo Features New
Abuses of Iraqi Prisoners of War
Academy Awards Photos 2004
Adolf Hitler
Aishwarya Rai-Indian actress
Buddha`s Birthday 2004
Cannes 2004 — 57th Cannes Film Festival
Choi Tae-Ji Photo Gallery
Comfort Woman Picture Gallery
Crown Prince Felipe of Spain
Dokdo Photo Gallery
Erotic Paintings of Hyewon and Danwon
Franz`s Art Exhibition
Gando Photo Gallery
Geisha in Japan
Gwangju Massacre
Jeju Island
Kim Jong-Il and Kim Il-Sung
Koguryo Murals
Korean War (1950-53)
Madonna
Miss Universe 2004
Miss World Contest 2003
Mt. Kumkang or Mt. Diamond New
Natural Beauty of Korea
Rape of Nanjing (Nanjing Massacre)
Rio Carnival 2004
Ronald Reagan`s Life in Pictures
ST Family
Sonia Gandhi and Gandhi Clan
Taj Mahal Photo Gallery
Ukrainian Embassy
World War Two
Photo Gallery of World Newspapers/Media
Times of India
Hindustan Times
SantaBanta.com
Straights Times (Singapore)
Chicago Sun-Times
Moscow Times