Photo News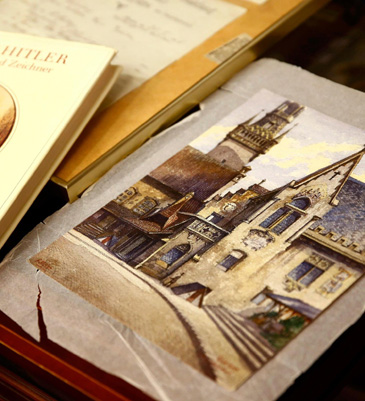 Adolf Hitler's Watercolor Sold for US$160,000 in GermanyA watercolor of Munich's old town hall and registry office by Adolf Hitler lies next to a catalog of the Nazi leader's paintings and drawings at Weidler auction house in Nuremberg November on Tuesday. The piece, which was painted by Hitler around 1914, will be auctioned in Nuremberg on Nov. 22 (Saturday), 2014.

A 1914 watercolor by Adolf Hitler was auctioned in Germany on Nov. 22 (Saturday), 2014, NBC News reported recently.
The sale took place in Nuremberg, the site of mass Nazi rallies in the 1930s, and where the fascist party's leaders were tried for crimes committed during the Second World War.

The piece depicting the city of Munich's old town hall and registry office was most likely painted before Hitler was drafted to fight in World War I, auctioneer Kathrin Weidler told NBC News.

A starting price has been set at 4,500 euros (around $5,500) but Weidler expects it to bring in a higher sum. Potential buyers from several different countries, including the United States, have already declared an interest, Weidler added.

An original handwritten bill accompanies the painting, making it unique, Weidler said. "We have not heard of another case worldwide where a painting by Hitler with its original bill exists," she said.

The piece is being sold by two German sisters aged in their 70s who want to remain anonymous. Their grandfather bought the painting along with seven others by different artists at a Munich gallery in 1916, Weidler said.

As a struggling young artist, Hitler painted hundreds of works, but was repeatedly rejected by Vienna's prestigious Academy of Fine Arts. In previous auctions, Hitler's paintings have fetched tens of thousands of dollars, while others sold for a few thousand.
ST Photo Gallery
Photo News
Embassy Events
Econo People 2005
Fashion Images
New Movies
Travel Images
Nayan Sthankiya's Photo Features New
Abuses of Iraqi Prisoners of War
Academy Awards Photos 2004
Adolf Hitler
Aishwarya Rai-Indian actress
Buddha`s Birthday 2004
Cannes 2004 — 57th Cannes Film Festival
Choi Tae-Ji Photo Gallery
Comfort Woman Picture Gallery
Crown Prince Felipe of Spain
Dokdo Photo Gallery
Erotic Paintings of Hyewon and Danwon
Franz`s Art Exhibition
Gando Photo Gallery
Geisha in Japan
Gwangju Massacre
Jeju Island
Kim Jong-Il and Kim Il-Sung
Koguryo Murals
Korean War (1950-53)
Madonna
Miss Universe 2004
Miss World Contest 2003
Mt. Kumkang or Mt. Diamond New
Natural Beauty of Korea
Rape of Nanjing (Nanjing Massacre)
Rio Carnival 2004
Ronald Reagan`s Life in Pictures
ST Family
Sonia Gandhi and Gandhi Clan
Taj Mahal Photo Gallery
Ukrainian Embassy
World War Two
Photo Gallery of World Newspapers/Media
Times of India
Hindustan Times
SantaBanta.com
Straights Times (Singapore)
Chicago Sun-Times
Moscow Times