Madonna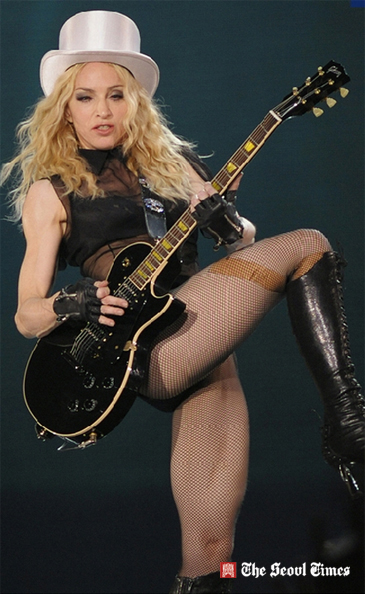 Madonna Kicks Off Her "Sticky and Sweet" TourWashington (ANI): Queen of pop Madonna kicked off her Sticky and Sweet tour on August 23, sitting on a diamante "M" throne in a fringed black leotard and over-the-knee leather boots. The tour started off at Cardiff's Millennium Stadium in Wales, opening with "Candy Shop."

The stadium was jam packed with a 40,000-strong audience, and the show included the onscreen appearances by Kanye West, Britney Spears and Justin Timberlake, who dueted on "4 Minutes." Madge had many treats in store for her fans, as the image of rapper West encircled the stage for "Beat Goes On", and as fans screamed she came cruising through on a white vintage convertible car.

Spears made her virtual guest spot during "Human Nature," writhing while trapped in an elevator as Madonna played the guitar. The popstar departed with her trademark line "It's Britney B–!" Madonna switched themes multiple times, going sporty for "Into the Groove" in diamante-encrusted shorts and a hoodie, and invoking the Far East for a segment that had her in a cage with computer-generated water gushing around it.

"La Isla Bonita" turned the stage into a Mediterranean street party with Greek dancing and a flamenco solo performance. While fans went wild, husband Guy Ritchie was lending support backstage, according to the singer's rep, who also said Madonna had spent the day rehearsing.

"She's been putting the finishing touches to some of the dance routines today, in a good way, she's a perfectionist!" People magazine quoted the rep as saying. Madge even tried to get the crowd involved, but changed her mind. "This is the bit where I take requests," and started singing "Express Yourself" then changed her mind. "F– that s–. I choose the songs," she stated.

After two hours, Madonna left the stage as the screen flashed "Game Over." The singer heads back to London before travelling to France to continue the tour around Europe before arriving in New Jersey on Oct. 4.
ST Photo Gallery
Photo News
Embassy Events
Econo People 2005
Fashion Images
New Movies
Travel Images
Nayan Sthankiya's Photo Features New
Abuses of Iraqi Prisoners of War
Academy Awards Photos 2004
Adolf Hitler
Aishwarya Rai-Indian actress
Buddha`s Birthday 2004
Cannes 2004 — 57th Cannes Film Festival
Choi Tae-Ji Photo Gallery
Comfort Woman Picture Gallery
Crown Prince Felipe of Spain
Dokdo Photo Gallery
Erotic Paintings of Hyewon and Danwon
Franz`s Art Exhibition
Gando Photo Gallery
Geisha in Japan
Gwangju Massacre
Jeju Island
Kim Jong-Il and Kim Il-Sung
Koguryo Murals
Korean War (1950-53)
Madonna
Miss Universe 2004
Miss World Contest 2003
Mt. Kumkang or Mt. Diamond New
Natural Beauty of Korea
Rape of Nanjing (Nanjing Massacre)
Rio Carnival 2004
Ronald Reagan`s Life in Pictures
ST Family
Sonia Gandhi and Gandhi Clan
Taj Mahal Photo Gallery
Ukrainian Embassy
World War Two
Photo Gallery of World Newspapers/Media
Times of India
Hindustan Times
SantaBanta.com
Straights Times (Singapore)
Chicago Sun-Times
Moscow Times