Fashion Images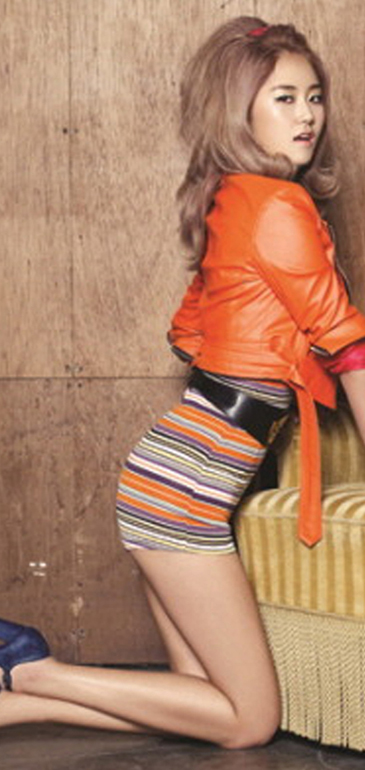 Heo Ga-yoon of 4MinuteHeo Ga-yoon (born May 18, 1990) is a South Korean idol singer and dancer and a member of a popular Korean girl group 4Minute, formed by Cube Entertainment in 2009.

Ga-yoon was born on May 18, 1990 in Seoul, South Korea. She graduated at Dong Duke Girl's High School and is currently attending Dongguk University, Theater Major.

She got 2nd place at SM 9th Best Singer Contest.

Ga-yoon was announced as being a member of 4Minute on June 12.

Ga-yoon appeared in Mario's music video for "I'm Yours" on November 4, 2008 with Seulong from 2AM.

In February 11, 2010 She featured on the The Woman Who Still Wants To Marry soundtrack, singing a duet with Han Ye-ji in the song "One Two Three."

In September 3, 2010, she was a featured artist in Sunny Side's album, "Bad Guy Good Girl" with the song "Bad Guy Good Girl."

In October 2010, Gayoon was one of the twenty idols from different South Korean groups that recorded the song, "Let's Go", for the purpose of increasing public participation in the 2010 G-20 Seoul summit. She provided vocals along with labelmates Jun Hyung and G.NA.

She sang in the soundtrack of MBC's My Princess, with the song "Wind Blow". The song was released on January 5, 2011.

She also sang in the soundtrack of SBS's Lie To Me, with the song "Shameless Lie" which was composed by Jadu and E-Tribe. The song was released on May 17, 2011.

Ga-yoon to make acting debut through 'I'm a Flower Too' cameo. On October 18th, a source revealed that Gayoon finished filming her cameo as a high school student, who was a childhood friend of Cha Bong Sun (played by Lee Ji Ah), on October 16th.

On October 24, 2011 she released her OST song "I Think It Was a Dream" for KBS's Poseidon.
ST Photo Gallery
Photo News
Embassy Events
Econo People 2005
Fashion Images
New Movies
Travel Images
Nayan Sthankiya's Photo Features New
Abuses of Iraqi Prisoners of War
Academy Awards Photos 2004
Adolf Hitler
Aishwarya Rai-Indian actress
Buddha`s Birthday 2004
Cannes 2004 — 57th Cannes Film Festival
Choi Tae-Ji Photo Gallery
Comfort Woman Picture Gallery
Crown Prince Felipe of Spain
Dokdo Photo Gallery
Erotic Paintings of Hyewon and Danwon
Franz`s Art Exhibition
Gando Photo Gallery
Geisha in Japan
Gwangju Massacre
Jeju Island
Kim Jong-Il and Kim Il-Sung
Koguryo Murals
Korean War (1950-53)
Madonna
Miss Universe 2004
Miss World Contest 2003
Mt. Kumkang or Mt. Diamond New
Natural Beauty of Korea
Rape of Nanjing (Nanjing Massacre)
Rio Carnival 2004
Ronald Reagan`s Life in Pictures
ST Family
Sonia Gandhi and Gandhi Clan
Taj Mahal Photo Gallery
Ukrainian Embassy
World War Two
Photo Gallery of World Newspapers/Media
Times of India
Hindustan Times
SantaBanta.com
Straights Times (Singapore)
Chicago Sun-Times
Moscow Times