Fashion Images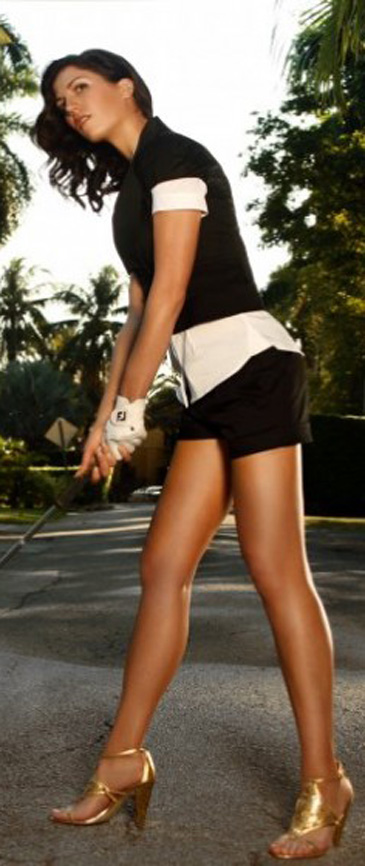 Golfer Sandra Gal Boasts of Killer LegsSandra Gal is a master at showing off her killer legs. Whether she's doubling up on the polos or sporting a sleek sleeveless number, her athletic legs are always on display. I love that she can pull off short skirts and still look athletic and sporty, not over-exposed.

Sandra Gal placed 33rd in Richo Women's British Open at Royal Lytham & St. Annes Golf Club. She graduated from U. of Florida and was born in Germany. At 6'0 tall with long sexy legs, she could be a model!

Sandra Gal (born 9 May 1985) is a German professional golfer who currently plays on the United States–based LPGA Tour.

Gal was born in Düsseldorf, Germany, and began playing golf at age five during family vacations to golf resorts around Europe.[1] At age 17 she joined the German National Team and at 18 won the German National Girls Championship. She graduated from high school in 2004.

While still competing on the German National Team, Gal enrolled at the University of Florida in Gainesville. She played for the Gators women's golf team from 2005 to 2007 and won four events in NCAA competition, received All-American honors in 2007, and was an NGCA Academic All-American from 2005 to 2008.[2][3]

In 2007, she won the Ladies European Amateur, and later that fall, entered the LPGA Qualifying Tournament where she qualified for the LPGA Tour for 2008 and immediately turned pro. Although by turning pro she could no longer play college golf, she completed her degree requirements while playing full-time on the LPGA Tour and graduated with honors from University of Florida in August 2008 with a bachelor's degree in advertising.

Gal tied for 14th in the 2007 LPGA Final Qualifying Tournament to earn full playing privileges on the LPGA in 2008; she turned professional immediately following the tournament.

In her fourth season on the LPGA Tour in 2011, Gal won her first event at the Kia Classic in late March. She finished the 72-hole event at 16-under-par, one stroke ahead of runner-up Jiyai Shin[4] Previously her best finish had been fifth at the 2009 LPGA Corning Classic. Also in 2009, she recorded two career-low rounds of 64.
ST Photo Gallery
Photo News
Embassy Events
Econo People 2005
Fashion Images
New Movies
Travel Images
Nayan Sthankiya's Photo Features New
Abuses of Iraqi Prisoners of War
Academy Awards Photos 2004
Adolf Hitler
Aishwarya Rai-Indian actress
Buddha`s Birthday 2004
Cannes 2004 — 57th Cannes Film Festival
Choi Tae-Ji Photo Gallery
Comfort Woman Picture Gallery
Crown Prince Felipe of Spain
Dokdo Photo Gallery
Erotic Paintings of Hyewon and Danwon
Franz`s Art Exhibition
Gando Photo Gallery
Geisha in Japan
Gwangju Massacre
Jeju Island
Kim Jong-Il and Kim Il-Sung
Koguryo Murals
Korean War (1950-53)
Madonna
Miss Universe 2004
Miss World Contest 2003
Mt. Kumkang or Mt. Diamond New
Natural Beauty of Korea
Rape of Nanjing (Nanjing Massacre)
Rio Carnival 2004
Ronald Reagan`s Life in Pictures
ST Family
Sonia Gandhi and Gandhi Clan
Taj Mahal Photo Gallery
Ukrainian Embassy
World War Two
Photo Gallery of World Newspapers/Media
Times of India
Hindustan Times
SantaBanta.com
Straights Times (Singapore)
Chicago Sun-Times
Moscow Times