Embassy Events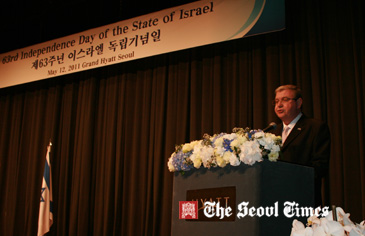 Israel's 63rd Independence Day Marked in SeoulAmbassador Tuvia Israeli Hosts Dinner Reception

Israeli Ambassador to Seoul Tuvia Israeli hosted a reception for the 63rd anniversary of Israel's Independence Day at the Hyatt Hotel in Seoul on May 12, 2011.

Israel's Independence Day marks the Declaration of the Establishment of the State of Israel on May 14, 1948, the day on which the British Mandate over Palestine expired.

Hundreds of guests, including top foreign envoys serving in Seoul as well as local media people, were invited to the dinner reception for Israel's most important national holiday.

In his speech, Mr. Ambassador sent out a congratulatory message to all Israelis in Korea. Also, he remarked on bilateral ties between South Korea and Israel.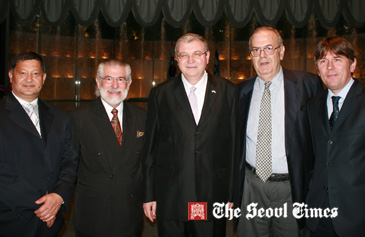 Israeli Ambassador to Seoul Tuvia Israeli poses with Greek Amb. Petros Avierinos (to his right), South African Amb. Hilton A. Dennis (left), Chilean Amb. Hernan Brantes-Glavic (2nd from left) during a reception held on May 12, 2011 at Grand Hyatt on the occasion of the 63rd anniversary of Israel's Independence Day.



He underlined the similarities in various fields — ancient and modern history, the need to fight and sacrifice for independence, miraculous recovery and development while overcoming shortcomings of similar nature, reviving and maintaining ancient tradition and language.

Mr. Israeli quoted Albert Camus: "Don't walk behind me, I may not lead. Don't walk in front of me, I may not follow. Just walk beside me and be my friend," highlighting future cooperation between the two countries.

Throughout the evening, guests were treated to a delicious dinner and refreshments as well as wonderful a Korean traditional fan dance performance by beautiful ladies clad in hanbok.

All over the world, the Declaration Day of Israeli Independence was commemorated by similar celebrations.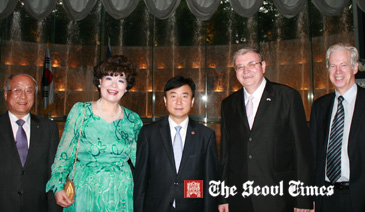 Israeli Ambassador to Seoul Tuvia Israeli poses with his guests during a reception held on May 12, 2011 at Grand Hyatt on the occasion of the 63rd anniversary of Israel's Independence Day. At right is Minister Ulf Sormark, deputy head of mission of the Embassy of Sweden in Seoul.



In Israel, people began celebrating on the night of Monday, May 9, 2011 with a traditional torch-lighting ceremony on Mt. Herzl.

The Speaker of the Knesset, the presiding officer of the Israeli parliament, expressed the pride of the Jewish democratic state in the heart of the Middle East in his address, according to local media in Israel.

In an official address, Israeli President Shimon Peres congratulated his country on its 63rd birthday. Facing a crowd of cheering onlookers, he stated Israel was proof one could create a "garden out of obstinate ground."

According to the Jerusalem Post, Prime Minister Binyamin Netanyahu, Defense Minister Ehud Barak, and Defense Chief Benny Gantz accompanied the president at the Independence Day celebration in Jerusalem.

Over 2 million Israelis celebrated in Israel, attending ceremonies and going on hikes in honor of the occasion.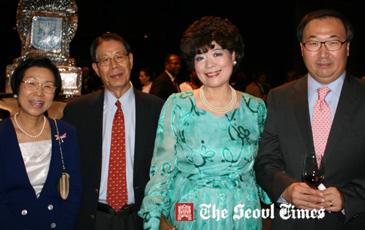 Ms. Kim Young-Joo (2nd from right), vice chairwoman of Daesung Business Group, poses with Mr. Walter Paik (right), director general of Grand National Party's International Affairs Bureau.



From the other side of the world, U.S. President Barack Obama sent a congratulatory message to all Israelis, reminding them of the fact that the United States was the first country in the world to recognize the State of Israel.

"As Israelis celebrate their hard-won independence, it gives me great pleasure to extend the best wishes of the American people to the people of Israel and to honor their remarkable achievements over the past six decades," Obama said.

South Korea and Israel first established diplomatic relations on April 10, 1962. Ties between the two countries were weakened for several years as South Korea concentrated on building relationships with other Arab nations to secure an oil supply and take advantage of the emerging construction market.

During the 1980s, however, Israel and South Korea showed a renewed interest in building stronger diplomatic relations.
A stable diplomatic relationship has been maintained ever since.


Ms. Kim Young-Joo (2nd from right), vice chairwoman of Daesung Business Group, poses with Ms. Kim In-Young (2nd from left), deputy director general of Grand National Party's International Affairs Bureau.




On August 23, 2010 Korea Venture Investment Corp., a state-backed fund management company, signed a memorandum of understanding with Israel's Vertex Venture Capital to raise US$150 million. The fund will be used to finance joint ventures or the merger and acquisition of small and mid-size venture firms in the two countries.

On May 5, 2011, South Korean Ambassador Ma Young-Sam encouraged Israeli and Korean cooperation on renewable energy resource development, stressing the similarities between the countries in terms of both fossil fuel dependency and a desire to innovate, according to the Jerusalem Post.

Speaking at a conference on East Asian energy security, Mr. Ma emphasized the importance of Israel's role in the future energy market as well as cooperation between Israel and other countries like Korea for an energy-efficient future.

"You do have ideas and technologies, but you do not have a mass production capability," said Mr. Ma to the predominantly Israeli audience. "Who has it? We have it. My government is very committed to renewable energy policy. Is cooperation possible? Yes."

Pointing to a 2010 photograph of South Korean President Lee Myung-Bak shaking hands with President Shimon Peres, Ma said, "They had a very good talk and had an agreement to have much more collaboration in energy field."
ST Photo Gallery
Photo News
Embassy Events
Econo People 2005
Fashion Images
New Movies
Travel Images
Nayan Sthankiya's Photo Features New
Abuses of Iraqi Prisoners of War
Academy Awards Photos 2004
Adolf Hitler
Aishwarya Rai-Indian actress
Buddha`s Birthday 2004
Cannes 2004 — 57th Cannes Film Festival
Choi Tae-Ji Photo Gallery
Comfort Woman Picture Gallery
Crown Prince Felipe of Spain
Dokdo Photo Gallery
Erotic Paintings of Hyewon and Danwon
Franz`s Art Exhibition
Gando Photo Gallery
Geisha in Japan
Gwangju Massacre
Jeju Island
Kim Jong-Il and Kim Il-Sung
Koguryo Murals
Korean War (1950-53)
Madonna
Miss Universe 2004
Miss World Contest 2003
Mt. Kumkang or Mt. Diamond New
Natural Beauty of Korea
Rape of Nanjing (Nanjing Massacre)
Rio Carnival 2004
Ronald Reagan`s Life in Pictures
ST Family
Sonia Gandhi and Gandhi Clan
Taj Mahal Photo Gallery
Ukrainian Embassy
World War Two
Photo Gallery of World Newspapers/Media
Times of India
Hindustan Times
SantaBanta.com
Straights Times (Singapore)
Chicago Sun-Times
Moscow Times