Embassy Events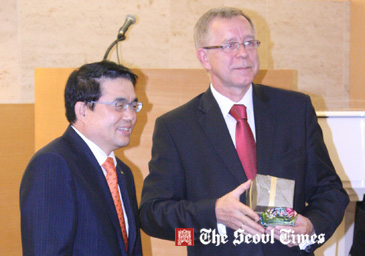 EU Envoy Calls Korea-EU Ties Strategic OneSMBA Chief Calls for Partnership of Big & Small Firms

Chairman Lee Ju-Tae of the Korea Importers Association (KOIMA) invited EU Ambassador to Seoul Tomasz Kozlowski and Administrator Kim Dong-Sun of Small & Medium Business Administration (SMBA) to a breakfast forum "KOIMA's CEO Academy" held at Palace Hotel in Seoul on Sept. 8, 2011.

The EU envoy delivered a lecture under the title of "The EU-Korea FTA and Its impact on EU-Korea Trade Relations" in front of some 100 businesspeople gathered in the Grand Ballroom of the hotel.

"I believe that this FTA is the benefits to both sides," Ambassador Kozlowski said at the start of his lecture. "The EU-Korea FTA is a very comprehensive one"

He expected that most of the lingering tariffs and other trade barriers will be removed or lifted gradually in the years ahead, boosting the ties of the two trade partners to the level of strategic one.

The Polish diplomat hoped that the bilateral trade relations between EU and South Korea would grow into strategic ties.

The EU envoy coined the EU ties with South Korea as "strategic partner" the same as EU relations with the US, China, Russia, India, and South Africa.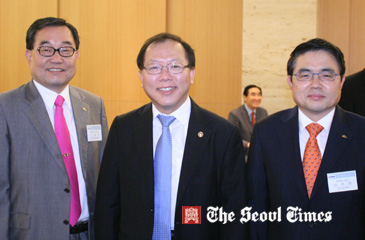 Administrator Kim Dong-Sun (center)of Small & Medium Business Administration (SMBA)poses with KOIMA Chairman Lee Ju-Tae (right) and KOIMA Executive Vice Chairman Ko Kwang-Sok.



Prior to the EU envoy's lecture SMBA Administrator Kim Dong-Sun also gave a special lecture on "How to Strengthen Small and Medium-sized Companies into Global ones."

Administrator Kim emphasized the importance of forming cooperative network between major companies and small- and medium-sized companies.

He also stressed the division of labor between the large conglomerate and smaller companies in their role for cooperative partnership.

"For instance, small and medium companies need to form consortium to export their goods," he said. "Core parts can be made by the smaller companies even the whole products are manufactured by the major corporations"

"I believe that the outer expansion of our trade volume has been largely successful, compared with our neighboring countries" he said.

"Aside from Korea-US FTA and Korea-EU FTA, our final stage is targeted at a free trade agreement between China and South Korea," he argued. "With a successful completion of Korea-China FTA we can enter into the ranks of advanced countries"

Mr. Kim has been visiting a dozen of countries including the US, Japan, China, Russia, Indonesia, Vietnam, UAE, Israel, and Turkey since he was inaugurated as the SMBA administrator in March 2010.

He also mention about the future trend of business relations between China, Korea, and Japan.

"Up until now many of our companies imported core parts for manufactured export items for China," he said "But from now on we should sell the core parts to China so that they can make goods for the global market"

For details or inquiries please contact:
Managing Director Herbert (Hwi-Jae) Lee of Korea Importers Association (KOIMA) at 793-2465 or leave him an Email at
herbert0611@koima.or.kr
ST Photo Gallery
Photo News
Embassy Events
Econo People 2005
Fashion Images
New Movies
Travel Images
Nayan Sthankiya's Photo Features New
Abuses of Iraqi Prisoners of War
Academy Awards Photos 2004
Adolf Hitler
Aishwarya Rai-Indian actress
Buddha`s Birthday 2004
Cannes 2004 — 57th Cannes Film Festival
Choi Tae-Ji Photo Gallery
Comfort Woman Picture Gallery
Crown Prince Felipe of Spain
Dokdo Photo Gallery
Erotic Paintings of Hyewon and Danwon
Franz`s Art Exhibition
Gando Photo Gallery
Geisha in Japan
Gwangju Massacre
Jeju Island
Kim Jong-Il and Kim Il-Sung
Koguryo Murals
Korean War (1950-53)
Madonna
Miss Universe 2004
Miss World Contest 2003
Mt. Kumkang or Mt. Diamond New
Natural Beauty of Korea
Rape of Nanjing (Nanjing Massacre)
Rio Carnival 2004
Ronald Reagan`s Life in Pictures
ST Family
Sonia Gandhi and Gandhi Clan
Taj Mahal Photo Gallery
Ukrainian Embassy
World War Two
Photo Gallery of World Newspapers/Media
Times of India
Hindustan Times
SantaBanta.com
Straights Times (Singapore)
Chicago Sun-Times
Moscow Times