Embassy Events

2012 "Day of Russia" Celebrated in SeoulAmb. Konstantin Vnukov Hosts Reception at Embassy

Russian Ambassador to Seoul Konstantin Vnukov and his wife, Mrs. Yulia Vnukova hosted a reception at the Grand Hall of the Russian Embassy in Seoul on June 13, 2012 in honour of its national holiday, "Day of Russia," which falls on June 12.

On June 12, 1990 Soviet leaders signed a declaration of Russia's state sovereignty. That declaration marked the beginning of democratic reforms, the rule of law, the equality of all citizens before the law, and the separation of powers.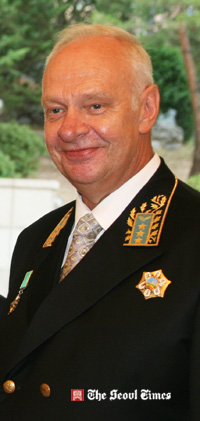 Russian Ambassador to Seoul Konstantin Vnukov

The original name of the holiday was "the Day of Signing the Declaration of State," which became a public holiday in 1994. In 1997 President Boris Yeltsin renamed it to "Russia Day." "Russia Day" is also a patriotic holiday where Russians demonstrate their national pride.

This year's event marked 22 years after the declaration of the state of sovereignty.

The Grand Hall of the Russian Embassy was crowded with hundreds of guests including both local and international personalities.

Among the high-profile guests were scores of top foreign envoys and spouses, and military attaches.

South Korea's Deputy Foreign Minister Kim Kyu-Hyun delivered a congratulatory speech followed by a welcoming speech by the Russian envoy.

The dinner reception started at 6:30 p.m. on the day and lasted for several hours.

A small band of Russian and classical music played various tunes during the reception.

Russian Federation established diplomatic relations with South Korea in 1990. Russia has since been a very important country to South Korea.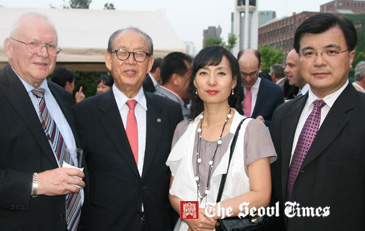 Chairman Chang Man-Key (2nd from left) of Korea Human Resources Development Institute (KHDI) poses with Prof. Kim Young-Sil of Chongshin University (2nd from right), and with Director JR Kim of Ministry of Unification during reception held at his embassy in Seoul on the occasion of "Day of Russia" on June 13, 2012. At left is Mr. Vladimir Koutakhov, Seoul Bureau chief of ITAR-TASS.



Presidents of both Russia and South Korea exchanged visits scores of times over the past 20 years or so.

On Sept. 28-30, 2008 South Korean President Lee Myung-Bak visited Russia. Since then the bilateral ties have been developing towards strategic partnership.

Both Russia and South Korea are much needed trade partners each other.

The bilateral trade has been expanding since the establishment of diplomatic ties.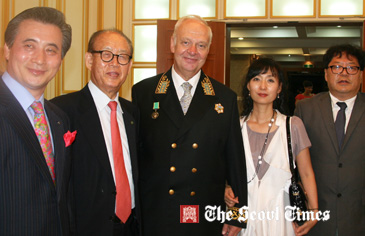 Russian Ambassador to Seoul Konstantin Vnukov (center) poses with Chairman Chang Man-Key (2nd from left) of Korea Human Resources Development Institute (KHDI), Prof. Kim Young-Sil of Chongshin University, and Publisher Joseph Joh of The Seoul Times during reception held at his embassy in Seoul on the occasion of "Day of Russia" on June 13, 2012. At left is Chairman Kim Young-Chul of Korea Geiseng Corp.



On Sept. 30, 2010 both Russia and South Korea celebrated the 20th anniversary of their diplomatic relations. Over the past 17 years the bilateral trade volume increased 52 folds.

In 2011 the bilateral trade volume reached 23 billion US dollars. South Korea's export to Russia amounted to 10 billion US dollars.

Russia is one of the major trade partners of South Korea. Russia is still one of the fast developing markets for South Korea.

For details or inquiries please contact the Russian Embassy in Seoul at 754-0460.

By Canicius Nfor
Staff Writer
ST Photo Gallery
Photo News
Embassy Events
Econo People 2005
Fashion Images
New Movies
Travel Images
Nayan Sthankiya's Photo Features New
Abuses of Iraqi Prisoners of War
Academy Awards Photos 2004
Adolf Hitler
Aishwarya Rai-Indian actress
Buddha`s Birthday 2004
Cannes 2004 — 57th Cannes Film Festival
Choi Tae-Ji Photo Gallery
Comfort Woman Picture Gallery
Crown Prince Felipe of Spain
Dokdo Photo Gallery
Erotic Paintings of Hyewon and Danwon
Franz`s Art Exhibition
Gando Photo Gallery
Geisha in Japan
Gwangju Massacre
Jeju Island
Kim Jong-Il and Kim Il-Sung
Koguryo Murals
Korean War (1950-53)
Madonna
Miss Universe 2004
Miss World Contest 2003
Mt. Kumkang or Mt. Diamond New
Natural Beauty of Korea
Rape of Nanjing (Nanjing Massacre)
Rio Carnival 2004
Ronald Reagan`s Life in Pictures
ST Family
Sonia Gandhi and Gandhi Clan
Taj Mahal Photo Gallery
Ukrainian Embassy
World War Two
Photo Gallery of World Newspapers/Media
Times of India
Hindustan Times
SantaBanta.com
Straights Times (Singapore)
Chicago Sun-Times
Moscow Times