Embassy Events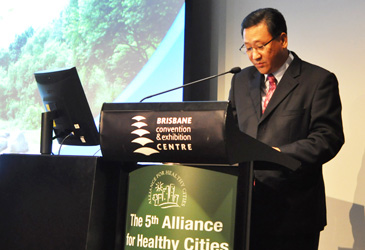 Gangnamgu Sweeps 3 Awards at AFHC Global Conference Held in Brisbane, AustraliaDirector Kang Hyun-Seop Delivers Key-Note Speech

South Korea's Gangnam City swept three important awards at the 5th Global Conference of the Alliance for Healthy Cities (AFHC) held at Brisbane Convention & Exhibition Centre in Brisbane, Australia on Oct. 24-27, 2012.

The biennial AFHC global healthcare conference was attended by well over 1,000 mayors, healthcare officials and other experts from over 140 municipalities of eight countries.

More than 10 municipal cities including Wonju of Gangwon Province, Gangdonggu, and Yangcheongu from South Korea took part in the conference.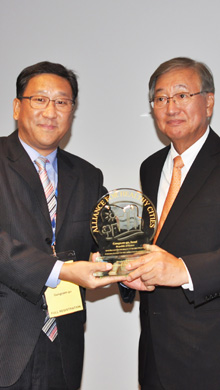 Mr. Kang Hyun-Seop, director of Health Administration Division of Gangnamgu Office, receives the award from Dr. Shin Young-Soo, WHO regional director for the Western Pacific.

This year's conference was held under the theme of "Healthy Urbanization: Healthy People, Healthy Communities." It was hosted by Logan City, Griffith University, and the Australian Chapter of the AFHC, and presided by Mayor Sandra McCarthy of Brisbane.

Gangnam City (Gangnamgu) was awarded "WHO Best Practice Award," "AFHC Ubiquitous City Award," and "AFHC Strong Action Award."

On behalf of Gangnamgu Mayor Shin Yeon-Hee, Mr. Kang Hyun-Seop, director of Health Administration Division of Gangnamgu Office, received the awards.

Director Kang led the Gangnamgu's Medical Tour Delegation to the conference. The other participants were Mr. Kim Yong-Beum, manager of Gangangu's Ubiquitous Healthcare Team and Ms. Oh Kyung-Im, an officer of the team.

The two awards — "Award for Healthy City with Strong Action Gangnam Oct. 25, 2012 Brisbane, Australia" and "Award for Creative Developments in Healthy Cities 2012 Ubiquitous City, Gangnam, Oct. 25, 2012, Brisbane, Australia" — were presented by Brisbane Mayor Sandra McCarthy to Director Kang for Gangnamgu's successful implementation of public healthcare administration.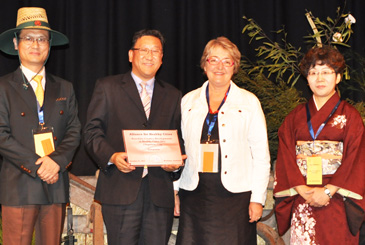 Mr. Kang Hyun-Seop (2nd from left), director of Health Administration Division of Gangnamgu Office, poses with Brisbane Mayor Sandra McCarthy, and other VIPs.



The third award "Best Practice Award" was presented by Dr. Shin Young-Soo, WHO regional Director for the Western Pacific, for Gangnamgu's mobilizing support for 100 percent smoke-free environment.

A total of 21 cities and organization were awarded in this year's conference. The winners were announced by the chairman of the Alliance's award committee, Prof. Albert Lee of Chinese University of Hong Kong.

Director Kang was one of the 11 speakers who made key-note addresses and presentations during the conference. On the first day of the four-day conference Director Kang delivered his speech.

In his speech Director Kang explained about how Gangnamgu successfully turned its main streets into smoke-free zones, drawing the huge accolades from over 1,000 crowds.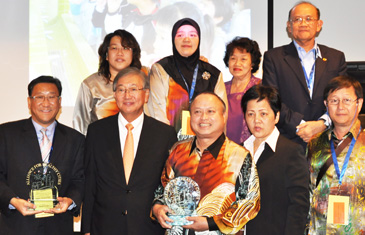 Mr. Kang Hyun-Seop, director of Health Administration Division of Gangnamgu Office, poses with other awardees.



Starting in 2007 Gangnamgu became a model municipality in Seoul Korea for its bold "tobacco prohibition policy. The affluent city also succeeded in implementing a series of ts public health policies.

In particular, Gangnamgu is considered as South Korea's model city for promoting medical tourism with 2,400 hospitals and clinics within its precinct.

Meanwhile, "Declaration of Brisbane" was announced during the conference to emphasize the notion of "futurism" in the field of public healthcare of each cites around the world.

The declaration was based on the presentation made by Prof. Trevor Hancock of Victoria University in Canada. He called for the social balance and sustainability in adopting public health policies in his presentation.

In 2010 Gannamgu hosted the 4th Global Conference of the Alliance for Healthy Cities (AFHC).

For details or inquiries call 3451-2587 or leave an email at rgiokang@gangnam.go.kr
ST Photo Gallery
Photo News
Embassy Events
Econo People 2005
Fashion Images
New Movies
Travel Images
Nayan Sthankiya's Photo Features New
Abuses of Iraqi Prisoners of War
Academy Awards Photos 2004
Adolf Hitler
Aishwarya Rai-Indian actress
Buddha`s Birthday 2004
Cannes 2004 — 57th Cannes Film Festival
Choi Tae-Ji Photo Gallery
Comfort Woman Picture Gallery
Crown Prince Felipe of Spain
Dokdo Photo Gallery
Erotic Paintings of Hyewon and Danwon
Franz`s Art Exhibition
Gando Photo Gallery
Geisha in Japan
Gwangju Massacre
Jeju Island
Kim Jong-Il and Kim Il-Sung
Koguryo Murals
Korean War (1950-53)
Madonna
Miss Universe 2004
Miss World Contest 2003
Mt. Kumkang or Mt. Diamond New
Natural Beauty of Korea
Rape of Nanjing (Nanjing Massacre)
Rio Carnival 2004
Ronald Reagan`s Life in Pictures
ST Family
Sonia Gandhi and Gandhi Clan
Taj Mahal Photo Gallery
Ukrainian Embassy
World War Two
Photo Gallery of World Newspapers/Media
Times of India
Hindustan Times
SantaBanta.com
Straights Times (Singapore)
Chicago Sun-Times
Moscow Times