Embassy Events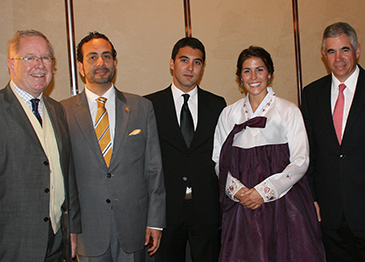 Panama Marks Independence Day in SeoulEnoy Aram B. Cisneros Hosts Reception at Westin Chosun

Ambassador of Panama to S. Korea Aram B. Cisneros hosted a reception at Westin Chosun Hotel in downtown Seoul on Nov. 14, 2013 on the occasion of its national day, which falls on November.

Panama's national day, Independence Day of Panama also known as "Colon Day," is on November 3. On this day in 1903 Panama got their independence from Columbia.

A number of guests including scores of top diplomats and their partners were invited to the dinner reception celebrating 110the anniversary of the country's independence. Among the guests were maritime company executives and the local media.

Panama established its diplomatic relations with South Korea in 1962. Since then the overall ties have been developed in areas of politics, economy, trade, and culture.

The year of 2012 was the year in which both countries celebrated the 50th anniversary of the diplomatic establishment with many meaningful events.

On the strength of developing ties the bilateral trade volume between Panama and South Korea rose to 4.5 billion US dollars in 2012. Panama is the fourth largest trade partner to South Korea amongst Central and South American nations.

Panama is the second most important country in terms of foreign direct investment among the region. South Korea is No. 5 nation to Panama in terms of using Panama Canal.

South Korean government is planning to donate "Korea-Panama Friendship Top" to Panama in December of 2013 in commemoration of the 500 anniversary of finding Pacific Ocean.

Currently some 250 South Koreans reside in the Central American nation.
ST Photo Gallery
Photo News
Embassy Events
Econo People 2005
Fashion Images
New Movies
Travel Images
Nayan Sthankiya's Photo Features New
Abuses of Iraqi Prisoners of War
Academy Awards Photos 2004
Adolf Hitler
Aishwarya Rai-Indian actress
Buddha`s Birthday 2004
Cannes 2004 — 57th Cannes Film Festival
Choi Tae-Ji Photo Gallery
Comfort Woman Picture Gallery
Crown Prince Felipe of Spain
Dokdo Photo Gallery
Erotic Paintings of Hyewon and Danwon
Franz`s Art Exhibition
Gando Photo Gallery
Geisha in Japan
Gwangju Massacre
Jeju Island
Kim Jong-Il and Kim Il-Sung
Koguryo Murals
Korean War (1950-53)
Madonna
Miss Universe 2004
Miss World Contest 2003
Mt. Kumkang or Mt. Diamond New
Natural Beauty of Korea
Rape of Nanjing (Nanjing Massacre)
Rio Carnival 2004
Ronald Reagan`s Life in Pictures
ST Family
Sonia Gandhi and Gandhi Clan
Taj Mahal Photo Gallery
Ukrainian Embassy
World War Two
Photo Gallery of World Newspapers/Media
Times of India
Hindustan Times
SantaBanta.com
Straights Times (Singapore)
Chicago Sun-Times
Moscow Times