Embassy Events

Romanian Envoy Marks Its National Day
in Seoul with ConcertViolinist Alexandru Tomescu Captivates Audience

In a very original departure from usual custom, Romanian ambassador to Seoul, Dr. Calin Fabian, chose to celebrate his country's National Day in Korea by inviting some 250 guests to enjoy a seated concert at the Capital Hotel in Itaewon on Dec. 3, 2013.

Among some 200 invited guests were scores of foreign diplomats, Korean and expatriate businesspeople, and other fans of Romania.

In particular, one of the high-profile guests, a noted South Korean lawmaker, Mr. Woo Sang-Ho of the Democratic Party, delivered a congratulatory speech in front of the audience. An important member of South Korea's National Assembly Woo serves as president of the Korea-Romania Parliamentary Friendship Committee.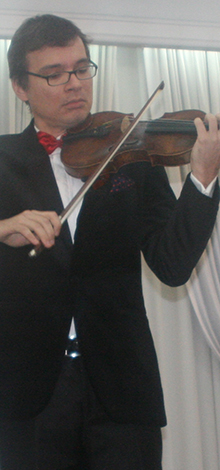 Romanian violinist Alexandru Tomescu

For nearly two hours the entire audience was enchanted by the talent of a young Romanian violinist, Alexandru Tomescu, whose virtuosity with his instrument was almost matched by the surprising command of Korean he exhibited with quick flashes of humor.

In his welcoming speech Ambassador Fabian extolled the Romanian fiddler by calling him "the man for whom music is limitless." The Romanian envoy said that Tomescu uses "his talent to promote various social responsibility projects and ecological or patrimony causes."

Tomescu began the performance with a Bach Partita, followed by a piece by his countryman, George Enescu, which conjured up through music rich colored images of the landscapes of his homeland.

The concert climaxed with seven successive caprices by Paganini, whose music is so difficult to play that it is said the composer himself was said by contemporaries to have "sold his soul to the devil" in order to have been able to play with such a gift!

After a standing ovation in tribute to his virtuosity, the violinist chatted easily with guests during a buffet reception.

Interviewed by the Seoul Times, he expressed his love for Korea, a country he had visited several times already, and his plans to return and to perform here continually.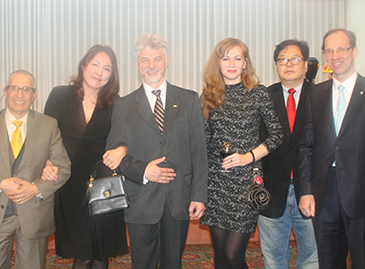 Romanian ambassador to Seoul, Dr. Calin Fabian (3rd from left) poses with his guests at his National Day ceremony held at Capital Hotel in Seoul's Itaewon area on Dec. 3, 2013. To his right is Prof. Oana Cogeanu of Hanguk University of Foreign Studies.



Self-taught in the Korean language, he described it as a relatively easy language to learn, but admitted that musicians with a good "ear" had a head start over other mere mortals!

With his charming manner and positive outlook this young man gave an impression more angelic than demon-like.

Through his music Tomescu supports ecological and social responsibility projects and was appointed Ambassador of the Hope and Homes for Children Foundation in Romania and is also a goodwill ambassador of the Republic of Korea.

The following is the full text of Ambassador Fabian's speech at the event.

Excellences,
Distinguished representatives of Korean officials,
Ladies and Gentlemen,
Dear friends of Romania

Thank you for joining us to celebrate the National Day of Romania.
Anniversaries are, no doubts, the appropriate opportunities for happiness, for recalling good memories, and equally, for validating the essence of our own ideals. Anniversaries are, as well, those moments of a very special kind for contemplating and understanding what it is left behind and for prospecting the challenges to come.

So, for today, please allow me to avoid statistics, facts and numbers. I will only mention that we are privileged and proud to celebrate our National Day here in Seoul, since Republic of Korea remains our strategic partner in Asia and we will continue to rely on one another for support and friendship.

All along our history we learned how vital is to make use of our creativity for being able to behave in a nature friendly way and, when creativity became art, it helped to come closer to our neighbors and to the world.

When it is about creativity and art, the music is maybe the most powerful and expressive instrument to bridge happiness and contemplation. Our special guest of tonight has a passionate belief in the power of music as a celebration of life.


Alexandru Tomescu is the man for whom music is limitless: capable of playing the most difficult scores in marathon concerts, in large tours, he is unanimously appreciated by the public.

Convinced that music is an active instrument capable of transforming the society, Tomescu uses his talent to promote various social responsibility projects and ecological or patrimony causes.

He sustains the World Welfare and the Pro Patrimonio Foundations in Romania, he played for children supported by the Special Olympics Foundation and, since 2012. He he is the Ambassador of the Hope and Homes for Children Foundation in Romania.

The Government of the Republic of Korea appointed him Goodwill Ambassador, as a token of appreciation for the artist's passion for the Korean culture.

Underlining once again the importance we attach to our bilateral relation with the Republic of Korea, it is my privilege to invite to present his congratulatory remarks the Honorable Congressman Woo Sang-ho, member of the Korean National Assembly, and President of the Korea-Romania Parliamentary Friendship Group, who graciously accepted to be the guest of honor of the event of tonight.

For details or inquries please call the Romanian Embassy in Seoul at 797-4924.
ST Photo Gallery
Photo News
Embassy Events
Econo People 2005
Fashion Images
New Movies
Travel Images
Nayan Sthankiya's Photo Features New
Abuses of Iraqi Prisoners of War
Academy Awards Photos 2004
Adolf Hitler
Aishwarya Rai-Indian actress
Buddha`s Birthday 2004
Cannes 2004 — 57th Cannes Film Festival
Choi Tae-Ji Photo Gallery
Comfort Woman Picture Gallery
Crown Prince Felipe of Spain
Dokdo Photo Gallery
Erotic Paintings of Hyewon and Danwon
Franz`s Art Exhibition
Gando Photo Gallery
Geisha in Japan
Gwangju Massacre
Jeju Island
Kim Jong-Il and Kim Il-Sung
Koguryo Murals
Korean War (1950-53)
Madonna
Miss Universe 2004
Miss World Contest 2003
Mt. Kumkang or Mt. Diamond New
Natural Beauty of Korea
Rape of Nanjing (Nanjing Massacre)
Rio Carnival 2004
Ronald Reagan`s Life in Pictures
ST Family
Sonia Gandhi and Gandhi Clan
Taj Mahal Photo Gallery
Ukrainian Embassy
World War Two
Photo Gallery of World Newspapers/Media
Times of India
Hindustan Times
SantaBanta.com
Straights Times (Singapore)
Chicago Sun-Times
Moscow Times