Embassy Events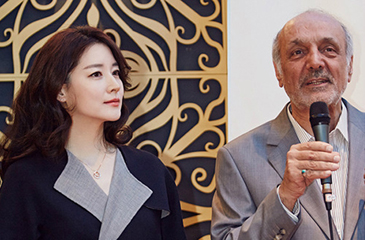 Iranian Envoy Invites Lee Young-Ae to "Nowruz"Iranian Ambassador to Seoul Hassan Taherian invited South Korean actress Lee Young-Ae for "Nowruz" or New Year's Day event held at a place in Seoul's Seocho-gu area in Seoul on March 22, 2015.

"Nowruz" marks the first day of spring or Equinox and the beginning of the year in the Persian calendar, cellebrated by Iranians people of several different faiths.

The Iranian "Nowruz" event was participated by some 500 Iranians living in South Korea. A number of South Koreans were at the event place to get a glimps of the actress.

"Lee Young-Ae is most popular South Korean actress among Iranian people," Ambassador Taherian said. "The Korean star serves as a cultural ambassador between Iran and South Korea"

Meanwhile, Lee thanked the Iranian envoy for the invitation.

"There is 'Tehran Street' in Seoul as there is 'Seoul Street in Tehran," Lee said. "I hope that two nations will understand better and will have better ties in the future"

Being one of the most famous actresses in South Korea Lee appeared in the historial TV drama series "Dae Jang Geum" or "Jewel in the Palace" in English name.

The drama was aired from 2003 to 2004 on the local MBC TV, reaping a huge viewership rating of between 46 and 57 percent.

It was later exported to 91 countries, making Lee as the world star.
ST Photo Gallery
Photo News
Embassy Events
Econo People 2005
Fashion Images
New Movies
Travel Images
Nayan Sthankiya's Photo Features New
Abuses of Iraqi Prisoners of War
Academy Awards Photos 2004
Adolf Hitler
Aishwarya Rai-Indian actress
Buddha`s Birthday 2004
Cannes 2004 — 57th Cannes Film Festival
Choi Tae-Ji Photo Gallery
Comfort Woman Picture Gallery
Crown Prince Felipe of Spain
Dokdo Photo Gallery
Erotic Paintings of Hyewon and Danwon
Franz`s Art Exhibition
Gando Photo Gallery
Geisha in Japan
Gwangju Massacre
Jeju Island
Kim Jong-Il and Kim Il-Sung
Koguryo Murals
Korean War (1950-53)
Madonna
Miss Universe 2004
Miss World Contest 2003
Mt. Kumkang or Mt. Diamond New
Natural Beauty of Korea
Rape of Nanjing (Nanjing Massacre)
Rio Carnival 2004
Ronald Reagan`s Life in Pictures
ST Family
Sonia Gandhi and Gandhi Clan
Taj Mahal Photo Gallery
Ukrainian Embassy
World War Two
Photo Gallery of World Newspapers/Media
Times of India
Hindustan Times
SantaBanta.com
Straights Times (Singapore)
Chicago Sun-Times
Moscow Times