Embassy Events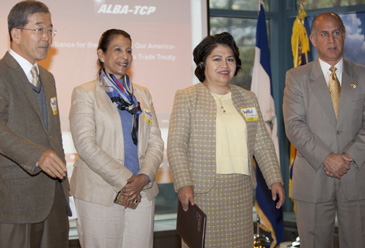 Latin Culture Introduced in SeoulLatin Envoys Hosts "Hello ALBA: Latin America"

A Latin American cultural event was held at the N Building in Seoul's Jung-Gu area to introduce the South American culture to the local Korean people on Nov. 28 (Saturday), 2015.

The event titled "Hello ALBA: Latin America" was co-hosted by four Latin American countries of Bolivia, Ecuador, Venezuela, Nicaragua, and Dir. Gen. Jung Dal-Ho of Bureau of External Relations of World Culture Open.

Representing the Latin American nations, the ambassadors of the three nations hosted the event on the day. They were Amb. Guadalupe Palomeque De Taboada of Bolivia, Charge d'Affaires Yadira Hidalgo de Ortiz of Venezuela, Amb. Oscar Gustavo Herrera Gilbert of Ecuador.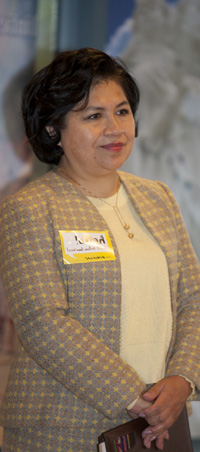 Amb. Guadalupe Palomeque De Taboada of Bolivia

The Bolivian envoy made a welcome speech at the event and so did the Dir. Gen. Jung Dal-Ho of World Culture Open.

Traditional dances and a musical of the three Latin nations were thrown for more than 120 participants.

One Bolivian film "A Matter of Faith (Cuestion De Fe)" and one Venezuela film "The Blue Apple Tree (El Manzano Azul)" were shown to the audience.

On exhibition were pictures and touristic videos of Bolivia, Ecuador, and Venezuela were introudced.

Also on display were souvenirs and typical handicrafts from the member countries of "ALBA," "the Bolivarian Alliance for the Peoples of Our America."

Dishes of traditional Latin American countries were served for the participants.

ALBA – TCP is a platform for the integration of Latin America and the Caribbean, which take the human being as foundation and epicenter, under the principles of solidarity, complementarity, justice and cooperation.

It was established on Dec. 14, 2004 in Havana, Cuba and so far it is integrated by eleven countries: Antigua and Barbuda, Bolivia, Cuba, Dominica, Ecuador, Grenada, Nicaragua, Saint Lucia, Saint Kitts and Nevis, Saint Vincent and the Grenadines and Venezuela.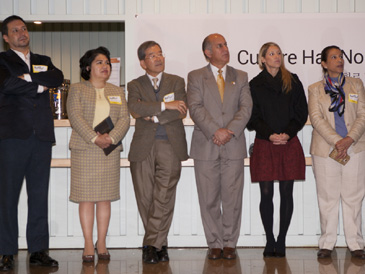 Amb. Guadalupe Palomeque De Taboada (2nd from left) of Bolivia poses with other foreign envoys at a Latin cultural event held in Seoul on Nov. 28, 2015. Photos by Mr. Song Jin-Ho



"On this framework, "Hello ALBA: Latin America" aimed at becoming a platform for the local Koreans to observe and to experience the culture of these countries," said the Bolivian envoy around the end of the festival.

"Through this festival we tried to show the colorful and exotic beauty of Bolivia, Ecuador, and Venezuela, and the traditional music, dances, and gastronomy," the envoy added.

For details or inquiries call the Embassy of Bolivia in Seoul at 02-318-1767.

The above writer, Song Jin-Ho (Luis Song), serves as senior writer for The Seoul Times. A graduate of Dongguk University's Depart of Architectural Engineering Song worked for Dong-A Construction Co. for many years. He specializes in architecture, photography, and fashion.
ST Photo Gallery
Photo News
Embassy Events
Econo People 2005
Fashion Images
New Movies
Travel Images
Nayan Sthankiya's Photo Features New
Abuses of Iraqi Prisoners of War
Academy Awards Photos 2004
Adolf Hitler
Aishwarya Rai-Indian actress
Buddha`s Birthday 2004
Cannes 2004 — 57th Cannes Film Festival
Choi Tae-Ji Photo Gallery
Comfort Woman Picture Gallery
Crown Prince Felipe of Spain
Dokdo Photo Gallery
Erotic Paintings of Hyewon and Danwon
Franz`s Art Exhibition
Gando Photo Gallery
Geisha in Japan
Gwangju Massacre
Jeju Island
Kim Jong-Il and Kim Il-Sung
Koguryo Murals
Korean War (1950-53)
Madonna
Miss Universe 2004
Miss World Contest 2003
Mt. Kumkang or Mt. Diamond New
Natural Beauty of Korea
Rape of Nanjing (Nanjing Massacre)
Rio Carnival 2004
Ronald Reagan`s Life in Pictures
ST Family
Sonia Gandhi and Gandhi Clan
Taj Mahal Photo Gallery
Ukrainian Embassy
World War Two
Photo Gallery of World Newspapers/Media
Times of India
Hindustan Times
SantaBanta.com
Straights Times (Singapore)
Chicago Sun-Times
Moscow Times