Embassy Events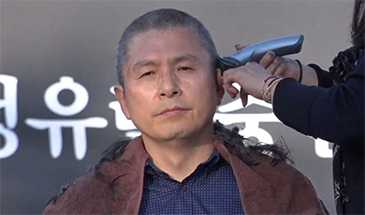 Self-Made Man Practices PhilanthropyChairman Bae Young-Kyu Gives Life to Needy Others

Laborer-turned CEO of a local construction company Bae Young-Kyu enjoys rubbing shoulders with high-profile people as well as poor and needy neighbors.

Nation's top politicians, social leaders, businesspeople, and former and current brass hats are among the long list of his social friends.

His office in Yeoksam-dong in Seoul's Gangnam area is filled with all kinds of people enumerated in the previous sentences, for seeking help, donation, and friendship with this middle-aged man.

At age 56, Bae is a social activist, a politician, a SNS expert, a philanthropist, a self-made construction CEO. He runs a construction company in Seoul's upscale Yeoksam-dong area south of Han River.



The former laborer now commute between his work in rich Gangnam and home in run-down Shinseol-dong in a luxurious Bentley provided by his company. But privately he still enjoys riding his bicycle and scooter.

The Seoul Times has recently met with him to find out the secret of his success and to listen to his life's philosophy. The following is the full story of the self-mand philanthropic man.

Bae has dedicated himself to various social works, offering a helping hand to folks poorer than and less fortunate than him. Now at middle-age Bae is still as active as when he was much younger.

"We have to help the less fortunate people without any conditions," Bae said in a recent interview. Bae reaps a wide respect from the people he meets for his humble attitude and clandestine altruistic deeds.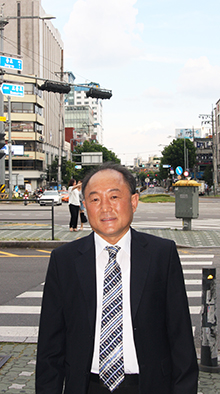 Chairman Bae Young-Kyu in Seoul's Shinseol-dong area

Bae has been donating to the various welfare charities a whopping sum of 20 million won every month since he started his own business some 30 years ago. People around him call Bae "an angel."

Bae said that the nation was in the financial crisis in 1998 and a number of people went out of jobs or out of own businesses.

"A lot of people around me killed themselves extremely disappointed by debt and other financial despair," Bae said emphatically. "Back then social safety network is so weak"

A lot of small- and medium-sized companies went bankrupt overnight and Bae was also on the verge of going underbelly. He was running a trade company.

However, the national economic crisis came as an opportunity to Bae. He was able to purchase a chunk of land for factory at a much reduced price.

He also amassed large amount rice and distributed rice to the poor neighbors free of charge. He has been doing this ever since.

As aforementioned Bae spends an average of 20 million won on orphanages and other charity organizations.

"I take a great pride in helping the poor and the needy," Bae said. "Sometimes I spend the whole salary on them"

Bae is the typical self-made man in South Korea, which achieved an economic miracle over the last 30 or 40 years from the ashes of the Korean War (1950-53).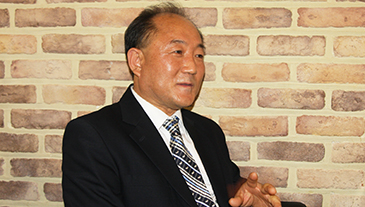 Chairman Bae Young-Kyu in Seoul



Bae was born to a poor family in Chunghyo-dong, Yeongcheon, North Gyeongsang Province in 1961. He graduated from Dongbu Elementary School in Yeongcheon.

Bae moved to Jeonju, attending the middle and high-school in the city in North Cheolla Province. As soon as he finished high school there he moved to Seoul almost empty handed.

In Seoul he lived from hand to mouth, getting any jobs and working as a laborer. But his hard works paid off.

Soon he was able to open a store in the Dongdae-mun market and to establish his own company in the market.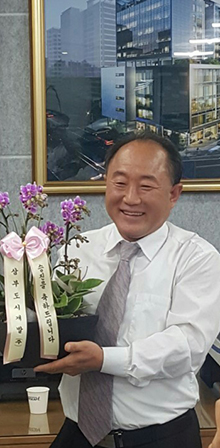 Chairman Bae Young-Kyu in his Yeoksam-dong office.

Suffering from all kinds of hardships and difficulties, Bae started paying his attention to the socially weak people. He began parceling out rice and other goods to his poor neighbors and other needy folks in the city.

This altruistic behaviors paid off handsomely. Based on his popularity among the need folks he helps, he became more and more famous among the market people and citizens in the metropolitan Seoul area.

Soon Bae became recognized among the nation's political circle. He began to be affiliated with nation's conservative party, taking some significant positions.

Bae emerged as the internet star, leading large SNS groups of his followers and a myriad of his Kakao Talk members.

Ultimately Bae was appointed as the chief of election campaign headquarters for SNS electioneering at the previous elections of the former Sanuri Party. Bae still boasts of thousands of his followers on the internet.

Bae served for many years as chairman of the Seoul Metropolitan Athletics Federation, helping a number of athletes realize their dream. He even named for many times as the good-will ambassador of a UN-registered NGO.

Bae was not able to go to college right after high school graduation because of abject poverty. Instead he made a big success with his business.

Making atonement for his lack of college education Bae, as a middle-aged man, enrolled himself in various university or graduate program at many universities home and abroad.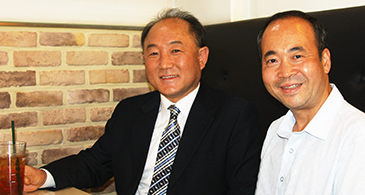 Chairman Bae Young-Kyu (left) and his colleague



He went through special graduate business course of the prestigious Seoul National University. He already attended the high-level special programs of Korea University and Kyunghee University in Seoul.

Bae event went to China to enroll in the special business course of Tsinghua University in Beijing.

Based on his academic and professional experience Bae has authored four books on his life and work, and social duty including his autobiography.

Currently, Bae serves as CEO of New City Development Corporation based in Seolneun area in Gangnam, southern part of Han River.

"Recently I was given this new opportunity," Bae said. "As CEO I try to treat my employees with respect, and I am really glad because I can spent my salary on the poor and needy"

Bae wants to tell nation's young people that altruistic life will make their life a happy one.

"I will work as if I am in my 30s," he said. "I love sweating myself for other needy friends"
ST Photo Gallery
Photo News
Embassy Events
Econo People 2005
Fashion Images
New Movies
Travel Images
Nayan Sthankiya's Photo Features New
Abuses of Iraqi Prisoners of War
Academy Awards Photos 2004
Adolf Hitler
Aishwarya Rai-Indian actress
Buddha`s Birthday 2004
Cannes 2004 — 57th Cannes Film Festival
Choi Tae-Ji Photo Gallery
Comfort Woman Picture Gallery
Crown Prince Felipe of Spain
Dokdo Photo Gallery
Erotic Paintings of Hyewon and Danwon
Franz`s Art Exhibition
Gando Photo Gallery
Geisha in Japan
Gwangju Massacre
Jeju Island
Kim Jong-Il and Kim Il-Sung
Koguryo Murals
Korean War (1950-53)
Madonna
Miss Universe 2004
Miss World Contest 2003
Mt. Kumkang or Mt. Diamond New
Natural Beauty of Korea
Rape of Nanjing (Nanjing Massacre)
Rio Carnival 2004
Ronald Reagan`s Life in Pictures
ST Family
Sonia Gandhi and Gandhi Clan
Taj Mahal Photo Gallery
Ukrainian Embassy
World War Two
Photo Gallery of World Newspapers/Media
Times of India
Hindustan Times
SantaBanta.com
Straights Times (Singapore)
Chicago Sun-Times
Moscow Times