Embassy Events

Colombi's 203rd Independence Day MarkedEnvoy Alberto Cabal Sanclemente Hosts Reception

Colombian Ambassador to Seoul Jaime Alberto Cabal Sanclemente hosted a grand reception at The Millennium Hilton Hotel in downtown Seoul on July 17, 2013 on the occasion of its 203rd Independence Day.

The Independence Day of Columbia falls on July 20th every year since it gained independence in 1810 from Spain. This year Colombia commemorates its 203rd anniversary of independence.

The dinner reception was participated by hundreds of high-profile guests including scores of top foreign envoys posted in Seoul. Columbian citizens living and working in Seoul were also invited to the occasion.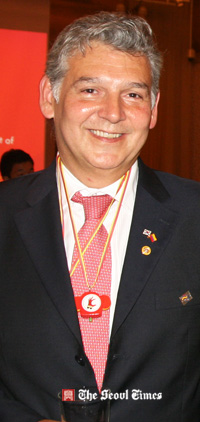 Colombian Ambassador to Seoul Jaime Alberto Cabal Sanclemente

Honorable Kim Sung-Tae delivered a congratulatory speech following a welcoming speech by the Colombian envoy.

Amb. Sanclemente spoke about the economic growth rate, investments and increasing foreign commerce that have helped to make Columbia the modern country it is today.

He spoke about maintaining Columbia's lush environment, while continuing to progress through natural resources.

"As one of the most bio diverse countries in the world and through this path towards progress, Colombia is aiming for a sustainable development, prosperity for our people but keeping in mind our environmental responsibilities."

Amb. Sanclemente emphasizing the unique and strong diplomatic relationship between South Korea and Columbia. He also recognized a special event in Korean history that occurred around the same time.

" We want to recall in a very special way another event that tok place around this same date, only 60 years ago, while searching for the peace and freedom of the Korean People, the signing of the Armistice Agreement, which suspnded indefinitely the Korean war on July 27th, 1963."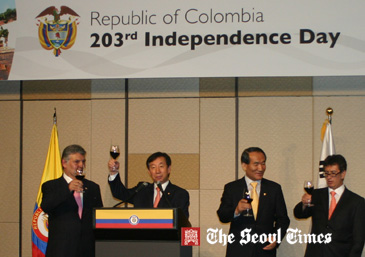 Colombian Ambassador to Seoul Jaime Alberto Cabal Sanclemente (left) poses with his guests at the reception held in Seoul to mark the 203rd anniversary of Colombian Independence Day.



To commemorate this event, His Excellency Park Sung Choon, Minister of Patriots and Veteran Affairs, was invited to speak. Mr. Park congratulated Columbia on their 203rd Anniversary of Impendence. He also recognized them for being the only Latin American country to lend a helping hand during the Korean war.

"I would like to take advantage of this opportunity to show my upmost appreciation to the Colombian veterans of the Korean war, and I am thankful for the support that the Colombian people have shown towards our country in the present time."

Mr. Park thanked Columbia for their exchange in the fields of infrastructure and construction, energy, and resource development. He recognized the free trade agreement that was signed between South Korea and Columbia on February 21st of this year.


Georgian Ambassador Nikoloz Apkhazava (2nd from right) poses for The Seoul Times with Manager Koh Geun-Young (left) of Standard Chartered Bank Korea and others at the reception held in Seoul to mark the 203rd anniversary of Colombian Independence Day. At right is Megan Fox, staff writer of The Seoul Times.



Each year the Colombian embassy brings special surprises to its guests, attending the Independence day celebration. This year a video greeting from Juan Manuel Santos, the President of Columbia, was shown.

President Santos spoke of the strong relationship between South Korea and Columbia dating back from the Korean war. He also thanked Columbian citizens for their work abroad and the continuing development of international relations.

The second surprise was the unveiling of the new Columbian Tourism campaign. Three videos were displayed showing the lush landscape, hospitality and culture of Columbia. Following this was several musical performances to illustrate Columbia's strong folk fare and culture.

The speeches ended with a special message. "Tonight, to the rhythm of Magical Realism, which was described by Gabriel Garcia Marquez, between every line and rhyme, we will enjoy this wonderful evening and we will be able to show why Colombia is one of the happiest and most joyful nations in the world."

For details or inquiries contact the Colombian Embassy in Seoul at 720-1369.

By Megan Fox
Staff Writer
ST Photo Gallery
Photo News
Embassy Events
Econo People 2005
Fashion Images
New Movies
Travel Images
Nayan Sthankiya's Photo Features New
Abuses of Iraqi Prisoners of War
Academy Awards Photos 2004
Adolf Hitler
Aishwarya Rai-Indian actress
Buddha`s Birthday 2004
Cannes 2004 — 57th Cannes Film Festival
Choi Tae-Ji Photo Gallery
Comfort Woman Picture Gallery
Crown Prince Felipe of Spain
Dokdo Photo Gallery
Erotic Paintings of Hyewon and Danwon
Franz`s Art Exhibition
Gando Photo Gallery
Geisha in Japan
Gwangju Massacre
Jeju Island
Kim Jong-Il and Kim Il-Sung
Koguryo Murals
Korean War (1950-53)
Madonna
Miss Universe 2004
Miss World Contest 2003
Mt. Kumkang or Mt. Diamond New
Natural Beauty of Korea
Rape of Nanjing (Nanjing Massacre)
Rio Carnival 2004
Ronald Reagan`s Life in Pictures
ST Family
Sonia Gandhi and Gandhi Clan
Taj Mahal Photo Gallery
Ukrainian Embassy
World War Two
Photo Gallery of World Newspapers/Media
Times of India
Hindustan Times
SantaBanta.com
Straights Times (Singapore)
Chicago Sun-Times
Moscow Times