Embassy Events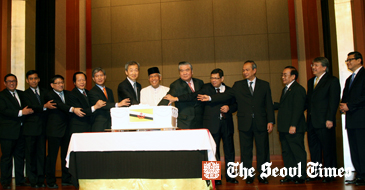 Amb. Ismail Marks 29th "Brunei Darussalam"Dato Haji Harun Ismail Hosts Reception in Seoul

Brunei Ambassador to Seoul, Dato Haji Harun Ismail and his wife Mrs. Datin Siti Aishah Abdullah observed its 29th National Day,"Brunei Darussalam," in Seoul by hosting a dinner reception at a hotel in downtown Seoul on Feb. 28, 2013.

Brunei Darusslam's independence from the British was declared on Jan. 1st, 1984. Its independence has officially been celebrated as its national day on Feb. 23 annually since then.

The dinner reception drew hundreds of high-profile local and international well-wishers including scores of foreign ambassadors serving in Seoul.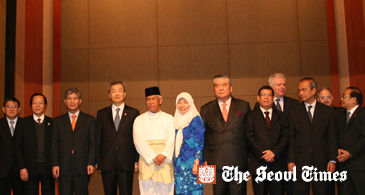 Brunei Ambassador, Dato Haji Harun Ismail ( 5th from left) his wife Mrs. Datin Siti Aishah Abdulla, poses with other foreign ambassadors at its national day reception held in Seoul.



The 29th anniversary of "Brunei Darussalam" was also celebrated in major cities around the world as well as in Brunei.

A number of leaders of the world's major countries
congratlulated Brenei on its national day by
sending congratulatory message to His Majesty the Sultan and Yang Di-Pertuan of Brunei Darussalam.

Brunei and S. Korean Relations

After gaining independence from the United Kingdom in 1984, Brunei opened diplomatic relations with Seoul. Since then the two countries have been developed bilateral relations in the spheres of economics, politics, and cultural exchange.


Brunei Ambassador, Dato Haji Harun Ismail ( 5th from left) his wife Mrs. Datin Siti Aishah Abdulla, poses with Chairman Yun Ik-Han (right)of The Seoul Times and with other guests.



Brunei participated in the Olympic Games for the first time at the 1988 Summer Olympics in Seoul, Korea. The nation sent one official, but no athletes. It would be eight years later, at the 1996 Atlanta Olympics, that athletes from Brunei would compete at the Olympic Games for the first time.

Major export items of South Korea to Brunei include automobiles, steel, and cable. South Korean import from Brunei oil and liquefied natural gas (LNG). Brunei has supplied more than 700,000 tons of LNG to the Korea Gas Corporation.

Brunei is the fourth-largest producer of LNG in the world. Being the third-largest oil producer in Southeast Asia, Brunei produces a daily average of 180,000 barrels of oil.

Earlier in 1980s there were some 500 South Korean workers in Brunei but these days fewer than 100 South Koreans are working or living in this Southeast Asian nation.

"Brunei Darussalam"

"Brunei Darussalam," officially the State of Brunei, is a country located on the north coast of the island of Borneo, in Southeast Asia. Apart from its coastline with the South China Sea it is completely surrounded by the state of Sarawak, Malaysia, and in fact it is separated into two parts by Limbang, which is part of Sarawak.

Brunei, the remnant of a very powerful sultanate, regained its independence from the United Kingdom on Jan. 1, 1984.

Sultan Hassanal Bolkiah of Brunei, whose title has passed within the same dynasty since the 15th century, is the head of state and head of government in Brunei. The Sultan is advised by several councils and a cabinet of ministers although he is effectively the supreme ruler. The media is extremely pro-government and the Royal family retains a venerated status within the country.

Brunei is an absolute monarchy. In September 2004, the Sultan convened an appointed Parliament which had not met since independence in 1984, although it lacks any capacity beyond advising the monarch.

For details or inquiries please contact the Brunei Embassy in Seoul at 02-790-1078.
ST Photo Gallery
Photo News
Embassy Events
Econo People 2005
Fashion Images
New Movies
Travel Images
Nayan Sthankiya's Photo Features New
Abuses of Iraqi Prisoners of War
Academy Awards Photos 2004
Adolf Hitler
Aishwarya Rai-Indian actress
Buddha`s Birthday 2004
Cannes 2004 — 57th Cannes Film Festival
Choi Tae-Ji Photo Gallery
Comfort Woman Picture Gallery
Crown Prince Felipe of Spain
Dokdo Photo Gallery
Erotic Paintings of Hyewon and Danwon
Franz`s Art Exhibition
Gando Photo Gallery
Geisha in Japan
Gwangju Massacre
Jeju Island
Kim Jong-Il and Kim Il-Sung
Koguryo Murals
Korean War (1950-53)
Madonna
Miss Universe 2004
Miss World Contest 2003
Mt. Kumkang or Mt. Diamond New
Natural Beauty of Korea
Rape of Nanjing (Nanjing Massacre)
Rio Carnival 2004
Ronald Reagan`s Life in Pictures
ST Family
Sonia Gandhi and Gandhi Clan
Taj Mahal Photo Gallery
Ukrainian Embassy
World War Two
Photo Gallery of World Newspapers/Media
Times of India
Hindustan Times
SantaBanta.com
Straights Times (Singapore)
Chicago Sun-Times
Moscow Times